Management Skills – Sainsbury's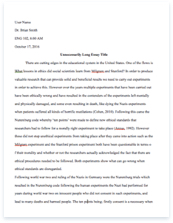 The whole doc is available only for registered users
A limited time offer! Get a custom sample essay written according to your requirements urgent 3h delivery guaranteed
Order Now
Managers within Sainsbury's have a very important role and each manager has to make sure they use the correct method of management skills for specific job they are trying to do. The managers within Sainsbury's have to use a number of different skills, which are universal from the Checkout Manager to the Regional Stores Manager.
All managers that are employed within Sainsbury's must be able to motivate staff. This can be done in a number of different ways. There are experts that have studied management which are people such as Maslow and Hertzberg's with their theories on management we see a number of different motivational management skills. Some of the experts believe that employees are motivated by been given responsibility, which in certain circumstances can be true. I have researched this and my results were that the younger staffs such as checkout operators are highly motivated if they can gain responsibility through working hard. Some checkout operators gain the role of a supervisor and CTS (A CTS is a higher band rate which they gain more responsibility dealing with paperwork).
Also some checkout operators are moved onto the customer service desk if they show that have excellent customer relation skills. All the employees within Sainsbury's can have the opportunity to go higher with Sainsbury's by going on a two years manager's course. This is vital within Sainsbury's because it makes the colleagues work harder and provide the company with a better level of efficiency, which improves the companies brand and public image give the Sainsbury's brand name a good reputation. It can also mean that the company may be able to expand into different fields.
Another method of motivating employees is to offer them a bonus for meeting company targets such as to reach a certain amount of sales by the end of the financial year. Also Sainsbury's have a mystery shopper that comes into the store once a month and mark the store on product availability and customer service skills. Each store within the country is set a target, which if met a bonus is given. This means that if the store provides a quick and good service and asks all of the right questions then they will receive a bonus, this obviously makes the workforce work harder from the store manager to the people collecting trolleys.
If the managers praise the staff when they have done something good then the workers will feel valued and therefore work harder for the company. This is why there is a colleague of the month within each store. The colleague is given a �10 voucher of their choice. All employees like to be recognized for their hard work that they put in and this will make the staff highly motivated if they are praised.
Sainsbury's must make sure they use innovation and enterprise to get new ideas for products and service that meets the needs of the customer today. Organising departments into offering more services is important each department and employee must understand where the company is heading and what the company offers. Senior managers must lead staff and motivate them into offering more services and better customer service. There will be a budget that the development department must control and think about when offering more services. Sainsbury's offers a wide range of services such as: –
> www.sainsburystoyou.co.uk
This is a website were customers can order food and then have it delivered to their door on the same day.
> www.sainsburyproperty.co.uk
This is a website, which sells a wide range of property to customers on the Internet.
> www.sainsburysbank.co.uk
Sainsbury's even has its own bank that customers can get a credit card and financial advise.
To develop staff skills Sainsbury's must plan what they want to achieve on a long-term basis and then set short-term task that can be achieved at store level. Sainsbury's must organise which staff they want to develop skills and in which areas. They must also look at the time span in which they have to do this training and when it must be achieved by. Employees will need to be trained by somebody who has past experience in that field. Sainsbury's must develop new ways in which employees can learn and develop their skills and put them into practice within their job. Each store will have a training budget that they can use to send staff on training courses.
Here are some key ways in which Sainsbury's develop staff skills, which were shown on their website.
Sainsbury's want everyone who works for them to have the opportunity to develop their careers. Sainsbury's have a company-wide development program based on a personal management agenda (PMA) where each manager has an individual training and career development program. Senior managers meet twice a year to discuss their own teams and succession planning. All colleagues within each store has a 'how well am I doing?' four times a year which includes meeting with their manager to assess their progress and training needs.
This training will improve manager's skills and they will be able to find out where they are going wrong, managers will also be able to look at other manager's performance and see how they can improve their performance.
All managers at Sainsbury's have to organize workloads. This is mainly done at store level. The managers will delegate workloads to staff everyday. A staff rota is produced everyday; this states what department the workers are expected to be on. It is the manager's choice where to put people if departments are under or over staffed, but generally they are put in the place that they are best skilled on.
When the stores are less busy which is usually one hour before closing, the management and supervisors will have to delegate jobs. Jobs such as tidying up the checkouts and shop floor by dressing products forward so that they are visible to customers. Also making sure that excess stock is put away back into the warehouse in the correct places.
The board of directors also uses management skills in a number of ways such as targeting for stores on how much they must make within a month or certain period such as Christmas. Also they set specific targets for certain store, for example when the Leeds festival is on they set targets higher as there should be more custom. The board of directors is also responsible for setting the stores key performance indicator targets. If this is done successfully then the stores should perform well.
The store managers are not responsible for producing many financial accounts; the board of directors does most of the financial forecasting for the business. The store managers of each store will send reports of the weekly sales, unknown losses, refunds, and damages. All this information is sent to the area manager. It is the area manager's responsibility to ensure that all of the store managers have sent their figures in and that they all correspond to the correct figures and have not been changed to make it look like the store has done better or worse that they actually have done. After all this has been checked the area manager will then forward these figures to the regional financial manager. Once the regional financial manger has received these they will be assessed to see if the targets have been met or not. If the targets have not been met appropriate action will be taken, which can be major by changing store manager to little things such as rearranging where products are positioned.
The company has to produce financial reports, as it is a Public Limited Company, the reports that are necessary to published are as follows:
Break Even Analysis – (although this has obviously happened, as Sainsbury's is a multi-million pound organization) It is necessary to produce a Break Even Analysis for each new store, they are produced as it is very expensive to set up a new store and if is viable or not.
Cash Flow Forecast – This is to see how much capital is available to reinvest back into the business and if or when it will be available to each store.
Profit and Loss Account – To see if the company is making a profit or a loss but it is mainly how much profit they are making rather than if they are making one at all.
Decision-making is a vital role as a manager at Sainsbury's. These come up quite frequently in the company. In the event of an emergency such as a mass power cut or a flood then the manager on duty has to decide the safest level of precaution and whether it is viable to keep the store open or not.
There are also little decisions that need to be made, like who is going to be on what department. This management skill therefore ties in with organising the workloads.
The whole company uses a mainly democratic management style and these means that the whole staffs that work for Sainsbury's are involved in decision making to a certain degree but the manager has the final and overall say over all decisions.
All Human Resource managers must make sure that they advertise effectively if the business is to do well. The regional marketing manager will ensure that customers in the region are aware that there are local stores nearby which makes them aware of the nearest Sainsbury's. This can be done in a number of different ways, which includes: –
> Posting Promotional Leaflets Through Doors.
> Advertising On Local Radio Stations.
> Billboards.
> Newspapers.
Other than the four mentioned above there are lots of other ways of advertising such as on local and national television. Sainsbury's will advertise the best offers and then people will be drawn into local Sainsbury's stores and buy other things that they see which is very good method of making more profit.
Recruiting staff and then training and developing them is also a big part of being a Human Resource manager. Lots of staff are hired around the Christmas, as this is the companies busy period. Approximately 50 000 people are hired from November 1st until January 1st. After this period stores are not as busy and Sainsbury's only recruit when colleagues leave, sometimes jobs are offered internally and sometimes externally. Due to the hierarchical structure used within Sainsbury's many members of staff work their way up to the top management jobs.
Related Topics