Management Principles Full Assignment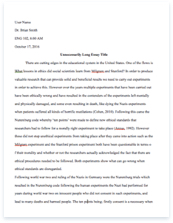 The whole doc is available only for registered users
A limited time offer! Get a custom sample essay written according to your requirements urgent 3h delivery guaranteed
Order Now
Nestlé's foundation was built in 1867 on humanitarian needs and social responsibility when Henri Nestlé, a trained pharmacist, developed a healthy and economical alternative source of infant nutrition to save the life of an infant who could not be breastfed. The Henri Nestlé endowed his company with the symbol derived from his name. His family coat of arms, the nest with a mother bird protecting her young, became the Company's logo and a symbol of the Company's care and attitude to life-long nutrition. The Nestlénest represents the nourishment, security and sense of family that are so essential to life. Nestle (Malaysia), a part of Nestle Group which is engaged in the manufacturing, marketing and sale of food, confectionery and dairy products in Malaysia. Nestle (Malaysia) Berhad is also an investment holding company.
The Company operates in two segments: food and beverages and others. The company is headquartered in Petaling Jaya, Malaysia, and employs around 5,000 people. The company markets over 300 Halal (permissible to use as per Muslim religion) products, reflecting Malaysia's Muslim religious beliefs, and its exports are certified Halal by JAKIM (Jabatan Kemajuan Islam Malaysia) or the Department of Islamic Development of Malaysia. Nature of business for Nestle (Malaysia) is mainly on food and beverages which are categorized into coffee and beverages; culinary aids/prepared foods, milks, liquid drinks, junior foods, breakfast cereals, chilled dairy, ice cream, chocolate and confectionery, healthcare nutrition, performance nutrition, and Nestle professional.
Its major food products brands include MILO, NESCAFE, MAGGI, NESPRAY, LACTOGEN and KIT KAT. Today, more than 140 years later, Nestlé position as "a trusted food, nutrition and wellness company" continues with its founder's legacy to improve lives and offers Good Food, Good Life to everyone. Nestlé's commitment to providing quality products to Malaysians dates back almost100 years ago and keep caring about the well being of its consumers.
Planning
Planning is about understanding the range of factors that influence product demand before devising the plans that will meet that expected demand. In planning stage, vision of the company must be clarified to make sure the planning goes accordingly to the company vision. Nestlé's vision is to make good food central to enjoying a good healthy life for consumers everywhere. This implies gaining a deeper understanding in many areas of nutrition and food research and transforming the scientific advances into applications for the company. Having a wide vision the company is doing its best for their consumers to show the good sense of responsibility. Besides, Nestlé's objectives is to be recognize as the world leader in Nutrition, Health and Wellness, trusted by all its stakeholders and to be the reference for financial performance in its industry and this is why Nestlé company planning for globalization.
The high quality products for which Nestlé has become renowned throughout the world The Company's strategy is guided by several fundamental principles. Nestlé's existing products grow through innovation and renovation while maintaining a balance in geographic activities and product lines. Moreover, Nestlé Company has planned for additional capacity at its manufacturing facilities. Therefore, the work force of the company can be increased and it has more advanced manufacturing facilities for workers to carry out day works in short time and produce products in a great volume in order to afford the demand of the consumers. Nestlé Company's priority is to bring the best and most relevant products to people, wherever they are, whatever their needs, throughout their lives.
Nestlé Company follows an way which is 'centralize what you must, decentralize what you can' which means each country is responsible for the efficient running of its business including the recruitment of its own management. Nestlé is a company which is present in all over the world but it has difference and extraordinary motto to deal in all over the world. Nestlé's aim is to meet the different needs of the consumer every day by marketing and of a consistently maintain the high quality of products being produced. The confidences that consumers have in Nestle is the results of the Nestle company's many years of knowledge in producing high quality products whether is in marketing, research and development. Structure Organization of Nestlé Company
* Chairman
P. Brabeck-Letmathe
* Chief Executive Officer
P.Buckle
* Corporate Service
D.P.Frick
* Corporate Communication
R.RamSauer
* Human Resources
J.M.Duvoisin
* Operations
J.Lopez
* Financial and Control
W.L.Martello
* Innovation and Technology and R&D
W.Bauer
* Marketing and Sales
P.Bauer
* Nestle Professional
M.Caira
Organizing
Organizing is the function of management which follows planning. It is a function in which the synchronization and combination of human, physical and financial resources takes place. All the three resources are important to get results. Therefore, organizational function helps in achievement of results which in fact is important for the functioning of a concern. To remain successful, modern organizations need to tap into the knowledge and skills of their people. However, the traditional pyramidal management structure which is still alive but many companies today are hinder rather than facilitate this. Limitations of a pyramidal structure originally designed to manage poorly educated people who needed supervisors to tell them what to do and how to do it. But these days, high levels of education and access to information mean that such structures often negatively affect people's behavior and motivation and consequently organizational performance.
The worst limitations of the traditional pyramidal structure are vertical career progression, tending to be the only model for professional development, climbing the hierarchical ladder frequently becomes a system in itself. People may choose a particular career path simply to enter top-level management, even if it does not match their profile or skill set. Other than that, command communication has long been accepted as the most efficient way to produce results. But by not discussing the expected results, alignment is achieved between the superior's expectations and the action instead of between the action and the expected results. This communication style also assumes that people at lower ranks cannot contribute to strategies and objectives.
Leader of Nestlé for example the chairman and others managing director is committed to be a forefront employer to used this business structure and make an evolution from a pyramidal structure to a network organization provides proof of the value of implementing such an approach. The company achieved this through its "Nestlé on the Move" program, which has five major parts, firstly, implementing flat and flexible structures corporate structure and functions was undertaken, and the number of hierarchical levels was reduced. Secondly, lifelong learning, Nestlé has always held a strong belief in the need for continuous learning, both through internal and external programs. Other than that, dynamic compensation also in response to the flattened structure, horizontal remuneration models were developed that allowed increased remuneration even without promotion. Besides, inspiring management programs were improve the leadership skills of managers, starting at the top level, as well as to reverse their role from "passive judge" to "committed developer".
Lastly, long-term development with fewer hierarchical levels, fewer promotion levels are now available. Interregional moves were therefore enhanced to stimulate both personal development and organizational learning, and new roles were created that cut across traditional career paths. "Nestlé on the Move" has made an important contribution to company results in terms of drive and excitement. Leadership skills have improved, and the new compensation model has improved the company's competitiveness at all levels. Nestlé provides a clear example of how a company should manage an emancipated workforce, and demonstrates in a concrete manner that people are the most important asset. Nestlé supports Workplace Flexibility is because when it will benefits for both employees and Nestlé.
Some of the proven benefits that are overall benefiting the bottom line are talent attraction and retention. With the current demographic trends, things are not going to get easier. In the war to attract and retain the best talent, we believe the commitment to facilitating and encouraging flexible working conditions is a key differentiator. Higher employee engagement leading to increased productivity. More satisfied employees' means more engaged employees. Flexible Work Arrangements can help employees' better balance their personal and business commitments creating a higher satisfaction. Research has proven that all these factors have a positive impact on the bottom line and market share of a company.
Leading
Leader of Nestle company Paul Buclke, he has describes some principles as a called leading to nestle way which is to leads his employees how to be a leader so that achieving ongoing success of nestle company. Firstly the principle is lead to win. A leader has established an authenticity as a result of consistent action, leadership, and achievement. To ensure every planning to go as scheduled, a good general educational background and responsible behavior is a must for a leader so that the aim of the company can be achieved. Besides, a leader must have the power of creativity for innovation and have an outstanding mind which able to think out of the box. However, this might lead mistakes possibilities increase or occur and implies openness to risks. Contrary, if the leader is willing to correct and learn from mistakes, this can reduced same mistake to happen in future. The second principle is managed for results.
A leader contains a good personal commitment in implementing on job or plan. Besides, the ability to maintain calmness under pressure which comes from surrounding must be gripped by the leader especially whiles the willingness to take risks and initiatives. Moreover, a leader also has to compliance with business objectives which built by company and sustainable practices. In addition, leader have to comprehend a process that embraces changes by knowing every possibility of the changes and able to come out with a solution instead of providing ways to avoid the changes so that everything can be under controls without any miscalculation to avoid any damages of the reputation of the company. Next, the third principle is competing and connecting externally.
A common way to sell a product is not working within this competitive market. Leader needs to think out of the box especially when thinking about the way to fulfill the needs of the customers. Especially the way that can constantly fulfill and satisfy the desire of customer, it must be unique and attractive. All of these are needed to be leaded by a strong and creative minded leader. External communication cannot be neglected by a company as the support from outside stakeholders is needed. Communication with outside stakeholders is a must to let them know more about future trends in markets of consumers which will help to achieve objectives of company.
Lastly, the fourth principle is growing talent and teams. Instead of burden everything and working alone, forming a team is also needed for a leader. By sharing the knowledge, experiences and ideas freely to each others can make a difference from thinking it alone. It will be one of the ways to achieve the objectives of company within a short time. Besides, forming a team with leader, among the employees is also required. At first, promote the advantages of gender balance so that the discrimination between genders can be ceased and it will reduce the conflict with each others in company. Leader having mutual respect with employees and being honest to each other and receiving performance evaluation and time feedback. In a team, meeting or discussion cannot be avoided. During these times, the performance of each employee will be listed out with a fair evaluation from a team leader or manager.
Controlling
Controlling is process which is always maximising the use of scarce resources to achieve the purposeful behaviour of employees in an organisation. In planning stage, it is decided that how the resources would be utilised but it is observed that whether the resources are being utilised in the same way as planned or not. Thus, control completes the whole sequence of management process. Nestlé and its directors are committed to a sound system of internal control and are pleased to provide the following statement on the scope and nature of internal control for the Group. There are ultimate responsibility for ensuring a sound internal control system and reviewing the effectiveness of the system lies with the Board of Directors. The Board of Directors sets policies and procedures for internal control and make sure that such internal control system is properly carried out by the Management Team.
The Company has established processes to oversee and manage risk. Nestlé has Information Technology Policy that outlines the processes that should be followed to create policies, best practices, standards and the use of the supporting information technologies. Nestlé is mindful of the legal implications if technology systems or information are misused in a manner which breaches legislation. This makes sure that all software used by Nestlé is licensed copies. The Board of Directors also derives reasonable assurances from reports submitted by the relevant committee on risk management and internal control. Besides, Nestlé have whistled blowing system that can strengthens and also supports good management. At the same time demonstrates accountability and provides good risk management and sound corporate governance practices.
It is the Board of Directors' belief that increases investors' confidence in the Group and is in line with the Company's sound corporate governance practices. It also comprehensive framework which outlines when, how and to whom a concern may be properly raised, distinguishes a concern from a personal grievance, and allows the whistleblower the opportunity to raise a concern outside their management line. Last but not least, there have Good Manufacturing Practices (GMP) to ensure quality and food safety. GMP covers all aspects of manufacturing, including standard operating procedures, people management and training, equipment maintenance, and handling of materials. It applies the internationally recognized HACCP (Hazard Analysis and Critical Control Point) system to ensure food safety.
a)The most important things leading to the success of Nestlé Company The most important things that lead Nestlé to success are the management and leadership of the company. The attributes are needed to be successful in a management and leadership position in nestle company. They expected their employees to uphold the principles, culture and values which are describing by their company. Success of Nestle Company is based on employees. Every employee has expected to promote a sense of personal responsibility. The management will respect their employees and give them opportunities to contribute for the company.
Trust and mutual respect are influence personal relations. During these times, the performance of each employee will be listed out with a fair evaluation from a team lead or manager. Employees also have committed to a strong working ethic which is based on Nestle principles, policies and standard. Besides, a good management will leading to success of goals. Employees will follow the regulations and management which is set by company to do their job. If there are no good management, employees will do their job according to their way even though there are vision and mission set up.
b) Challenges face in next 5 years
The major challenges for Nestlé are shortage of water. The water is the essential ingredient in a beverage product, as well as vital for cooling and cleaning during the production process. So when one considers that India's current water supply is approximately 740 billion m3, but it has been estimated that by 2030 demand for water in India will grow to almost 1.5 trillion m3, the industry will clearly facing a big problem that is not be enough water. Another environmental consideration is climate change and how far along the industry has come in terms of managing the production of greenhouse gas emissions and conserving energy.
Beyond mitigation, climate change is also likely to further exacerbate water scarcity issues in the region through changing rainfall patterns. Besides, rural poverty also one of the challenges will facing by nestle over the next five years. 40% of the world's population and an estimated 75% of the world's poor live in rural areas (World Bank 2008). Education and health services are much less available in rural areas of most low-income countries than in their cities. Many areas lack safe drinking water and sanitation and nutritional deficiencies are common. For those who facing poverty, they will not pursue for the products of nestle this is because it is already unaffordable to them. Clean water for them is already enough for them in order to survive.
Findings
Nestlé is team focused and running an open door policy. It focuses on collectivism and performance orientation attitude which encourages employees to work harder. Nestle have a good management groups such as Nestlé chairman, CEO, and others managerial department helps Nestlé to be the world's leading nutrition, health and wellness company. Besides, leader of nestle bringing its management to play an important role of leading and with Law of Nestle helps their company to run smoothly and always produce quality products.
Furthermore, Nestlé's Quality Management System is to guarantee food safety, maintain the quality standards of their company products and also to create value for consumers. Customers from different level of nestle targeted marketed and customers also one of the reasons of why Nestlé always producing and maintaining the quality of their products. To achieve higher volumes of customers Nestlé keep renovating their existing products and innovating new products in order to attract more and more customers. Moreover, Nestlé's products carry details information to make sure that the products are consumed safely with the highest level of quality for the consumer.
Besides, Quality and Safety for consumers is Nestlé's top priority have lead Nestlé to the world brand name. People all over the world trust and recognizes Nestlé as a big brand name that people trust on Nestlé. Nestlé name represents a promise to the consumer that the product is safe and of high standard Nestlé as a health and Wellness Company which nestle is having a very strong brand name which is an another important aspects that people all around the world are becoming more conscious about their health, that's why consumer will still prefer Nestlé.
On the other hand, there is one major weakness of Nestlé is that it is entering into markets that are already stable and can create a tough competition to those new entrants. For examples, Nestlé's Plain Yogurt has been proved to be one of the Nestle weaknesses because it is unable to make its market place in USA area. In spite of this, Nestlé still keep improving by analyzing the sensitive areas so that it can slowly overcome its weaknesses. This example of Nestlé weakness shows that the management of Nestlé Company is lack of awareness. Communication between management is weak and it should be improved.
There are some recommendations for Nestlé Company to improve their company which is the company should carry out survey within the market from time to time to make that Nestlé is keep updating with the market nowadays. Any changes needed in management should be changed once discover any weaknesses with the whole management. Next, the employees of the company have to be trained and let them carry their creativity into their works at the same time. This is because more people contribute always bringing more benefits and innovative ideas for the company in order to keep improving and also sustaining in the market.
CONCLUSION
Nestlé is one of the world's leading food companies and intends to remain so. Its commitment to high quality market research ensures that it remains fully aware of changes in consumer behaviour and consumer tastes. Its excellent product research and development network ensures that it is well placed to meet the challenge of changes in consumer expectations. A company like Nestlé is involved at every stage of the production chain. It gets to know as many people as possible in the supply chain, providing growers with technical advice and researching the market to find out what the consumer wants. Nestlé is not complacent about its position; it still means to go forward, developing new policies and initiatives on eco-efficiency and responsible business practice.
From this assignment, things that we have learnt is that every company must have management functions which is planning, leading, controlling and organizing to reduce uncertainty, reduces overlapping and achieve the goals of company because management has been described as a social process involving responsibility for economical and effective planning. Therefore, Nestlé are able to pass on benefits of economies of scale, coupled with their experience of producing high quality products over many years if they have management functions. Nestlé are able to make social responsibility and gird up its loin to face his competitor. As customers, we are able to enjoy the products from Nestlé Company in long term.
Related Topics