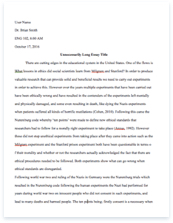 The whole doc is available only for registered users
A limited time offer! Get a custom sample essay written according to your requirements urgent 3h delivery guaranteed
Order Now
1.Identify three areas where IT could be applied to improve management of Ellington Galleries. a.Supplies Chain Management- ordering, pricing, shipping b.Customers Resource Management – orders, personal information, c.Accounting Information System – billing, invoices, stock, customers, employees
2.Explain how each solution would benefit the Galleries, specifically addressing how it could improve business intelligence (BI) and decision-making and/or overall management of the business . a.SCM would offer the Galleries the chance to do more than on-demand ordering of supplies. It would also allow each gallery to see what frames are in stock and what prices they are selling for from the supplier. With an Enterprise SCM system it would allow for each gallery to consolidate the order with the other galleries and cut down on purchase cost. It can also track stock trends to determine what is selling best and allow the stores to keep a few of these frames in stock to purchase in a larger quantity at one time cutting down on shipping costs b.CRM would be effective in gathering information on the customer and their likes and keep a history of sales.
This will help with customer retention, experience and spending. It will also help develop a marketing strategy to determine what market is interested in the custom framing services and where they can expand to. With three different locations the demographics will be hard to analyze without a CRM. c.DRM is required because we need to have a repository for Tracy to house the information and recall it when needed. This would be a database where she can store all sales, inventory, stock, customers, employees as well as financial information. It will allow her to conduct her analysis on trends in sales and allow her to keep up with bills for the different locations and employees.
3.Identify which of the three solutions you would suggest be implemented first and explain why you chose that solution over the others.
I would look at implementing the AIS first, currently Tracy has no way of staying current on bills and invoices and these systems will help her do
just that. Typically, these systems include transaction processing systems such as order processing, inventory control, accounts receivable, accounts payable, payroll and general ledger systems (O'Brien and Makaras, p 295)
4.Name five IT best practices and methodologies and briefly explain how they apply to the IT solution named in #3 above.
a.Training – begin training employees on the software as soon as possible so that they are comfortable using b.Phases – Going to a new accounting model will be hard as it will have some impact on day to day tasks c.Migration – Migrate all the information that is currently on bills, invoices and sales receipts into the new systems. Account for all the old data and add it into the new system to have a history of transactions
d.Security – Ensuring that only employees have access to the accounting information is important. Setting Access Controls on that data from who can logon to what systems, who can access what files and when they can be accessed, by read, write and view privilege's. This could be done with user logons and passwords to data security setting on the database. e.Meetings- It will be important to keep the staff up to date on what is going on with the system and to brief them on changes and be informed on issues that they are seeing from an operations perspective so that we are no loosing crucial data like sales, supply order payments or payroll information
5. Identify five hardware components that Tammy will need to buy for her main location. a.Workstation/PC
b.Printer
c.Monitor
d.Firewall
e.2 Servers
6.Identify five software suites/programs that Tammy will need for her office. a.Anti-Virus Software (McAfee)
b.SAP
c.Database Software/(i.e. Oracle/SQL Server)
d.Operating Systems (i.e. Windows 8/ Microsoft Windows Server 2008 R2)
e.Microsoft Office Premium Edition
7.Identify three different connectivity requirements – what locations or businesses need to be connected and for what purpose(s). a.Main office to New York and Georgia – track sales and supply purchases b.Main office to Virginia Glass – View inventory and prices, purchase supplies and track orders c.Main office to Macklin Frames – View inventory and prices , purchase supplies, and track orders
8.Do some research and list four software products that Tammy can use to protect her data and her systems. These are to be specific products available in the marketplace, not general types of software. a.Comodo Internet Security Plus 2012 – protect systems from outside hacking attacks b.Microsoft Security Essentials
c.Bitdefender Antivirus Plus
d.GFI VIPRE® Email Security for Exchange
9.Explain how Tammy could benefit from implementing SCM in her business. Be sure to address the entire supply chain in your response. Based on trend analysis from sales and the historical data from the CRM, Tammy can use the SCM to begin to refocus from an on demand ordering system to one that purchases multiple frames and glass sizes at one time to have in stock so they can reduce shipping costs and costs to customers. It will allow her to track deliverables from suppliers to customers and will be able to better hold suppliers to deadlines or explain to customers when the deliveries date change. It will also allow for Tammy to see price quotes, price changes and allow her to perform cost analysis and readjust sales prices if necessary.
10.List five things Tammy would need to add to her system and processes in order to establish a B2C eCommerce capability.
a.Web storefront
b.Interactive Marketing
c.Integrated Web Store
d.Self-Service Web Sales
e.B2C portal
Related Topics