Levendary Cafe Argumentative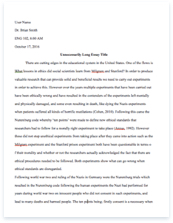 The whole doc is available only for registered users
A limited time offer! Get a custom sample essay written according to your requirements urgent 3h delivery guaranteed
Order Now
Question 1: What is your evaluation of the way Levendary Café has entered the Chinese market? I think Levendary Café entered the Chinese market in a decent way. The pros of how Levendary Café entered the Chinese market included the amount of opportunity in China, the success of other foreign restaurant chains and the experience of Louis Chen. The China GDP growth of 14.5% over the last decade made it "ripe for investment". China's urban population growth and emerging middle class provided great opportunity for great developments and progress across all markets. The lifestyle trend to go out to eat was growing which supported expansion in the food services industry. Foreign fast food companies attracted the most attention in the Chinese food services industry, which indicated a prime time for Levendary to enter into the market. The standardization of products demonstrated by these foreign restaurant chains prompted Chinese chains to embrace these operational tools.
The main pro of how Levendary entered into the Chinese market was by utilizing the skills of Louis Chen. Chen was a very high-energy and motivated entrepreneur. Chen was bilingual in English and Mandarin Chinese and was very familiar with neighborhoods in Shanghai, China through his decade of experience as a retail property developer. Chen also brought with him a network of contacts to help speed up processes such as permitting, incorporating and staffing stores. The first con of how Levendary entered into the Chinese market would be the slow moving away from the standardization that it was used to. Being the same across the board while having a few minor changes based off of geographic location is one thing, but to have almost the entire menu changed was a huge flaw.
The second con of how Levendary entered would be that an executive did not travel to China prior to the opening of many chains. Entrusting this with Louis Chen wasn't necessarily a bad thing, but I think an executive should have at least made the effort to go explore China to see where the prime locations were and give their input before Chen went ahead and opened many stores. The biggest con of how Levendary entered the Chinese market was relying too heavily on Louis Chen. There is no questioning that Chen brought with him a vast amount of skills and qualities that could possibly make entering the market easier, but based off of the information in the case, there is no other research mentioned other than entrusting Chen with the task of opening stores in China.
I think by giving so much power to Chen without any guidance was a mistake, as clearly shown when the chains started to have vastly different menus as each other. Question 2: What changes (if any) should Mia Foster make? Specifically, what should she do about Louis Chen? And what changes (if any) would you propose to headquarters? The biggest change I think Mia Foster should make would be to have more executives involved in the operations in the Chinese market so more can become educated and aware of the type of market China has. Another change I think Mia Foster should make would be to provide Louis Chen and the Chinese operations with more support. Chen states that the corporation in Denver doesn't provide the same support it does in other locations and with this support and executives becoming more involved, Levendary should be able to capture a majority of the Chinese market.
When it comes to Chen, foster has a few options in terms of his employment. If Foster decided to keep Chen and not make any changes, his experiences and connections could prove to be useful for successful growth within the Chinese market, however, Foster may continue to see this resentment that Chen has been showing. If Foster decided to terminate Chen, she would no longer have to deal with his push-back and could operate the Chinese stores how she saw fit. The downside to getting rid of Chen would be losing that person who has the most knowledge about the culture and region as well as the expense of finding a replacement for him. The third option would be to keep Chen and put all resources to help him.
The pro of this would be having the corporation become an integral part in the operations and providing Chen with the resources needed to expand across the Chinese market as much as it can. The con of this would be the use of more time focusing on a single market rather than focusing on other markets to infiltrate and try to gain a presence in. The only change I would propose to headquarters would be to provide more resources for Chen to use and give more support to him. With the corporation getting more involved, more executives will begin to understand the Chinese market. If, for some reason Chen was to leave or get terminated, there would be a group of people who are knowledgeable of the market and would be able to take over for him until another person was to be hired and trained. Question 3: Prepare a short action program for Foster to help her deal with the need for continued growth in China.
The short action program I would develop for Foster would consist of the following: -After arriving in China, meet with Louis Chen and discuss her expectations of him as the CEO. Allow him to speak his part, and be sure to let him know that you are now the CEO and you are the one in charge. Explain to him that the corporation will be providing more support to him and hopefully, this will lower his barriers and eliminate any hostility he has towards foster. -After the meeting with Chen, I would encourage Chen to show Foster the various locations from a customer's perspective so she can see what changes need to be made.
I would also encourage Foster to learn as much as possible about the Chinese market and also possibly meet as many connections that Chen has as they are available. -After visiting various locations, I would encourage Chen and Foster to sit down again and layout another action plan. Foster can give her thoughts on everything and Chen can provide his plans on how to achieve these goals. Foster can then also let Chen know how the corporation will assist in the completion of these goals. -After Foster leaves China, I would encourage her to schedule bi-weekly conference calls with Chen, even if it is just for fifteen minutes so she can be constantly updated on the progress of the completion of their goals.
Works Cited:
Bartlett, Christopher A., and Arar Han. 2013. "Levendary Café: The China Challenge". Briefcases: Harvard Business School, 1-10.
Related Topics