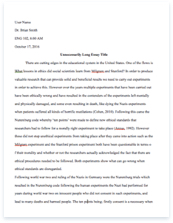 The whole doc is available only for registered users
A limited time offer! Get a custom sample essay written according to your requirements urgent 3h delivery guaranteed
Order Now
I had interviewed about leadership with Lee who is the manager of strategic planning in my company. To sum up the interview, he defined that leadership is causing other people to do what the leaders want. That is, leadership is helping other people to rise to their full potential while accomplishing the mission and goals of the organization. He also illustrate that in order to demonstrate leadership well, honesty and ethical behavior are key value as best leader. Communication with subordinate employee, confidence in leader and followership, all of these are begun from honest of leader. Other important characterize as a best leader he mentioned is ability to delegate. As leader has no sufficient time and ability to deal with variety of works, leader should delegate many jobs to subordinate employees. He emphasized that leader must delegate power of decision-making as well as works.
Additionally, through delegate power of decision-making, necessary information that the subordinate employee has for creating good result are gained. He also argues that leader should show different leadership depending on situation and employee, and if leader cannot be flexible in their leadership style, he or she will fail. He talk about his experience that there were two team members, and their job was similar in the team and they are also similar age and same level, but their performance was different. Thus, he thought that he should be treated differently. However, he was confused between equal treatment and fair treatment. And he said that empirically equal treatment is easier than fair treatment.
Because fair treatment, requires the leader to continually assess performance and react to employees in a manner specific to each employee and situation. He also mentioned that leadership cannot be existed without followers and followership. In other word, leadership can be completed by followership. In order to make many good follower, he said, leader's instruction has to be included accountability, humanity, judgment and collaboration. He also mentioned that a person who followed leader well, probability that to be a good leader is high. Lastly, he believes that good leader is born. He assumes that some people come into this world with a natural capacity to lead, and everybody else does not, and there is not much we can do it. However, he said that good manager can be made by trained and educated.
Regarding leadership or good leader, some of his opinions are similar and some of his opinions are different to opinion that the author in the text book argue. In this textbook, the authors define leadership as the process to affect other people for achieving an organization's goals. It is similar to interviewee argument. Yet, interviewee emphasized the power in leadership. He states that it is very important to use the power fairly and ethically. He also argues that leaders need a strong relationship with lots of excellent in-group members for forming the power. It is in line with Leader-Member Exchange Theory (LMX) that assumes leadership is formed through transacting mutual interests between leaders and followers.
The text book also talks about that we need to recognize the important of interactions among leaders, followers, and the situation, in order to better understand the process of leadership. Indeed, interviewee underlines the importance of situation as well as the relationship between leaders and followers, in leadership, and said that leaders need to observe and analysis the situation as well as understand followers' attitudes and behaviors. Leadership style the leader use must be suited to the situation in order to lead followers in right directions. When an organization tries to promote a big change or is in a financially difficult situation, the organization needs to use performance-based-leadership. On the contrary, an organization with a solid financial structure is not problem to use people-based-leadership.
Moreover, the book states that good leaders have abilities to build good teams and make good results. It is closely related with his opinion that a good leader can gain high performance and followers' high job satisfaction. From a short-term perspective good performances are important, however, good performances without job satisfaction would be very dangerous from a long-term point of view. Job satisfaction of followers is associated with their loyalty and commitment toward the organizations. If an organization focuses on only job performance of employees, in the case of crisis, employees are willing to leave their organization rather than remain for revive the organization. Unlike his opinion that good leaders are born, the book talks about the importance of experience and education in the process of developing leadership through action-observation-reflection (A-O-R) model.
The authors argue that in order to be a good leader, leaders should observe followers' actions as well as their actions, learn the important meaning by observation, and then continuously change their actions in the positive way. I assume that he talks about the leaders who are technically genius such as Steve Jobs or Bill Gate. Indeed, they are not a best leader. They are genius technician, but commonly people are confused because they are socially and financially successful people. In short, many part of his opinions are similar to the authors' opinions, however, some opinion like how to make a good leader, are different from the text book. I believe that leaders should exactly understand a given situation and demonstrate the leadership suited the situation, and then continue to observe and analyze both their actions and followers' behaviors, and try to develop their leadership by combining experiences with scientific theory through various educations. Leadership is like a construction. Nothing was completed from beginning. Everyone have to build up abilities out of nothing.
Related Topics