Leadership Audit Analysis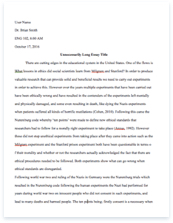 The whole doc is available only for registered users
A limited time offer! Get a custom sample essay written according to your requirements urgent 3h delivery guaranteed
Order Now
Introduction
Leadership is a very board, subjective topic in the business world. It is still in high demand topic amongst leaders in every walk of life in both the public and private sectors. There are hundreds of books on leadership with each one claiming to some unique e so prized wise insight into what it means to lead others as an effective leader. Malphurs book entitled, "Being Leaders" is in a class of its own as it seeks to teach the Christian Leaders how to refine their leadership to lead in the ever-demanding, ever-changing 21st Century. Malphurs does this by offering the leader who reads his book the opportunity to get a clear, practical assessment of their leadership and skill-sets in order to continue to refine them during the leadership grow process. This paper highlights the valuable insight I received from the required reading and taking the various leadership audits and assessments. It is also meant to be a self-reflective and further responding to questions in order to give any insight unable to be disclosed on the audits.
Relational Skills Audit p. 201
The first audit I did was the Relational Skills Audit. This audit was short and concise. It evaluated the strength of my ability to interact with various relational situations. This is a very important audit because being a good leader knows how to manage a series of diverse relationship. Especially trying to stimulate people to do the things you know needs to be done. Managing and mastering important relational skills takes time and it is an ongoing task. Malphurs says that leaders should develop their capabilities by being, knowing, doing, and feeling.1 As leaders we can identify with our following by understanding what they go through on a daily basis both interpersonal and intrapersonal. This helps us to relate to them and their specific leadership needs. I was not satisfied with the results of the audit and felt a little awkward because I wanted a better explanation of my results.
The audit was not designed to produce an interpretive analysis. I did take the time to ask God to help me develop my weak areas and further enhance my strong areas. My below average areas are in confronting, recruiting, hiring and firing, delegating, and disciplining. My strong areas are in conflict resolution, decision making, risk taking, and team building. My goal is to improve my relational leadership skills. Overall, most of my relational skills were average. As I was taking this audit I reflected on the many relational opportunities I'm presented with to lead others on a daily basis as an Army leader and Church Pastor. However, to be brutally honest, I am a self-conscience person, I am more mindful of my weak areas and relational hang-ups than I am of my strengths. This challenges me to become more understanding of people and how to relate to them and any given environment. A Christian leader must realize the importance of leading people and not necessarily projects.
Task Skills Audit p. 203
The second audit I did was the Task Skills Audit. This audit was identical to the first one. It evaluated the strength of my ability to manage various tasks displayed in a variety of situations. This is a very important audit because in order to be a good leader I must know how to manage a variety of tasks. Especially trying to instruct people to do the things you know needs to be done. Managing and mastering important task is a lot simpler than managing relational skills. Precisely because the former deals with the bottom line and the latter deals with the variability of people emotions and ability to produce. Yes, it is true that the people of an organization bring life and blood to a project however; it is also true that people can be misguided or unmotivated by interpersonal difficulties that ultimately affect timely productivity. My sentiments from the first audit still hold true for this one.
I was not satisfied with the results of the audit and felt a little awkward because I wanted a better explanation of my results but the audit was not designed to produce an interpretive analysis. Overall, the results of my Task Audit were average. I did score below average in the following areas: Researching, time management, praying, budgeting, and advertising. These results are not from a direct reflection of substandard performance but more particularly from my disinterest in these topics as a whole. What is important to note is that I have note been the evaluated in these areas formally so my guess is that they are below average. On the other hand, I received a strong scored in the following areas: Strategizing, use of technology, strategic planning, creating/ creativity, and implementing ideas.
Leadership Style Audit p. 205
The third audit I did was the Leadership Style Audit. Of all the audits I enjoyed this one the most. It was interesting and its evaluation was on point in assessing of my particular leadership style. This may appear to be a leadership style may appear to be a misfit for my particular organization needs in carrying out my duties as a Senior Enlisted Military Leader. However, their have been several times when I was able to accomplish the mission through using my inspirational- diplomat leadership style. Nowadays Soldiers are looking for leaders to led with integrity and credibility. Credibility is a very important aspect of leadership. Malphurs said it best, "Credibility is critical to leadership because without it Pastors, their people in general, and their boards in particular don't trust one another."2 It is perhaps the backbone that secures the follower trust in the competence of the leader, especially when followers are being challenged to do something they never did or go some where they never went.
Credibility allows a leader to take his followers where their knowledge turns into trust and their rational turns into faith in their leader's ability. Overall, on the Leadership Style Audit, I was satisfied with my results reflecting my leadership style. It is safe to say that it is accurate and on point with its assessment. Chapter five does a great job at capturing and defining my particular inspirational – diplomatic leadership style. "Inspirationals are people-oriented leaders who bring this strength to ministries that need more relational orientation."3 The vast majority of the section in chapter five speaks to my exact leadership traits. In the five plus years I have been leading people I have seen my leadership style continuously unfold. One of my goals has always been to be such a positive and inspirational influence on people that they would willingly follow me especially in times of doubt. Therefore I concluded to be a transformational leader and to be a change agent and number one supporter of equitable leadership.
Church Structure Audit p. 214
The fourth audit I did was the Church Structure Audit. This audit was the shortest of all, no less insightful, but kind of confusing because it did not have any specified directions for its intent or evaluative end state. The thought process I used to complete this audit was basically to simply depict our current church structure as truthful as possible. Based on this information here is a motif of our church structure. On average the members are older and not younger, power within the church is shared, decisions are made from the top, the coordination efforts are good, but could be better, the responsive time for feedback is fast, information is less filtered, ownership is weak, our sense of responsibility is weak, our commitment is also weak, our relationship are formal, but we seem to handle difficult situations well, there is less span of control, the quality of personnel needs should be more qualified, and leadership style is more relational than task-oriented.
Overall, on the Church Structure Audit was the least of my favorite audits for no other reason than it seemed too basic. It did not offer any additional analysis or interpretive data to stimulate my thinking. After I completed the Audit, I reflected on possible ways I can help improve the structure within the church. I believe one simple thing I can do to improve on the health of the church structure would be to give the membership body of the church a membership survey. This would solicit their opinions and feedback concerning the structure and health of the church.
Leader's Core Values Audit p. 215 – 217
The fifth audit I took was the Leader's Core Values Audit. This audit was informative. It evaluated me from a list of twenty-five values. From the list of values the top six I scored the highest in became identified as my core values. These include: fairness, encouragement, giving, leadership, excellence, team ministry. This audit was very user-friendly and easy to understand. It also rendered a respectfully good analysis of my top six core values as a leader. I concur with the results of this audit. The second part of this audit highlighted the Church's core values. This served as an appropriate tool to see how my personal leadership core values aligned with the church I currently pastor. I was able to get a clear picture of how my values and the church's values look like. It was stunning to see the similarities for example the Church's core values are: fairness, family, relationship, cultural relevance, cooperation, obedience.
Ministry Circumstances Audit p. 219 – 222
The sixth audit I did was the (Ideal and Actual) Ministry Circumstances Audit. This audit was short and concise. It evaluated me to determine what I think the best ministry environment I feel my leadership would soar. This is in keeping with Malphurs suggestion for leaders to discover their ideal circumstances by taking the Ministry Circumstances Audit.4 From the survey I believe I would serve best in a ministry that looks similar to this: I serve as the pastor of a growing, mixed, parachurch organization that is being revitalized. It has more than 400 members reflecting a combination of all ages. The primary staff is fairly new only served less than two years. I believe my ministry skill set can restore functionality into a dysfunctional organization. I prefer the ministry to be located in America; however I'm open ministry opportunities in Asia as well. The second part of this audit is a picture of the actual ministry circumstances I'm currently in. It may seem as though a sad commentary in comparison to my ideal ministry circumstances.
But I have the faith of God inside me, His spirit is living in me, and He has equipped me for the work and toil to bring out the best in this ministry. I'm the pastor of a traditional ministry located in the city of Seoul South Korea. The church is a a smaller sized church that is experiencing declining membership of less than 20 members. The leadership team has been established for more that five years. Most of the members are middle-aged adults; the ministry is politely dysfunctional, that is to describe the heavy level of responsibility placed on the few leaders within the church. And therefore if one is absent those in attendance must be ready to wait to the key leader shows up to move the ministry program along. Overall, I was truly challenges by this audit to live and aspire to achieving my ideal ministry circumstances. I want to sharpen this passion and continue to focus on what I feel strongly and care deeply about.5
Pastor-Organization Fit Audit p. 225
The last audit I did was the Pastor-Organization Fit Audit. This audit was short but illustrated great significant in its intended application. The audit was only nine questions long. It evaluated my personal leadership fit for my current position in the church. I believe these sorts of surveys are very important because in ministry a simple problem such as a pastoral misfit can cause a great decline in a solid membership base. I witnessed many transitional ministry experience membership rapid increase and decrease as a result of a change in pastors. This is in part true because of the pastor – organization fit may have not been as congealed. Above all, character plays an important role towards solidifying a pastor fit for an organization.
"Credibility and trustworthiness rest on the foundation of Character. To compromise your character is to compromise your leadership and erode the trust of followers."6 Overall, my audit revealed that I'm a good match for my current ministry and position. I believe this is not because I'm considered the most likely person nor the best qualified for the position, but primarily because of my availability and willingness to serve. Additionally my inspirational- diplomatic leadership helps feel gaps were cultural misunderstandings take place in ministry.
Conclusion
In conclusion, leadership a very important subject in the business world and equally important in Christendom; It is worthy of studying and leaders should seek to apply its principles to their life as a leader. Malphurs wisely takes a humble approach and instructs his readers to conduct self assessments of their leadership traits and characteristics by completing several leadership-related audits. This is a very useful because no one other you and God know the intricacies of your leadership paradigm. I was encouraged by taking the various audits and will take the following two action steps: First, seek to share these helpful leadership audits as leader developmental tools with my church members, Soldiers, friends and family members. Second, seek to maximize my leadership influence through honest evaluation and awareness of my own leadership limitations.
Just as Malphurs suggested that "A Christian leader is a servant with the credibility and capabilities to influence…"7 The goal in observing these two action points will be to help me become a positive impact on a group of people in order to accomplish a common goal or achieve a desired collective end state.8 In closing, biblical leadership is the preferred model to be employed by all Christian leaders, no matter the context, leadership style, and or leader limitations. Because together everyone achieves more and when you seek to serve others you are always are winner. I have gained so much insight into my own leadership style and ability that I know for certain I'm a better leader as a result of this class.
BIBLIOGRAPHY
Malphurs, Aubrey. Being Leaders: The Nature of Authentic Christian Leadership. Grand Rapids, MI: Baker, 2003.
Related Topics