Leadership and Management Paper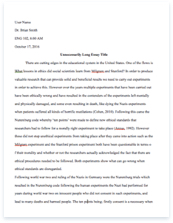 The whole doc is available only for registered users
A limited time offer! Get a custom sample essay written according to your requirements urgent 3h delivery guaranteed
Order Now
The leader chosen for this paper was an extraordinary man with vision and a very charismatic personality. Although he was a very powerful preacher in his congregation, he was also a struggling politician trying to change things during a difficult time in our nation. He had a belief that all men were created equal, that all races had the same power and should be treated equal. He was very inspirational, and his words encouraged many people never to give up in what they intend to do. Although there were many different aspects in his management skills that allowed him to become an effective leader, one of the main ways was his ability to manage and maintain his true vision of one nation with all people equal. During this time of turmoil, he was able to keep his growing congregation united even though there was great national tension and intolerance. His speeches were inspirational to hundreds of thousands of people throughout the nation, all in the name of peace, never once urging his followers to engage in civil disobedience. He was a man of peace, a philosopher, a man of the cloth who developed a co-existence among people belonging to different races and cultures.
When he accepted the Nobel Prize for Peace in 1964, his acceptance speech included certain segments that not only included once race of people, but several races of people who were aligned with all civil rights communities who are steadily moving towards reaching their own goals with core risks and danger in order to create the desired freedom and rule of justic in the region (www.nobelprize.org). His role in civil rights movement had been administrative, impulsive and objective throughout. In the presence of long derisions by the family of the president of that time, he continued to do what he had aimed to. His role as a leader was subtle yet vivid while he led his followers in the movement to gather for peaceful protest at one of the major states.
He led a thousand protestors to the white house without any civil or public disobedience. His leadership was flawless and admiring throughout the process and never once did he consider any reprisal or fear for his safety. His role as a leader was seen as a shining light throughout all African American communities in the nation while they were suffering from racial discrimination from among a Caucasian society of Americans. As a quote from one of his most infamous speeches, he talks about his vision in a dream that one day his four children will be living in a nation where they will be judged by their characters and not the color of their skins (www.americanrhetoric.com). During this time he was faced with many obstacles that prevented him in changing the attitudes and unequal treatment of all minorities within the nation One primary hurdle during his movement was a Southern law called the Jim Crow law that mandated separate public schools and public facilities for Whites and Blacks throughout the South.
This major obstacle did not allow for racial integration and caused many pro-white rallies against the disestablishing of this law. A major step toward success was received when the Jim Crow Laws were finally abolished and replaced with the Civil Rights Act of 1964 and the Voting Rights Act of 1965. Another obstacle was the disagreement between certain black communities where it caused the establishment of two other separate groups. One was led by a pro-religious activist while other was being led by another activist group. These groups were on the opposite side with his ideology and, due to the situation, he had to figure out a way to unite the groups united and eliminate their individual influences by practicing common sense amongst the people. This man and his followers supported a vision of a country where racial integration was possible and was a place where were not judged by the color of their skin but the merit of their character. While studying the life of this man, it became apparent that although he could have been tempted to become another radical activist of his time, but he chose to be a peaceful activist and used this peacefulness in order to come to a resolution.
This was not the resolve of a man with weak character, but of a successful leader. This man tried to spread love and peace and forgiveness wherever he went. He never disregarded his opposition and believed in spreading love rather than hate. This leader was very effective at what he did. He is described by some of his followers as having an exceptional way of getting people to work together rather than fight. His leadership style was not confined only in speeches, but in his everyday activities as well. He often listened while others argued, and then he would calmly sum up the debate and identify a way forward. He was consistently hesitant to sever or sour relations with anyone who might help the cause. His style can be considered as a transformational leader.
Transformational leadership starts with the development of a vision, a view of the future that will excite and convert potential followers. This vision may be developed by the leader, by the senior team or may emerge from a broad series of discussions. The important factor is the leader buys into it, hook, line, and sinker. Transformational leaders are often compelling, but are not as selfish as pure Charismatic leaders, who succeed through a belief in themselves rather that a belief in others.
References
"Martin Luther King I Have a Dream Speech – American Rhetoric." Martin Luther King I Have a Dream Speech – American Rhetoric. N.p., n.d. Web. 08 Dec. 2014. "Martin Luther King Jr." – Acceptance Speech. From Les Prix Nobel En 1964, Editor Göran Liljestrand, [Nobel Foundation], Stockholm, 1965, n.d. Web. 08 Dec. 2014. .
Related Topics