Leadership and Management Argumentative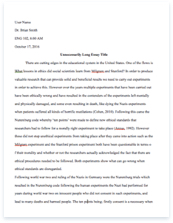 The whole doc is available only for registered users
A limited time offer! Get a custom sample essay written according to your requirements urgent 3h delivery guaranteed
Order Now
The changing patterns of the UK workforce are a difficult area to research, with little academic writing found specifically about the subject. However, it can be closely linked to changes taking place in the western world – as disposable incomes increase, education levels rise and attitudes to class, status and aspiration fragment, employees require a more individually based, self determining workplace framework.
These new types of employees are referred to as Millennials (Oblinger 2005). Born after 1982, this group will outnumber Generation X, according to sociologists. Our parents' generation changed jobs three times on average, careers hardly ever. But those born in the 1970s and 80s in particular are likely to change jobs between five and ten times in their lifetimes, and experience at least four career shifts as many as six to ten if they were born after 1982 (Oblinger 2005).
The generation of today is increasingly determined to negotiate, control and progress its own career paths. People are now less likely to stick in a job or career that they are not happy with. This is in a stark contrast to previous generations.
How can someone be a successful manager and what needs to be done to succeed in modern living conditions? Do the managers have to work out the unwritten rules in the organisational jungle and play by them so that they win? It is very difficult to answer this question especially nowadays. Political and social instability, credit crunch created a trend of qualities and skills a modern manager should possess in order to succeed. Of course, there are many courses and workshops that promise to "help" to move up the career ladder and teach those "must have qualities and skills".
There is no doubt that the managers should:
-Communicate effectively with their subordinates, create a professional environment
-Listen, create two-way feedback
-Build the team and enable the team to collaborate more effectively with each other
-Understand the financial aspects of the business
-Lead by example, help to grow and develop their team
Modern managers are evaluated not only by their technical skills, but also by their interpersonal, conceptual and communication skills.
From the one hand, the technological evolution, globalisation, and social attitude towards the possibilities and opportunities of the human being have led to the nearly all-possible its self-realisation on a business arena. "Yes, we can" proved to be a successful slogan for modern managers. Obviously, the expectations are very high, needed personal qualities and responsibilities for success have become more clear and definite. Thus, firstly by developing a certain set of standard required qualities, abilities and expertises of management a manager can become successful and secondly, can win without working out any written rules.
For example, in order to succeed according to the job description of Somerfield (1), a manager should be focused and driven, should know how to manage all aspects of the store operations, including the delivery of excellent customer service, operational standards whilst achieving health and safety compliance, should maximize the financial performance and sales of the store, maximize product availability, optimizing stock management and replenishment processes, as well as contribute towards the financial performance of the store etc.
Of course, this is just a list of responsibilities and accountabilities that should be carried out by every manager in theory, but the successful manager also depends on his/her skills like the functions of management: planning, organizing, directing, and controlling according to Greenberg (2005). They say that the main job of a manager is to get results through creativity, expertise and energy of others. It is also worth mentioning that the successful manager will be determined by other capabilities, such as the ability to hire and retain good people, to motivate and develop the potential of each member of the team, to create winning plans, to control the budget, to make good decisions, to help promotable people to move up and on and on…
Current social conditions, legal systems, technological development, organisational structures, target driven commitments made it possible to win without working out "any other rules" of success. An endless list of successful managers including Sir Alan Sugar, Roman Abramovich, Jos� Mourinho who "made it" without any "connections", living abroad and speaking even different languages proved that it is possible if only a manager has a "personal required package" to win.
There are twelve tools a modern successful manager should use in order to win according to Jossey-Bass (1994). He suggests that by really reinforcing these rules it would help to succeed in the organisation.
Related Topics