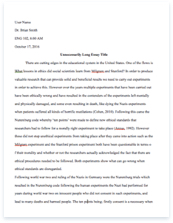 The whole doc is available only for registered users
A limited time offer! Get a custom sample essay written according to your requirements urgent 3h delivery guaranteed
Order Now
1. In what ways are the Hazel's customers most likely to judge the quality of her lawn care services?
Here are some of the ways that Hazel's customers are likely to judge the quality of her lawn care services.
•Type of lawn mower?
This could be judged by her customers because there are different types of mowers and it would make a mark on the quality of her services. Some mowers are manually operated and some engine powered, robotic, solar powered , some may even have people riding on it to control its movement, some may have baggers (to store cut leaves/grass) and some may not have those. So it does depend what tools are used.
•How much of fertilizer being used and if it's organic?
In this era, Organic is the way to go as it is important if the customers are environmentalist or just doing their part to go green. There's no better way of keeping mother earth green like going organic, better even by using organic fertilizers which takes more time to release and will help strengthen their grass. Hazel's customers would also judge on the amount of fertilizer that she uses because if too much fertilizer is used, it can weaken the grass.
•Is a soil test done?
Although this is not done in Malaysia, in America it is done. Because soils there are not always in the right pH value, as Hazel does have a lawn care service, it's by right for her to do a soil test in order to know how much of liming is needed to be done in order to get the soil to the right pH value.
•Are the services regular and flexible?
•How much is the cost of service and quality of tools used?
Customers may also compare her to other available lawn services out there and it can be the difference of quality work done even up to her punctuality. A good lawn service would also tell customers how they could care for their lawn for their knowledge.
2. A. Hazel is the operations manager for the business. Among her responsibilities are forecasting, inventory management, scheduling, quality assurance, and maintenance. What kinds of things would likely require forecasts?
Since Hazel has a number of clients (mostly neighbors) and I assume must also have a lot of potential clients (seeing that her work done is quality), she can be able to first forecast the amount of clients she wishes to have, or to aims to get. With this forecast, she can now offer her clients contracts, which would be either monthly/ every 6 months.
Once that is settled, she can then forecast the number of extra/part time workers she would need to hire in order to be on par with the contracts she has and also forecast on the inventory as to what's needed to be purchased and how many times a year does she need to order stock/ maintenance for the machines used. She also would require forecasting her expenses, such as cost of repairing, maintaining, wages, and even replacements. Later on, she has to decide on the pricing of her services, in order to ensure that she would have enough to pay for her expenses and the base price should also be able to cover up anticipated lost of revenue.
2. B. What Inventory items does Hazel probably have? Name one Inventory decision she has to make periodically
The inventory items Hazel would probably have are:
•Rotary mowers
•Reel mowers
•String Trimmers
•Edgers
•Push-type Spreaders
•Blowers
•Rakes
•Sprayers
•De-Thatcher
•Aerators
•Lawn Mower Blades
•Baggers
•Fertilizers
•Oil and filters
The one item, would be the lawn mower blades, as it comes in single units and it's used most, so it's the item that would needs monitoring periodically as it would be needed to changed often to maintain quality of mowing.
2. C. What scheduling must she do? What things might occur to disrupt schedules and cause Hazel to reschedule?
I think the scheduling that she needs to do would be scheduling her workload, organizing it right and making sure that there are no double bookings, and also making sure that appointments are organized in sequence in order to have a smooth workflow when services are being executed.
Timing is also considered a factor in scheduling as in between appointments, there must be enough time needed for the work to be done and for her to travel to the next appointment, or she could make use of her part time workers to do the job on days where there are too many appointments(depending on the request and requirement of the service that needs to be done) and there is not enough time to get to the next place, they could step in for her.
The things that might occur to disrupt her schedules and that may cause her to reschedule could be the weather, natural disasters, her health, emergencies (faced by Hazel or the customers), unavailability of part time workers, condition of tools are some of the factors that can cause disruption to Hazel and make her reschedule.
2. D. How important is quality assurance of Hazel's business? Explain
I think it is very important because when there is quality assurance in her business, her customers would be able to have confidence in her and in her service that she provides them with. With a quality assurance, she would have the advantage over the others because current and potential customers would trust her more. This would help her gain more customers in the near future.
2. E. What kind of maintenance needs to be performed?
Most on the maintenance that needs to be performed with me primarily based on the equipments that she uses and also on her truck/van that she uses for her business. This would basically mean that maintenance has to be done on the mower's blades, replacing broken/worn out equipments and also changing the oil on the mowers engine so as to the truck/van's engine.
3. What are some of the trade-offs that Hazel probably considered relative to:
Hazel could consider expanding her business. She can opt to expand her business into a franchise as well. By expanding her business, this would immediately equal to more clients and when there are more clients, it would mean there would be more money coming in and therefore could be more profitable.
Expanding a business can also mean expanding the base of the business, like from town, to state and even can go global, but by doing so she may have too much of work to handle, and it'd be even harder because if it's global business, it means more money needs to be separated into capitals and expenses would cost so much more. This could lead to a hike in charges for services.
4. The town is considering an ordinance that would putting grass clippings at the curb for pickup because local landfills cannot handle the volume. What options might Hazel consider if the ordinance is passed? Name two advantages and drawbacks of each option.
a.Use the grass clippings as compost.
-Since grass clippings are naturally 85% water and a little much more of 4% nitrogen, they would quickly be reduced to 1/10 of their volume if only composted correctly. If you have a large amount of grass clippings and you composted it right, it would just turn out to be a less than quarter of the amount you had originally. To ensure that there is air circulating inside the composite, and to stop it from giving out bad odor, dry matter such as newspaper, leaves or even cardboard should be added to it. -The disadvantage is that it does attract pest and if the composting is not done the right way, it may bring more work to be done.
b.Use them under the hedge
-This may not be an orthodox way of getting rid of grass clippings but it's certainly and out of the box idea. This idea proposes that grass clippings can be used for weed control at the base of hedges. It is said that it would help to maintain moisture and would be and additive as organic matter to the soil.
5. Hazel decided to offer the students who worked for her a bonus of $25 for ideas on how to improve the business, and they provided several good ideas. One idea that she initially rejected now appears to hold great promise. The student who proposed the idea has left, and is currently working for a competitor. Should Hazel send that student a check for the idea? What are the possible trades-offs?
I think Hazel should send that student a check for the idea. It would show that Hazel is a trustworthy person and keeps to her words.
If Hazel sends the check, Hazel may just lose the $25 but she would get back in return way more than just that $25, it could be double or even triple that amount. By moral rights and also conscious, and also the spirit of goodwill, Hazel should send the check to show the student of how she values the input of the idea given and that Hazel is a boss that supports her workers and encourage them to be better people. When the student receives the check, he/she might think twice of going back to it's former employer since his/her idea was such a value to Hazel that she paid for it. The student might also give out good feedback and publicity for Hazel but it depends because the student now currently works for a competitor.
If Hazel decides not to send a check to the student, the student may bad-mouth hazel and Hazel's company may be tarnished by the bad publicity it would receive once bad reports/comments are given about the company. Hazel may even lose her good reputation for not being an honest employer and nobody may want to work for her again or join her promotions and she may even just lose her clientele.
References:
•Composting Grass [Internet] Available From: [Accessed 22 June, 2011] •The Lawn Mower [Internet] Available From: [Accessed 22 June, 2011] •How to Hire Lawn Care Services [Internet] Available From: [Accessed 22 June, 2011] •How To Forecast A Lawn Service Business [Internet] Available From: [Accessed 22 June, 2011] •Introduction to Lawn Care Tools [Internet] Available From: [Accessed 22 June, 2011] •Inishindie (2008) Gardening Matters [Internet] Available From: [Accessed 22 June, 2011]
Related Topics