John Proctor vs. Reverend Parris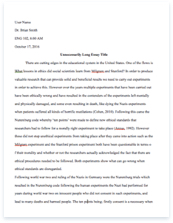 The whole doc is available only for registered users
A limited time offer! Get a custom sample essay written according to your requirements urgent 3h delivery guaranteed
Order Now
In "The Crucible," it is clearly illustrated that religion is the foundation in which the society of Salem is built upon. This directly implies that morality is highly valued in the society. In the beginning of the play, Arthur Miller draws a distinct line between John Proctor and Parris from their backgrounds and moral standards. Proctor is a married farmer who had an affair with a 17-year old house worker, Abigail. Parris is a minister of the church, and his reputation plays a very important role in maintaining his position as the leader of the congregation. While Miller portrays Proctor as an immoral man, he portrays Parris as a somewhat respected man in the city of Salem. But their moral standards eventually swoop through the witch trial that strikes the town. Throughout the story, Parris serves as a foil for Proctor by giving up his integrity for his reputation while Proctor gives up his life for goodness.
John Proctor is bound in guiltiness from his affair with Abigail. He struggles to get free from the past, and believes that his wife, Elizabeth, is making it more difficult by being unforgiving. But it is really his own guilt that keeps him in the darkness. He thinks that there is no goodness left in him, and it would be impossible to put all the broken pieces back together. On the contrary, Reverend Parris thinks that he deserves respect from the people of Salem. When the issue of whether Parris should be granted six pounds for firewood, Parris implies that he deserves it since he is the minister of the church and his possessions definitely matter to him in order to maintain his position.
When the Putnams claim that Parris's daughter, Betty, is bewitched, Parris shows reluctance to accept such opinion because he is fearful that the faction of the church who wants to get rid of him will use it against him. Since he is so concerned with his reputation, his moral standard lowers its barrier in order to meet his needs. This is illustrated in the court scene, when he testifies a lie that he hasn't seen anyone naked in the woods. Parris's desire to maintain his position as the minister of Salem has overpowered his integrity and goodness. On the contrary, John Proctor believes from the beginning that he had already hit rock bottom. His affair with Abigail has broken Elizabeth's trust in him, and he knows it for sure. He attempts to make up for the sin he had committed by trying to please Elizabeth, but the guiltiness just gets bigger and his frustration piles up day by day. Through the witch trial, Proctor is eager to prove Abigail wrong and to save the accused women, including Elizabeth. He even confesses that he had an affair with Abigail out of desperation to reveal her evil motives. The climax of the play is when Proctor makes his life-changing decision.
And this is not when he decides to confess according to Hale's will and to sign the paper to conform his confession. His life-changing decision is made when he tears up the signed paper. Proctor initially says that he will confess and sign the paper because he feels no goodness in him at all, and one more lie won't even matter anymore, and it will save his life as well. But when he finds out that the paper will be nailed to the church board, he loses temper. He says that he has given up his soul by signing himself to lies, and all there is left for him is his name. At the end he tears the paper and this shows that Proctor did not abandon the last bit of integrity that was left in him, and decided to trade his life for goodness. In "The Crucible," Reverend Parris serves as a foil for John Proctor because his action of giving up integrity and goodness for reputation certainly helps to emphasize Proctor's life-changing decision, which was to give up his life for goodness that he had longed for.
Related Topics