Is Man the Lowest Animal?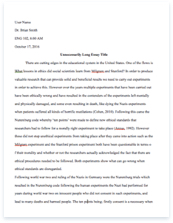 The whole doc is available only for registered users
A limited time offer! Get a custom sample essay written according to your requirements urgent 3h delivery guaranteed
Order Now
In Mark Twain's, The Lowest Animal, he uses satire very effectively to get his point across. He uses hyperboles to show how man can be cruel and wasteful in his lifetime. Twain uses oversimplification to tell us how humanity is violent and finds fun in watching thing suffer. He then uses juxtaposition to compare the English Earl to an anaconda and found that the anaconda only kills what it can eat and doesn't waste anything. Another example of exaggeration is, "man is incurably foolish." Twain's use of hyperboles and juxtaposition gets his message across very effectively. He makes us feel bad because of the comparison between humans and animals and wants us to socially change. "…some hunters on our Great Plains organized a buffalo hunt for the entertainment of an English earl–that and to provide some fresh meat for his larder…" Through this over simplification of man, Twain successfully explains to the reader man's love for violence. man finds entertainment in violence while animals are only violent because it is how they survive. If man finds entertainment through violence or even death, and animals commit violence for survival, then man is naturally inferior to animals based on man's evil mindset.
"The fact stood proven that the difference between an earl and an anaconda is that the earl is cruel and the anaconda isn't. He watched the anaconda only kill one calf because that is all it could eat, compared to the earl who enjoyed watching all the buffalo die and he only ate one." This is an example of a juxtaposition because Twain is comparing an anaconda with a man. I agree with Twain's point of man wasting food and life while the anaconda eats and takes in what it could, but I do not believe it accounts for all of man. There are some less fortunate people in our world and are thankful for everything you give them and they use or eat it whenever necessary. Yes, for the most part, most of man waste what life provides them but on the other hand not all of the people and the world are the same.
"In truth, man is incurably foolish." the way man is brought up into this world depends whether or not he/she is foolish. I disagree with Twain's statement but validate it for some of man who are not thankful for what life has given them. Not all of man is foolish due to fact many of them try to live as a positive for others. Man is curably foolish because he/she can take unto their own consideration of what is right and what is wrong. In conclusion, I agree with Twain's statement's concerning man. I agree with his statements because he identifies the negative aspects of man which does not apply to everyone but can cause a social change. Twain's purpose was to change people and the way they act and providing this comical satire, and providing the negatives of man, people now understand what aspects they can change.
Related Topics