Is It Helpful Being Skeptical?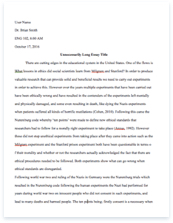 The whole doc is available only for registered users
Pages: 3
Word count: 738
Category: Buddhism
A limited time offer! Get a custom sample essay written according to your requirements urgent 3h delivery guaranteed
Order Now
An old Chinese adage states that, "A skeptic is not necessarily wise but a wise man is skeptical". Well, actually it's not an old Chinese saying; I just made it up. But the value of the comment is worth discussing. I'm prone to being skeptical on most things. Time has developed this sense after being disappointed in outcomes over the years that just didn't materialize as I was led to believe or hoped for. But the wisdom of my choices had a lot to do with the outcome. Hasty decisions with pre-set expectations often fell short. Time has also shown me that there are few absolutes. From my point of view, being skeptical is a healthy response to most unfamiliar situations, especially on issues that can transform over time. A hasty choice based on essential, gut level feelings or the mood of the moment may come back to haunt you in ways you could regret. Being skeptical encourages us to give pause before making final decisions. It demands that we weigh all of the factors that we can gather in a reasonable time-frame before acting on it or emitting words from our mouth that we cannot take back.
But skepticism doesn't always mean inaction. It's the precursor for informed action When difficult or costly choices confront us, we want to avoid buyer's remorse as well as any impulse buying. Similar responses can also be associated with our social and political decisions. A dose of skepticism will help us evaluate what has the best value for our hard-earned money or who best to align ourselves with on this or that socio-political issue. Beware though of those, who make a living in "helping" us come to a decision and not necessarily one, that serves our best interests. So how do we make reasonably sound decisions? In his many travels Gautama Buddha passed through the village of Kesaputta (now referred to as Kesariya), a small city in Bihar, India.
The people of Kesaputta, known as the Kalamas, welcomed the Buddha to their town and then sought his advice on how to deal with all the many wandering holy men and ascetics, that passed through their village, giving their version on how life should be lived and being critical of others. And Buddha told them: "It is proper for you, Kalamas, to doubt, to be uncertain; uncertainty has arisen in you about what is doubtful. Come, Kalamas. Do not go upon what has been acquired by repeated hearing; nor upon tradition; nor upon rumor; nor upon what is in a scripture; nor upon surmise; nor upon an axiom; nor upon specious reasoning; nor upon a bias towards a notion that has been pondered over; nor upon another's seeming ability; nor upon the consideration…The monk is our teacher." Ultimately life teaches us how best to deal with a given situation. But most situations are not constant. We risk missing what life teaches us by accepting the so-called conventional wisdom of another time as permanent solutions.
I verily believe: being skeptical is a part of the process of learning. Our "monk" is the variety of resources available to us in our quest to learn, to understand. And if we seek out only one perception, we miss the wisdom that exists in a dynamic, multi-faceted and multi-cultural world. It goes without saying, that there is a downside though for being too skeptical. Things are usually not what they appear to be at first glance. But (!), being too reluctant to come to a decision could result in losing out on a valuable sale or rejecting a worthy candidate, that could do a better job serving our legitimate interests.
It may be a cliché for some people, but I still find utility in the statement, that "If it appears to be too good to be true, it probably is". We shall always consider the source of information who is urging us to choose one thing or person over another. We know ourselves better than anyone else. Most decisions done in haste because someone is prodding us along, are usually regrettable, when the facts reveal themselves later. So, I think, we shouldn't always trust our first assessment. And on the other hand, we shouldn't hold onto the notion that the ultimate truth will always be revealed either. We may, can and should be skeptical. But we also should listen to the monk.
Related Topics