Is Ethical Behaviour in Business Just a Contradiction in Terms?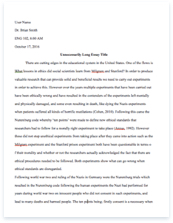 The whole doc is available only for registered users
A limited time offer! Get a custom sample essay written according to your requirements urgent 3h delivery guaranteed
Order Now
Business ethics is the study of business situations, activities and decisions where issues of right and wrong are addressed (Crane & Matten 2004). The words "right" and "wrong" refer to morally right or wrong, moreover "business" refers to commercial businesses, government organisations and even not-for-profit businesses. Business ethics is a highly controversial area subject area, with many arguments over exactly what constitutes ethical behaviour. The goal of ethics is to enable people to make better decisions, not to lay down a set of rules to be followed, but to develop a wider appreciation of relevant factors which affect the resolution of a problem. Difficulties began to arise where possible courses of action involve a mixture of harm and good consequences, or require a choice between harmful and good consequences.
Business ethics, it has been claimed (Collins, 1994) is an oxymoron. By this, Collins means that business ethics is a contradiction in terms, he claims these words do not go together, with the assumption businesses are simply out to make a profit and therefore are amoral. Business ethics has also been described as a game of poker (Carr, 1968). This argument was based on the opinion that business was not subject to the same moral standards and it was possible to deceive and lie.
Ethical investment is the use of ethical social and environmental criteria in the selection and management of investment portfolios (Cowton 1994). Ethical investors care not only for the risk of their financial return but also for its source: the nature of the company's products, methods of their production and sale, location of business, these are non-commercial motives. These points listed will be evaluated and discussed in detail.
AIM:
To investigate, through a case study approach, the main ethical problems that businesses face and their ethical responsibility to customers.
OBJECTIVES:
1. To undertake an analytical review of the literature in the relevant areas 2. Through a secondary source case study approach, to investigate the main ethical problems that arise in businesses 3. To evaluate how far businesses owe an ethical responsibility to customers 4. To offer recommendations and conclusions, based on an analysis of the above points
RESEARCH APPROACH
In order to achieve the above aim and objectives, the following research methods will be pursued. A literature search and evaluation of various secondary sources will be carried out primarily through the use of Napier University's library and electronic resources, such as Science Direct, Pro-quest and ABI/Inform. Relevant secondary information will also be collected from the media, in the form of newspapers, television, radio and magazines.
EXISTING LITERATURE
Barrett E. (1999), Justice in the Workplace? Normative Ethics and the Critique of Human Resource Management, Personnel Review, Vol 28, No 4, pgs 307-318
Chryssides GD & Kaler JH (1999), An Introduction to Business Ethics, London, International Thompson Business Press
Crane A. & Matten D. (2004), Business Ethics, Oxford, Oxford University Press
Fisher C. & Lovell A (2003), Business Ethics and Values, Harlow, Financial Times Prentice Hall
Jones J & Pollitt M. (2002), Understanding How Issues in Business Ethics Develop, Basingstoke, Palgrave Macmillan
Megone C & Robinson SJ (2002), Case Histories in Business Ethics, London, Routledge
ACTION PLAN:
JULY 2004 – Determine dissertation topic
DECEMBER – Extensive reading for literature review chapter JANUARY 2005 – Finish and write-up chapter one, also set an outline for chapters two and three FEBRUARY 2005 – Complete chapters 2 and 3 and draw guidelines for chapters 4,5 and 6 MARCH – Complete and type up remaining chapters
APRIL – Hand in completed first draft to supervisor
MAY – Hand in completed dissertation
Related Topics