Is A.A Morally Defensible?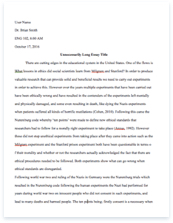 The whole doc is available only for registered users
A limited time offer! Get a custom sample essay written according to your requirements urgent 3h delivery guaranteed
Order Now
Affirmative Action is a policy which attempts to address long standing opportunity inequalities within our society. By setting different standards for those groups who have been denied opportunities, it is hoped that a greater percentage of people within those groups will be able to reverse the status quo and take full advantage of opportunities within our society. On that basis, Affirmative Action is morally defensible.
On the other hand, when individuals within one group are extended opportunities without meeting the standards that others must meet for the same opportunities, it is at the expense of the others, who may therefore be denied opportunities, even though they may have met a higher standard. On this basis, Affirmative Action may not be morally indefensible.
Which country has successfully implemented the policy of A.A, and why?
AMERICA.In the United States, affirmative action refers to equal opportunity employment measures that Federal contractors and subcontractors are legally required to adopt. These measures are intended to prevent discrimination against employees or applicants for employment, on the basis of "color, religion, sex, or national origin".[1][2] Examples of affirmative action offered by the United States Department of Labor include outreach campaigns, targeted recruitment, employee and management development, and employee support programs.[2] The impetus towards affirmative action is to redress the disadvantages[3][4][5][6][7] associated with overt historical discrimination.[8] Further impetus is a desire to ensure public institutions, such as universities, hospitals and police forces, are more representative of the populations they serve.[9] Affirmative action is a subject of controversy. Some policies adopted as affirmative action, such as racial quotas or gender quotas for collegiate admission, have been criticized as a form of reverse discrimination, and such implementation of affirmative action has been ruled unconstitutional by the majority opinion of Gratz v. Bollinger. Affirmative action as a practice was upheld by the court's decision in Grutter v. Bollinger.[10] Why did sa implement?
South Africa chose to implement Affirmative action because it makes sure that qualified designated groups (black people, women and people with disabilities) have equal opportunities to get a job. Affirmative action means advance to a better life, a long overdue chance to become and start enjoying the good things the country has to offer. For others, particularly those leading comfortable lives today, it signifies a new form of discrimination and injustice, a vengeful form of juggling around with race quotas so as to threaten their livelihoods and security.
Is it justifiable?
There is a vast amount of injustice that is automatically corrected simply by the application of normal and non-controversial principles of good government. Indeed, this is the main form that affirmative action will take. This will be the guarantee that affirmative action is grounded in the general advance of the poor and oppressed, and does not become a mechanism simply for enabling a new, light to emerge. Does the policy need to be discontinued after a certain length of time and why?
Related Topics