Internal Tnvironmental Analysis of Beauty Salon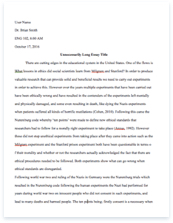 The whole doc is available only for registered users
A limited time offer! Get a custom sample essay written according to your requirements urgent 3h delivery guaranteed
Order Now
I will discuss the forces and trends that must be taken into consideration while developing a strategic plan.in todays beauty salon business I will provide a list of the lesson learned from my learning team discussion. I will create a SWOTT table summarizing my findings. My environmental analysis will identify the one primary strength , / weakness, threat and trend.
Internal and external environmental analysis
In my SWOTT analysis the internal and external analysis of a beauty salon influences my business success. Internal operation make certain that the business has competitive position in the market but internal issues can create many problems for business. The customers are the most importance for the business. If there are no customers, there is no business. Know your competition so you Understand their position in the marketplace.
Strengths
While developing a strategy plan for a hair salon, strengths can be easy to identify. A hair salon that has a large amount of customers has a very successful marketing, with good operation and is able to perform good management. Factors such as teams that are trained well and have traffic coming from many places may be the center strength of the salon. In my business I have a team of twelve workers to take excellent care of the customer's needs. They have the talent and expertise to do whatever the customer want. The beauty salon has a member to go out and purchase the entire product that is needed. The repetition of this beauty salon is good within the community because the salon is located on a busy main street.
Weaknesses
Weaknesses in internal factors mean negative factors that are not so good such as a poor area for the business. This includes any internal factors that may prevent the business from succeeding. Weakness is a factor where beauty salons business is in control. The business can fail if the economy goes into long recession.
Opportunities
Opportunities are external factors, which the business uses to build a competitive advantage. Opportunities and threats portion of the SWOTT form an idea of a particular part the external part of the salon. Opportunities contain new hair styles and styling procedure. By believing in a following all regulations, look good to customers who consider coming to the beauty salon. Threats
Threats are another external factor such as a competitor or the existence of too many competitors in the local market. (Example) if you are operating a beauty salon and there are other salons in that same neighborhood, other salon may provide a major threat to your business. A salon has to develop new strategies to make their salon more popular that the other salon. Some threats can't be changed from new competition in the industry's laws and regulations.
Trends
Social changes and has a certain pattern which provide new ideas for the beauty salon to move forward to new methods.
External forces and trends considerations
The external forces for consideration is economic, legal and regulatory, and global forces., these forces is to be understood in business plan which is important to the life of business (Rajeev & Vani, 2009). Economic forces
In economic forces concerning a beauty salon business, it depends on the growth of the business (Rajeev& Vani, 2009).
Legal & Regulatory
Organization must adhere to laws and regulations set forth by the state and federal government (Skok, 2000).
Global forces
there are no plans to go globally at this time.
SWOTT Analysis Table
External forces and trends consideration
Strength weakness opportunity Suitable place service for For the salon weak economy new market Service for New hair| Threats trends Reduce price for customers
Services poor product, value area Good service Price is right more service Quantity of products and produce| Customers has less moneyRecession last longerMajor issues internal forces and trend conside
Managing the chain of events in this process is what is known as supply chain management. Effective management must take into account coordinating all the different pieces of this chain as quickly as possible without losing any of the quality or customer satisfaction, while still keeping costs down By Lea A. Strickland, on September 7th, 2010
Where do you start to improve business performance or change how you do business? The first step is to understand the full scope of what is taking place in your business. For many businesses things just "happen"; agreements are entered into, documents are signed, and intellectual property is developed in the "vacuum" of "the business". For these businesses, the activities and the issues, the risks and the opportunities are filtered through a glass that is half full. The motivations and "what is in it for the other guy" are sublimated to the immediate needs and pressures of running the business day-to-day. For some the issues may never materialize into real threats. For others, it seems to be inevitable that the glass will be tipped and its contents spilled across the market table.
Major issues
Companies today are faced with a host of issues, which may cripple their functionality, or in some extreme cases render the organizations obsolete.
These challenges are dependent on the nature of operations of the company but broadly, there are common challenges, which are faced by a
References
Marketing Teacher: Strengths, Weaknesses, Opportunities and Threats (SWOT) Pearce, J., & Robinson, R. (2005). Strategic Management: Formulation, Implementation, and Control (9th ed.). Boston, MA: McGraw Hill.
Related Topics