Internal and External factors in Nike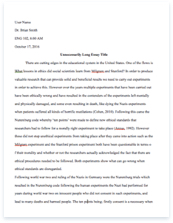 The whole doc is available only for registered users
A limited time offer! Get a custom sample essay written according to your requirements urgent 3h delivery guaranteed
Order Now
Internal and External factors in NikeMelena GillihanUniversity of PhoenixInternal and External factors in NikeBateman and Snell (2007) state that, "Management is the process of working with people and resources to accomplish organizational goals" (Chap.1, pg 16.) In order for this to work and run smoothly the four functions of management come into play; leading, controlling, organizing, and planning. The four functions are impacted by internal and external factors such as globalization, technology, innovation, ethics and diversity. The successful application of the four management functions when dealing with these factors, impact the success and failures of Nike.
According to DeCarlo (2008), Nike has made the rank of 419 out of 2000 on Forbes global 2000 list of the world's biggest companies. Nike has dominated the shoe industry since they first started back in the 1960s and have yet to slow down. They have grown from selling shoes in the back of a trunk to selling worldwide in more then 160 countries (Company Overview, 2008). Globalization, technology, innovation, ethics, and diversity have played a role in the success of this company. This paper will focus on these five factors and their impact on the Nike organization.
GlobalizationThe four functions of management are the core of the Nike Corporation. Reason being as the leader of all footwear and athletic apparel in the entire world, how can they not be? Nike has developed enormously throughout its history, starting out as a small sports shoe importing business from Oregon and growing to the leading athletic company, representing many nations around the globe. " Nike's success around the world has proven it has fulfilled a large portion of its goal of globalization, and the Nike Corporation still strives to continue to succeed until they have fulfilled their mission statement of providing inspiration and innovation to every athlete in the world" (Company Overview, 2008).
Planning, organizing, leading and controlling lead to the success of how Nike has innovated itself, as a business as well as fitting its products to fit every sort of athlete in the world. A great example of how Nike has committed itself to the world is; when logging onto its web page a potential customer is offered the option of viewing/shopping in their desired continent/country or language. "To bring inspiration and innovation to every athlete in the world" (Company Overview, 2008) is Nike's mission statement made by its owner (co-founder) Bill Bowerman who tells you Nike did not plan on just being the leading athletic apparel provider in the United States, but the entire world.
TechnologyTechnology has always been a vital source in the success of any company. With technology, come both complications and new opportunities. According to Bateman and Snell (2007), they have stated that "Robert Nardelli of Home Depot and Phil Knight of Nike were named two of BusinessWeek's Best Managers of the Year. Both were named for a variety of reasons, including good business results. But key decisions involved technology change." They also state that "Knight not only changed some unpopular labor practices but also spent more time developing excellent information systems, logistics, and supply chains. In early 2005, Nike was in its strongest financial shape ever."For the past few years, the Nike Company has become aware of the importance of technology.
In order for Nike to market their footwear, apparel, etc worldwide, technology is an essential part along with the design and developing process. With the help of technology, Nike "sells its products to approximately 18,000 retail accounts in the United States and through a mix of independent distributors, licensees and subsidiaries in nearly 200 countries" (Reuter, 2004.)Technology has allowed Nike to produce numerous types of web pages for the different sports and athletes. Some examples would be nikegolf.com or nikebasketball.com which not only showcase the products and gear for that particular sport but also shows video clips, interactive games, upcoming commercials, and downloads such as screen savers or wallpaper.
The individualized web pages allow easier access for consumers to search for specific apparel or gear. In the past searching for one pair of sneakers needed for basketball could have taken a good length of time, now you just go to nikebasketball.com and you are able to search for that sneaker with no problem. This new system has given the customers something to be happy and satisfied with as well as it giving Nike a great lead in the industry as far as sales.
InnovationInnovation in the business world is defined as "the act of introducing something new" (Webster's Dictionary). Nike is a company that from the beginning wanted to make a change not only through the United States but throughout the world. Nike believes that "sports unleash potential" (Nike Responsibility, 2008). Not only is Nike looking to change the potential of people in sports but potential in life. Over the years Nike has tried to evolve their product line so that they can implement change throughout the world.
Nike has tried to create a new and exciting line of products that will enable athletes to become better at their desired sport. Nike has made over seventeen different types of shoes for different sports that are used on a daily basis by many different people (Nike INC, 2008). These products have evolved from a simple tennis shoe to an impressively crafted product that not only changes sports, but changes lives as well.
The amazing impact comes from the way that Nike has crafted and evolved the frame of their shoes. No other company has the same unique design that makes Nike as popular as they do. Also the way Nike has created their corporate environment is impressive. They believe that changing and growing corporately is a big part of the innovation of the company. Not only does the product grow but the company grows as well. "We see corporate responsibility as an integral part of how we can use the power of our brand, the energy and passion of our people, and the scale of our business to create meaningful change" (Nike INC, 2008).
This company is not only concerned about short term growth and responsibility but corporate responsibility and goals as well that over time grow into long-term growth and innovation strategies.
EthicsIn order to be considered a leading company in the world a business must display a high level of ethics. Nike has strived to be a company that prides itself on its ethical practices and has shown that they are dedicated to ethical practices on a global level. For example, Nike requires that their subcontractors around the world adhere to environmentally safe standards and they do not tolerate any form of discrimination towards current or potential employees. (Shaw, 2008) Being a company that proactively encourages and enforces ethical standards has helped Nike to become known as not only a great company to work for but also a great company that consumers want to support.
Nike has made a continuous effort to be a leader in its industry and has lead by example when it comes to ethics. As Shaw states, "Nike's willingness to break the marketing stereotypes that had denied endorsements to African Americans both helped sell Nike shoes in inner cities and contributed to the company's progressive image" (Shaw, 2008). Nike has created a Code of Conduct that has helped push the company into the future and has made it a leader. According to Shaw, "The Code stated that Nike seeks always to be a leader in our quest to enhance people's lives," which means that at every opportunity, including in the areas of human rights and equal opportunity, "we seek to do not only what is required, but, whenever possible, what is expected of a leader" (Shaw, 2008). The high level of ethics that Nike has chosen as their standard has successfully helped the company to grow and prosper throughout the world.
DiversityDiversity in the business world is best defined in the Webster Dictionary as "a state of difference, dissimilitude and unlikeness (Webster Dictionary, 2008)." When you think about diversity in the work place there are several things that come to mind; culture, different backgrounds in education, experiences etc. "The diversity of an organization's workforce is to take affirmative steps to attract, develop and retain diverse employees (Workplace Answers, 2008)." Nike is a company that prizes itself on its diversity. According to Nikebiz.com Nike is made up of diverse people, backgrounds and different skills. Nike's VP of Global Diversity and inclusion Gina A Warren is in charge of leading Nike into and retaining the highest diversity standards.
Nike has a "vision" for all of its team members to be inclusive, high-performing, and diverse. In order for Nike to"achieve this vision, their strategy is to: cultivate diversity and inclusion to develop world-class, high-performing teams; ignite change and inspire critical conversations around diversity, inclusion and innovation; create venues and environments for open dialogue, diverse opinions and a multitude of perspectives (Nikebiz, 2008)."Nike asked its employees what diversity means to the company and its employees, they responded world wide by answering; "diversity drives recruitment and of the most dynamic people; diversity enriches the creativity and innovation that shapes the brand; diversity grows competitive advantage; diversity heightens the stature and belief in the brand and within our culturally diverse consumer base (Nikebiz, 2008)."
How managers can use delegation to manage the impact that these factors have on the four functions of managementBuilding a dynasty is not possible when workers work for themselves and don't collaborate within each other for the best outcome possible. "We aren't looking for workers. We are looking for people who can contribute, grow, think, dream, and create" (Company Overview, 2008), by Nike stating those words it shows how much each employee puts into their company, properly delegating throughout its employees from management is humungous. Great Leaders (managers) are able to bring out the best in each employee for a profitable outcome of the company. Goals are set and accomplished when teams are on the same page working collectively toward that goal. Properly delegating employees as a manager shows great leadership within that manager.
Each employee has a particular worth within themselves, it is the manager's job to acknowledge that and bring it out of them. As an example, worker 'A' can be a better research finder than worker 'B'. But employee 'B' is a better typist and more experienced in structuring a project into presentable form. The outcome of their final product is going to be tremendously worth more versus the two workers working separately. Team stands for Tremendously Empowering Achievement through Many. We have all heard the statement "The more the merrier", it stands true for everything team!
Conclusion
The four functions are impacted by internal and external factors such as globalization, technology, innovation, ethics and diversity. The successful application of the four management functions when dealing with these factors, impact the success and failures of Nike. Nike has proven to be effective in all four areas through team work, it's vision for their employee's in diversity, the choice to have the highest level of ethics, creating change and their unique use of technology has driven Nike to be one of the leading companies world-wide. These attributes are what makes Nike an excellent employer, a big contributor of the community and a successful business.
References
Bateman, T.S., & Snell, S.A. (2007). Management: The New Competitive Landscape (7th ed.). [University of Phoenix Custom Edition e-Text]. New York: McGraw-Hill/Irwin. Retrieved April 7, 2008, from University of Phoenix, rEsource, MGT/330 Web site.
Company Overview. (2008). Nikebiz. Retrieved April 8, 2008, from http://www.nikebiz.com/company_overview/DeCarlo S., (2008). The World's Biggest Companies. Forbes. Retrieved April 8, 2008, from http://www.forbes.com/2008/04/02/worlds-largest-companies-biz-2000global08-cx_sd_0402global_land.htmlNikebiz.com. (2008). Nike Corporation. http://www.nikebiz.com/company_overview/diversity/Nike INC., (2008). "Nike innovation". Retrieved April 1, 2008,From http://www.nike.comReuter, Steven. "Nike Financial Summary" Mar. 2004. Yahoo Finance. Retrieved on April 9, 2008.
Shaw, R., (2008). Reclaiming America: Nike, clean air, and the new national activism. University of California Press, p. 83. Retrieved April 10, 2008, from http://www.ucpress.edu.
Webster's Dictionary. (2005). "Innovation". Retrieved April 1, 2008,From http://www.webstersdictionary.comWorkplace Answers. (2008). Diversity. Retrieved April 11, 2008. www.workplaceanswers.com
Related Topics