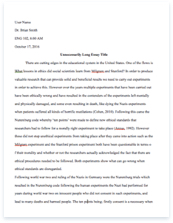 The whole doc is available only for registered users
Pages: 9
Word count: 2017
Category: Refugee
A limited time offer! Get a custom sample essay written according to your requirements urgent 3h delivery guaranteed
Order Now
Unaccompanied immigrant children are defined as children who migrate to the U.S without a primary caregiver. Most children leave their home in search of new opportunities, education, safety and to help their families. They face many challenges in their home country, during the journey and once they have arrived at the U.S, which can lead to psychological distress. These experiences occur during a crucial developmental period stage in their life, placing them at a high risk of psychological problems. These children need guidance and support along the way and with the help of family and counselors they can become very successful and go a long way. This paper focuses on the useful tools and therapeutic factors I will implement as a future therapist to this group of individuals. It provides a background of their situation and emphasizes the emotional and social needs that should be addressed.
Keywords: immigrant children, minors, experiences, mental health, group counseling, refugee
Unaccompanied Immigrant Children
Undocumented unaccompanied immigrant children enter the United States from many lands and often experience many traumatic experiences along the way. According to Coleman and Avrushin (2017), unaccompanied immigrant children (UIC) are those children who are under the age of 18 and illegally enter the U.S. without a primary caregiver. These children aside from the journey they made to get to the U.S they also face challenges and stressors when they arrive and begin to get settled. They usually never get their past traumatic problems addressed, their illegal status creates obstacles such as being able to get scholarship, being able to get a driver's license, financial support and the constant fear of getting deported. I believe this group of people highly need therapeutic guidance and as a future counselor I would love to concentrate and help these young individuals.
Review of the Literature
Resiliency involves the inner resources or traits developed by an individual to survive life's difficult situations and the coping skills utilized to deal with trauma (Henderson & Milstein, 2003; Ungar, 2008). Unaccompanied immigrant children (UIC) face various problems especially when they don't have familial support. Aside from traumatic experiences they face some disadvantages when they begin school. However, school serves as a stable mechanism and shapes them into responsible and goal-oriented individuals and it also pushes them to learn the English language. That is why it's extremely important for caregivers and educators to give and offer the most support for these students as they can. Most unaccompanied immigrant children come to the U.S to help their family and escape unsafe conditions in their country. The most popular countries of unaccompanied children migrating to the U.S are Guatemala, Honduras and El Salvador. In their home country they face political violence like kidnapping, threats, family members getting killed and economic misery like insufficient food, having to work at a young age and not earning enough money in order to live. As well as their journey coming to the U.S they can also face physical and sexual assaults, accidents, hunger and robberies. They leave family behind and risk their own lives throughout the journey to get here seeking for a better life, more opportunities and a brighter future. Due to these circumstances this leads for these children to mature quicker for being in these situations. Usually these kids are caught by immigration and depending on age they are put into refugee shelters. Another obstacle they must face by having to be patient and wait for the long process of reunifying with their family members in the U.S. Throughout this process these children should receive support and counseling needs as necessary. The refugees shelter they are placed at usually provide these services where they listen and talk to these children in order to address their feelings, anxiety, trauma in their home country or while traveling to the U.S. I believe these services are beneficial in these children's lives.
This research paper will review the potential needs and the high demand of unaccompanied children who need counseling and the applications of group therapy once they have arrived in the U.S. As a future school counselor and therapist, I would love to work with this group and incorporate the therapeutic factors I have learned. I have recently started working as a case manager at the Homestead Shelter here in Florida and that is one of the reasons why I became interested and aware of this group. The unaccompanied alien children program named Office of Refugee Resettlement (ORR) provides custody and care of these minor who have been detained by ICE. ORR is accountable for detaining and sheltering UIC for whom a concern is brought up as they may have been victims of trafficking. In a short time, I have witnessed the pain and sadness these kids face daily. These disruptions affect their transitions into adult life, therefore they need intensive attention and direction in their lives. Some children are calmer and endure differently and some act out and seek attention for help. Children exposed to difficulty following migration, mainly those placed in prolonged detention, are more severely affected (Fazel, Panter-Brick & Stein 2012). Since I started this job, I have become more aware of the high population and special needs these children need. I would like in the future to be able to help these kids and use some techniques and group counseling for this specific group. I believe there are not enough resources and services provided to these children.
Immigrant children who are arriving in the U.S are likely to benefit from schools that can enable them to settle into a new environment. It will not be an easy task and another challenge is made for the fact they must learn a new language, adapt to a new environment and a new educational setting. It's extremely important that they are being guided by a counselor in school or a therapist outside of school. Birman et al., noted the school context is where the process of acculturation develops and therefore providing support either on an individual basis or using a multimodal approach may serve to enhance socialization and support psychological adjustment and development. A multimodal therapy (MMT) is a psychotherapy approach developed by Arnold Lazarus who created the term behavior therapy. It's built on the knowledge that humans beings think, act, feel, imagine, etc. and if needed psychological assistance should be able to address each of these modalities. Everyone is affected in a different way and should be treated accordingly for treatment to be effective. MMT can be beneficial for these children after they have been assessed based on their emotional responses, sensory displays and the way they interact with people. According to Nickerson, Bryan, Silove and Steel (2011) recent studies have highlighted the importance of offering comprehensive or multi-modal services to refugees and their families. Multimodal interventions aim to concurrently address issues of psychological functioning, social and cultural adaptation, physical health and ongoing psychosocial difficulties.
As for therapeutic factors in group counseling, instillation of hope, universality and altruism can be extremely beneficial when working with these children. By creating a feeling of optimism with installation of hope during a group session, can increase a child's ability to look above their obstacles and look forward to a successful future. They will see beyond their struggles and work hard to achieve their goals. By showing these children that they are strong and by giving them hope can change their lives. With universality, group members will encounter other individuals who have gone through similar problems. This therapeutic factor will show and give them the sense that they are not alone, and their pain is not exclusive and creates that bond that others are willing to support them, and it can be profoundly healing. They will remove that feeling of isolation and further the energy to hope. Several studies have investigated the prevalence and severity of PTSD in refugee children who had been exposed to war (McCloskey & Southwick, 1996). During group therapy children will realize they are not unique, and others have shared similar experiences, this will make it a little easier to open up and express their feeling. Friendships will also flourish from group therapy, having someone to talk to who understand what we have gone through can help through the healing process.
On the other hand, group therapy offers various insights and opportunities to provide help to one another. As group member slowly realize they can be of importance to others and have something of value to give, their self-esteem begins to rise. As Yalom mentions "we receive through giving". This therapeutic factor is called altruism. These therapeutic factors can help these minors/children with their suffering and help to start a new healthier development from here and now. Embrace their difficulties, grow as strong individuals and never stop fighting to become the best version of themselves. As Schaffer (2000) notes, "Whatever stresses an individual may have encountered in early years, he or she need not forever more be at the mercy of the past…. children's resilience must be acknowledged every bit as much as their vulnerability".
As the group therapy evolves some development of socializing techniques emerge. As children begin to engage in relationships, they begin to learn new social skills. As the group facilitator, I can focus on these social skills by using modeling exercises and role-playing. As group members take what they learn in group therapy, healing can start to take place. The energy of the group is extremely important in order to fuel the overall experience and to have a good outcome. Imitative behavior is one of the sources of learning in group therapy. Modeling can be very important for clients to learn new ways of how to handle difficult emotions without using drugs or violence. Group cohesiveness is achieved later during group therapy it's when group members begin to feel warm and comfortable, giving a sense of belonging. This experience can be nurturing and empowering.
The importance of family, peer and educational realms are crucial to help these children also fulfil their potential and surpass their trauma. Sullivian et all. (2007) found that integrated Latino immigrant adolescents who maintain heritage culture practices and adopt receiving culture practices reported higher parental involvement, positive parenting, and family support, but assimilated adolescents reported the greatest levels of aggressive behavior. The involvement of family and having support play a huge factor in the therapy process of these children. When directing group therapy, cognitive behavioral therapy will be one of the orientations I would like to use with these individuals. Cognitive-behavioral interventions, mainly in group settings, have been associated with decrease in PTSD symptoms among children who experienced single incident stressors (March, Amaya Murray & Schulte 1998). Child neglect and abuse is also a red flag when working with these children. These situations should be spoken of and addressed.
Conclusion
Immigrant children constitute one of the fastest growing groups in the United States today, with their numbers increasing to an estimated 9 million by 2010 (Fix & Passel, 1994). As a result, I have researched thoroughly, and I have analyzed the different techniques and therapeutic factors used to help unaccompanied immigrant children mental health. This group of children do not usually receive or have the access to therapy services. Some of the issues why these children are migrating to the U.S include: political, social, economic. They are willing to risk their lives throughout the journey and other incidents that may happening during the trip. As a future therapist and school counselor, it's my goal to act as an advocate and implementing interventions that promote the mental health of these young individuals. We cannot ignore the emotional needs of this group, especially as its being growing more and more throughout the years. It's a group that has interested me a lot and I look further to help and provide a difference in their lives. Unaccompanied immigrant children are a vulnerable group who need intensive and special care. It won't be easy, but I know it will be extremely rewarding.      
Related Topics