Illegal Immigration: A Modest Proposal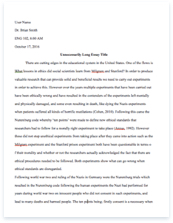 The whole doc is available only for registered users
A limited time offer! Get a custom sample essay written according to your requirements urgent 3h delivery guaranteed
Order Now
In today's society, America is faced with the problem of illegal immigration. Every day more and more illegal immigrants are crossing into the United States from foreign countries. Border control from Mexico to the United States does not work, obviously, because there are not enough Border Patrol agents to place at least half a mile apart from each other. Instead of finding a way to prevent the immigrants from coming on over, the United States just threw up a fence (like that will stop them!) and put police aka border control on the roads that lead into the United States from Mexico. Border control is like birth control, if you do not care or do not enforce it every day, then it will not work.
When the illegal immigrants do get into the United States, they do not have jobs so the government willingly gives them free Health Care and does not make them pay taxes. Most illegals have better lives than natural born Americans. The United States government complains that the immigrants are a problem yet clearly it is not solving the problem. Most immigrants do have jobs in the United States when over half the legal population cannot get jobs. "There are approximately 7.7 million illegal aliens employed in United States jobs in 2008 (End illegal immigration)."
To solve this problem, we will need to do two things. The first thing that we will need to do is get the illegal immigrants out of the United States and back to their home land and make sure they stay there. To get them to leave, we can have Sheldon (from the TV show The Big Bang Theory), a smart physicists, go and install tiny speakers in the walls of the illegal immigrants houses where they cannot see them. He should know what he is doing, right? After they are installed, at random times during the day someone with a deep, weird, strange, and scary voice should come across the speakers and say "Get out of the United States and go back to your home land or we will kill you and your family!!"
After the illegal immigrants are back in their home lands, the second thing we do is dig a mote. The mote should be a mile wide, and should stretch around the entire United States border. That way, not even boats can drop people off. The mote will be full of alligators 18 feet long and the biggest phrinnas the United States can find. Along with those scary, flesh eating animals, there will be an electric shock machine that will knock you out for twelve days. The machines shock waves will have sensors on them that detect human flesh in the water. WE should post signs that warn you of everything that is in the mote. That should scare people away from it!!
Another tactic to go along with all of this is stopping all incoming air traffic. If you leave this country by air plane, no matter where you are going, you better have a passport. If you do not have one on you, there is no possible way you would ever be able to get on an airplane that comes back into the United States. Also, there will be a machine that will be able to detect fake passports, like the ones that all these illegal immigrants come over here with. No passport and you are stuck in a foreign country forever. I hope you can speak their language.
With all the illegal immigrants out of the United States, all legal Americans will have more job opportunities and a better chance at good health services. There will be more houses and the economy would be fixed if all illegal immigrants were non-existent in the United States. Our government would not have to spend money on people who are not legal or natural born Americans. This would cut back on government spending on such things as medical bills, food, clothes, etc. for non-tax paying people. Doing all of this constructive work could cost a bit of money, but in the long run I do believe that it would be for the best for our country.
Related Topics