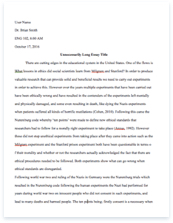 The whole doc is available only for registered users
A limited time offer! Get a custom sample essay written according to your requirements urgent 3h delivery guaranteed
Order Now
IDEO is an international design and innovation consultancy based in United States of America. IDEO was formed in 1991 by a merger of four established design firms: David Kelley Design (founded by Stanford University professor David Kelley), London-based Moggridge Associates and San Francisco's ID Two (both founded by British-born Bill Moggridge), and Matrix Product Design (founded by Mike Nuttall). Till date IDEO has worked with renowned clients like Apple, Pepsico, Microsoft, Procter &Gamble, AT&T, Samsung, Philips etc and developed several successful products from them.
If we closely observe the work culture and management at IDEO, we can list down a few features of the organisation: •Flat hierarchy
•Open Culture
•Focus on designing innovative "out of the box" products •Constant innovation at organisation level by picking up best practices of the client and implementing them in their organisation. •"Trial and Error" method of innovation: employees are encouraged to make mistakes and learn from them
The core competency of IDEO is "Innovation", producing something which is completely out of the box for the client and hence all the activities it performs while developing a product revolves around innovation.
IDEO's innovation process can be broadly divided into 5 stages or activities.
1.Understand and Observe
This involved the following:
•Understand the planned product
•Observed related products
•Brainstorming (on various parts and features of the products, the features, functionalities etc) •Prototyping following the 3R strategy(Rough, Rapid, Right) to evaluate the result achieved so far. •Extensive Market research
2.Visualize and Realise
In this staze the product development team visualized potential solutions through tangible prototypes to the point where product directions are chosen. This is done using the following mediums: •Tech Box: the company's giant "shoebox" for curiosities ans interesting gadgets meant to inspire innovators. •Show and Tell sessions: where designers and engineers an showcase their insights and products •Deep dive approach: in case of a standstill this approach is used to generate a large number of creative concepts, weed out weak ideas and start prototyping based on top handful ideas •Prototyping
•Enlightened trial and error: to encourage employees and designers to come up with innovative ideas 3.Evaluate and Refine
This stage is aimed towards developing functional prototypes and resolve technical problems as well as problems users may face. it is done using the following mediums: •Computer Aided Designs
•Concurrent Engineering: a fusion of art and engineering to produce aesthetically pleasing products which are technically competent.
4.Implementation(Detailed Engineering)
This stage is marked with completion of the product design and verification that it worked in the intended way. It involved: •Technical Documentation
•Delivery of fully functional model, tooling database.
•Vendor selection of various parts.
5.Implementation (Manufacturing liaison)
It involves resolving issues involving the final design to ensure smooth product release to manufacturing as the product moved from shop foller to client's factory lines. Steps involves: •Production of tooling
•Regulatory approvals
•Pilot runs
All these stages required continuous client involvement to make sure that the designer's perception of the product is in conformance with the client's perception.  Development of 3Com's Palm V
The Palm V project required development of a PDA which is slimmer and sleeker than their existing Palm Pilot.
Development Process
Phase 0:
•Extensive market survey to understand the improvement areas of Palm Pilot. •Careful study of Palm pilots by actually using it and identifying the improvement areas. Phase 1:
•Developing prototypes of different parts of the product. •Brainstorming with a diverse team on various aspects(size, shape, colour) of the PDA •Brainstorming on the materials to be used to make various components of the PDA Phase 2:
•CAD of the developed prototype of Palm V
Phase 3:
•Engineering of every component in terms of electronics and software •Testing for Govt. Regulation.
Phase 4:
•Assisting in final manufacturing of the product.
Related Topics