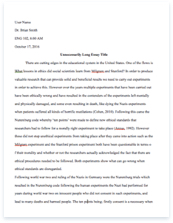 The whole doc is available only for registered users
Pages: 5
Word count: 1119
Category: Retailing
A limited time offer! Get a custom sample essay written according to your requirements urgent 3h delivery guaranteed
Order Now
Mauds is a cafe located in Windsor, at the top of the high street. It is a independent store because there is only one of it. They have a competitive market because there are different type of cafes like this but are selling different products eg. Sweets. Mauds stock in their café is ice cream and other sweets. Mauds would most likely employ either old people or students so they can do shift work to fit in with school. Mauds is on a main road and is close to the train station so will bring most customers in to say as if they were on the high street they wouldn't be seen by passing drivers. This business is probably a sole trader because it's an independent store and there is only one store. Mauds competitors would be other cafes around the area for example; the crooked house or Independent Store Pandora is a jewellery shop based in central Windsor. It is a multiple chain store because there is more than one of the shop and is also world wide. They have a competitive market because there are a lot of other jewellery shops but they are selling different products.
This store is oligopoly. Pandoras shop stock is all jewellery. Pandora would most likely employ young people because being a jewellery store they are most likely to be more interested in jewellery then older people. Also staff tend to be female due to the interest of the product. Pandora is not on a main road but is right next to a train station so when people get off the train and walk towards town it is right there so it will bring customers in because there are a lot of tourists that go to windsor to shop. Pandora is a Private Limited Company. Pandoras competitors would be the other jewellery shops near by for Multiple Chains Supermarkets Tescos is a supermarket because they sell more than a few type of products. This supermarket is a oligopoly because there are many different other supermarkets selling the same products but with different competition. Tescos shop stock is mainly food but can also be house furniture or clothes. Tescos would probably hire either young part time people or old people either full time or part time.
Tescos in windsor is on a main road so its easy to find. Tescos is a Public Limited Company. Tescos competitors would be Waitrose, Morrisions and Asda. Department Store Daniels is located in the middle of the high street. Daniels is a department store because there is different types of departments in the one store but all selling specific things to that department. This store is a oligopoly store. Daniels stock is a wide variety because they have different departments in the shop for example; sports department, jewellery department, kids department. Daniels would pretty much employ any age or gender because having a wide variety of stock they would need different people working in certain areas of the store. Daniels is in the middle of the high street so it is accessible to drive straight to the front of the shop but it's a 2 minute walk from a train station, there is bus stops round the corner and there is a car park just beneath waitrose. Daniels is a Private Limited Company. Catalogue Stores Argos is located in one of the shopping centres in Slough.
Argos is a Catalogue Store because they have a catalogue that can be used to order things instore and online, also they give a new catalogue out ever season with new stock in. This store is a oligopoly. Argos have a wide variety because sell a lot of different items for example: watches, toys, garden furniture. Argos would most likely employ older people because they are more likely to be more experienced with the machines in store and the ordering systems. Argos is in the town centre next to a road and bus stops around the corner they also are located next to a car park so its easy to access from the car park. Argos is a Public Limited Company. Argos competitors are Next, Tesco and Littlewoods. Charity Shops Cancer Research is located in Windsor town. Cancer research is a charity shops because the money they collect from people buying the items in store, goes to some sort of charity and in this store it goes to help research for cancer. Cancer research is Perfect Competition.
Cancer research's stock is used items that people have donated to be sold so others can buy then the money will go to charity. Cancer research would probably hire old people that volunter to work because it's a charity shop so they wouldn't usually get paid where as younger people would prefer to get paid for their work. Cancer Research is based down one of the mini high streets in windsor so there is bus stops right around the corner and there is a car park just over the road. A charity shops ownership is a charity. Cancer Research competitiors would be other charity shops for example; British Heart Foundation, Save the Children and Oxfam . Discount Store Poundworld is located in the middle of slough town. Poundworld is a discount store because it sells all is products at a very cheap rate. Poundworld is monopolistic. Poundworlds stock is small cheap items that you could find in many shops but many people would prefer to buy from here because its a lot cheaper and easier.
Poundworld would probably hire anyone that is suited to the job but mostly old people would most likely work in here. The poundworld in slough is on the main high street and in the town centre. It is close to a train and bus station. it isnt very close to any roads but is next to two big shopping centres. Poundworld is a Private Limited Company. Poundworlds competition would be poundworld, savers and wilkinsons. How retailing has changed over the last twenty years Back then people used to come into shops and used to rely on whatever the sales person advised them on what to buy because they didn't have much if not any knowledge on what they were buying. Also they would have to go into shops because there was no internet so they couldn't online shop. But now people can read reviews and do their own research on what they are buying and can online shop can get it delivered instead of having to go into the shops and buy it right there and then. Also mobile apps for shops are available to purchase items online or on the go.
Related Topics