Human Services Professional Worksheet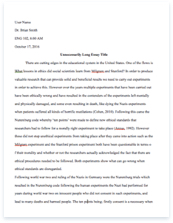 The whole doc is available only for registered users
A limited time offer! Get a custom sample essay written according to your requirements urgent 3h delivery guaranteed
Order Now
A domestic violence program provides protection and resources to individuals treated violently by their spouses or partners. These programs can have many components. Shelters are available for individuals needing protection from violence. Additionally, some services provide resources to individuals once they leave the shelter to help them regain independence. As mentioned, this program may provide protection for individuals, but it may also provide protection for children in the individual's care. There are generally a large percentage of young children who are in need of protection in addition to the individual seeking help. These programs generally do not provide service for males, as outpatient services are offered for violators of the female population. In many residential programs, counselors provide advice and counseling. They assist residents living away from their abusers.
Victims in the program wishing to move on with their lives, away from the perpetrator, will find advocates available to work with them. These advocates help program participants find work, housing, legal support, and other services in the community. Some shelters can provide some form of legal assistance. The role of the professional working in a shelter is to help program participants cope with losing their home and community and with the abuse. This is often a traumatic time for the victim.
Often, victims come to the shelter with nothing, and they need help putting their lives back together. The role of the professional is to help with emotional recovery, finding work and shelter, and rebuilding their lives. A homeless shelter
Homeless shelters are temporary residences of desperation for homeless people which seek to protect vulnerable populations from the often devastating effects of homelessness while simultaneously reducing the environmental impact on the community. They are similar to but distinguishable from various types of emergency shelters, which are typically operated for specific circumstances and populations – fleeing natural disasters or abusive social circumstances Homeless shelters are provided for those that fall on hard times and need refuge. Typically, these shelters are non-profit organizations normally associated with either churches or federal or state governments. They are designed specifically to be temporary homes providing for those that have fallen on hard times an opportunity to get back into the workforce.
Circumstances for entering a homeless shelter include but are not limited to: health complications, unpaid bills, or a missed paycheck. Homeless shelters are usually operated by a non-profit agency or a municipal agency, or are associated with a church. They almost always have Section 501(c)3 corporate organization with a Board of Directors pulled from various sectors of the community. Often, such Boards include clergy, elected officials, and even shelter clientele and people from the surrounding community. Homeless shelters often provide other services to the community at large. Others include support groups, and/or substance abuse treatment.
Homeless individuals within the United States are assisted through various Federal programs. Examples include the Social Security Disability Insurance (SSD) and the Social Security Supplemental Income (SSI) programs. Such applicants may qualify through their medical records. The Social Security Disability Insurance service extends benefits to families if they have earned sufficient work "credits." The Social Security Supplemental Income service offers financial assistance towards individuals in need who are disabled, blind or elderly. A crisis intervention center
Crisis Intervention Center is emergency psychological care aimed at assisting individuals in a crisis situation to restore equilibrium to their biopsychosocial functioning and to minimise the potential for psychological trauma. The priority of crisis intervention and counseling is to increase stabilization. Crisis interventions occur at the spur of the moment and in a variety of settings, as trauma can arise instantaneously. Crises are temporary, usually with short span, no longer than a month, although the effects may become long-lasting.
Crisis Intervention is the emergency and temporary care given an individual who, because of unusual stress in his or her life that renders them unable to function as they normally would, in order to interrupt the downward spiral of maladaptive behavior and return the individual to their usual level of pre-crisis functioning. Licensed practicing nurses, licensed social worker, professional licensed health care worker, licensed counselor or psychologist are professionals involved in crisis intervention centers.
While a person is experiencing a crisis on the individual level it is important for counselors to primarily assess safety. Counselors are encouraged to ask questions pertaining to social supports and networks, as well as give referrals for long term care. Counselors usually deal with crisis intervention by locating the root of the anxiety issue and dealing with it directly. The goal is allow the patient to return to a normal mental state and alleviate potential long-term trauma that could develop over time.
An outpatient mental health center
Outpatient mental health centers are centers designed to provide short term stabilization and resolution of immediate mental health problem areas. These centers are meant to be a transitional step between residential-style mental health therapy programs and living without support. It is meant for people who are able to continue their daily lives, but need a degree of supportive treatment. People seek mental health assistance for a variety of reasons; for themselves or their families; for home or work relationship issues; for feeling uncomfortable or on edge; for personal tragedy, long-lasting discouragement, or depression; for child or teen behavior or discipline issues, and many other reasons. Psychiatrist, psychologist, and therapists are professionals involved in these centers. Psychiatry residents and psychology interns provide most clinic services.
These advanced trainees have years of experience prior to joining the clinic and work closely with licensed, private practice behavioral health professionals who teach and supervise them throughout your treatment. Psychiatrists are physicians who specialize in treating mental disorders. As part of their evaluation of the patient, psychiatrists are one of the few mental health professionals who may prescribe and provide psychiatric medication management, conduct physical examinations, and order and interpret laboratory tests. Psychologists play a key role in administering and evaluating the results of a psychological evaluation. Therapists are mental health counselors that work with individuals, families, and groups to address and treat mental and emotional disorders and to promote mental health.
Related Topics