Human Resources Management Overview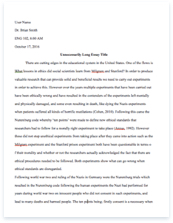 The whole doc is available only for registered users
A limited time offer! Get a custom sample essay written according to your requirements urgent 3h delivery guaranteed
Order Now
Human Resource Management can best be described as the area of an organization that is responsible for recruiting, training, motivating, and retaining employees. Although these are the main functions of Human Resources, other functions fall under the umbrella of Human Resource. Over the years Human Resources has evolved and including many more functions including compensation, benefits, performance management, and evaluation. No longer are Human Resources just for hiring, training, promotion, or terminating. There are several new privacy laws such as HIPPA, which Human Resources have to ensure company compliance. Another common misconception of HRM is the function is there for hiring, handing out punishment for violations of company policy, and for terminating employment. While these functions are part of the responsibilities of Human Resources, there is a much broader scope within an organization. Primary Function of Human Resource Management
To put it in the simplest of terms, the primary function of HRM is to manage the organization's employees. Employees are the most valuable asset in an organization. Machines, technology, and the best products and services would not exist without the human assets. "People—not buildings, equipment, or brand names—make a company" (DeCenzo & Robbins, 2007. p. 32). Expanding on the primary function of HRM involves four separate main functions of staffing, training and development, motivation, and maintenance. The staffing function is more involved than just recruiting. Human resources must first engage in planning and analysis of the position and the skills, knowledge and abilities required for the position. HR cannot successfully recruit qualified applicants "without knowledge of the critical skills required, nor can one appropriately set performance standards and pay rates or invoke disciplinary procedures fairly without this understanding" (DeCenzo & Robbins, 2007. p. 38).
The two goals of HRM in recruiting are to provide accurate information and requirements to avoid unqualified applicants and to collect an adequate number of candidates to provide line managers with more options for the position. Once a new employee is hired, regardless of previous experience and qualifications, there will be an adjustment period to acquaint the employee with the company's policies, rules, regulations, organizational culture, and goals. During this time, the training and development function of HRM comes into play. Through the adjustment period, the focus of HRM is on training the new employee in the procedures and expectations of the organization so that in as little time as possible the new employee will become productive. "At the conclusion of the training and development function, HRM attempts to reach the goal of having competent, adapted employees who possess the up-to-date skills, knowledge, and abilities needed to perform their current jobs more successfully" (DeCenzo & Robbins, 2007. p. 39). The motivation function of HRM is a complex aspect of the HR process involving more than monetary motivation. There are several steps in the motivation process. One of these steps involves ensuring the job is well designed, properly laid out, and the latest tools and technology are readily available to perform the job at the highest level.
Another factor in motivating employees is a mutual respect between employees and management. When management actively listens to employees' concerns and suggestions and takes genuine steps to involve them in decisions that affect them. Setting performance standards for each employee is the next step in the motivation process. "The performance evaluation system is designed to provide feedback to employees regarding their past performance, while simultaneously addressing any performance weaknesses the employee may have" (DeCenzo & Robbins, 2007. p. 41). There is a direct correlation between the performance evaluation and compensation. Employees are compensated based on their level of performance. The final function of HRM is the maintenance function. This function involves retaining productive employees. The retention of quality employees is essential for an organization's success. According to DeCenzo and Robbins (2007, p. 41).
"HRM must ensure a safe and healthy working environment; caring for employees' well being has a major effect on their commitment". Providing employees with work/life programs such employee assistance programs helps the employee deal with stressful situations in their personal lives which will in turn benefit the organization as well. Communication is a key element in developing employee job loyalty and commitment. Communication programs keep employees informed and also provide an avenue for employees to voice opinions and concerns. HRM's efforts in this function will help the company reach its goal of retaining the best qualified productive employees with the most up-to-date knowledge, skills, abilities, and commitment to the organization. Role of HRM in an Organization's Strategic Plan
The role of HRM in an organization's strategic plan involves researching and understanding the personnel needs of the organization. HRM is responsible for recruiting employees that have the best qualifications and who are a good fit for the organization's core values and culture. An "organization's employees can assist in gaining and maintaining a competitive advantage" (DeCenzo & Robbins, 2007. p. 34). The role of HRM in an organization's strategic plan also involves organizational development and changes that occur in the workplace culture, processes, or systems. By working with not only upper management, but with line managers as well, in evaluating performance systems and making recommendations for implementing any necessary changes. Training and development are important aspects in keeping employees up-to-date with the latest knowledge and technologies. HRM must also find cost effective methods for maintaining a productive workforce and fostering employee satisfaction and loyalty through benefits and other employee programs.
Conclusion
Human Resource Management is an important function within an organization. The scope of HRM covers more than hiring, benefits, and disciplinary actions. HRM is a strategic approach to managing the people and culture of an organization and encourages employee loyalty and productivity.
References
Perreault, W. D., Cannon, J. P., & McCarthy, E. J., Jr. (2009). Basic marketing: A marketing strategy planning approach (17th ed.). New York, NY: McGraw Hill.
Related Topics