Human Resources Management in Organizations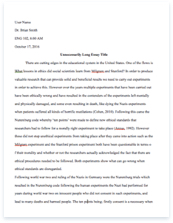 The whole doc is available only for registered users
OPEN DOC
A limited time offer! Get a custom sample essay written according to your requirements urgent 3h delivery guaranteed
Order Now
Case HR, Culture, and Business Results Success at Google, Scripps, and UPS Question : How does the integration of HR with the organizational culture contribute to the success of Google, Scripps, and UPS? To find ideas, go to the corporate website for each of these companies and search for additional insights.(I've provided answers to this question for you to get an understanding what I'm looking for when grading your answers. You don't need to answer this question! It's an example for you to follow on answering the other homework questions). * Overall, HR at all three of these organizations has integrated HR operations that are in sync with the organization's culture and HR is considered a strategic partner for the organization to help the organization meet organizational strategic objectives. * Google – the overriding key of HR at Google is its emphasis on organizational culture and business objectives. The focus on Google HR is on giving its employees flexibility to produce results, not just following core job requirements.
HR at Google has established innovative efforts for its people and to make the administrative part of HR efficient. Minimizing forms, data, and reports by using technology have occurred, which would be expected in a technology firm. * Scripps Network (a prominent TV and communications corporation) – HR at Scripps plays a core role in establishing strategic goals. HR has played a major role in getting multiple cultures to integrate when the organization has merged separate media firms. A pay-for-performance system that provides incentives is used to support the culture and core values.. * UPS – HR at UPS is linked with business objectives and uses communication and intranet programs to ensure employees are kept constantly informed on business objectives and workforce challenges. HR also plays a major role in promoting corporate integrity and established codes of conduct are consistently reviewed with all employees and include specific examples of actual potential situations employees may face
Chapter #2: Strategic HRM and Planning
Comparing working conditions as you see them today with that of 1815 (this is the instructor's question for you to answer. You can review the chapter thoroughly before answering it! But you find the answer in not in the textbook! You need to think outside the box! You might want to do additional research and this includes looking beyond your textbook). Question #2: Identify and discuss some of the differences between general working conditions today and those prevalent in the early days of the Industrial Revolution.
Working Conditions during the industrial revolutions were very different from present day. From children being allowed to work just as men and woman. To wages being different from men, women and children. In the mist of hard labor, low wages and inequality everyone had to work in an environment so harsh and dangerous.
Many children as young as 4 yrs. old were forced to work just as hard as their elders, while their education was not a priority to the system. Children were paid little to no money while women earned about half of what men earned. If workers were late to work or they didn't complete a job they were severely beaten. Working environments were hash and dangerous that men, woman and children died from gas explosions, cancer to the lungs and/or other disease, or some children doze off into a sleep and fell into carts while production was ongoing.
In today's lifestyle education is a priority for children and laws have been establish to prohibit child labor. Our government created a department called Department of Labor to ensure all wages are made equal to all men and women with no discrimination which includes The Equal Employment Opportunity Commission of the Justice Department. The Occupational Health and Safety Administration also known as OSHA is the primary agencies which enforce labor and safety laws that basically ensures that all employers will provide a safe working place and provide workers with all PPE (personal protective equipment) to do their jobs.
Chapter #3: Equal Employment Opportunity
Case Religious Accommodation?
Question #3: What is the legal basis for the EEOC to hold that JBS-SWIFT had violated the employee' civil rights? The EEOC determined that JBS-SWIFT had violated the employee's civil rights of those Somali Muslims it employed by displaying patterns and acts of discrimination, which included harassment and a hostile working environment. Additionally, SWIFT disallowed religious accommodations such as prayer time that resulted in a walked out when told they could not break for a certain prayer time of the day.
Chapter #3:Equal Employment Opportunity
Contract the solutions to the Tyson situation and the SWIFT situation. Question #4: Which is likely to have the greatest positive impact on the company and why?
Tyson's quest to better the situation to accommodate the Muslim's religious holiday was to ensure that all its employee were satisfied and there was no favoritism being displayed to either a person religion. By doing this company added a "personal holiday" which a person can use freely to accommodate a persons birthday, or a special religious day such as "Eid ul-Fitr" for the Muslim religion, or simply another day off approved by the employees' supervisor.
Contrary to this, JBS-Swift first tried to resolve there companies situation by firing some of its employees who walked out and failed to return to work after they were told they could not attend a prayer time during the final prayer day. When EEOC determined that SWIFT had violated the civil rights of the employees they fired, SWIFT later set up special prayer room at their plant and allowed Muslim workers to carry our their religious obligations.
The strategy created by Tyson Foods, Inc. would display the greater positive impact because the EEOC says employers may not treat people more or less favorable because of their religion. By adding personal holiday to their current paid holidays and not labeling the holiday to state a direct purpose shows that Tyson put some thought to ensure that no favoritism was being displayed. In result this will satisfy all employee's and imply that the company cares about its employees personal belief.
Related Topics