How does Arthur Miller present Joe Keller in All My Sons?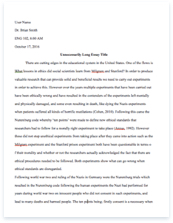 The whole doc is available only for registered users
A limited time offer! Get a custom sample essay written according to your requirements urgent 3h delivery guaranteed
Order Now
Miller's portrayal of Joe Keller varies through-out the play, as the protagonist is conveyed as a successful business man, a capitalistic family man, and a tragic hero, responsible for the breaking of his family and own destruction. Keller "is nearing sixty. A man of stolid mind and build, a business man these many years, but with the imprint of the machine-shop worker and boss still upon him." This reveals how Keller has dedicated his life to his business, which helps him to provide for his family. Keller is an undoubtedly assertive and dominant character, indicated in the extract at his entrance. The already existing light-hearted atmosphere, demonstrated by frequent paralinguistic features such as "(laughing)", indicating the characters' relaxed attitudes, is corrupted at Keller's appearance, replaced by one "(with strained joviality)" as he fills the stage with his presence.
This is reinforced by a shift in paralinguistics, "(the laughter stops)", implying how others are totally aware of his dominating presence and assertive nature. This personality trait comes naturally as Keller is constantly aware of his status and authority, being the successful business man he is. This is complemented by a sense of pride in his business, emphasised by George's comment that "it looks like General Motors", as Keller would have grown up in a capitalist environment where people were living off their desire for the American Dream. Keller's allusion to his business ventures and capitalistic pursuits are one of his tragic flaws, demonstrated by his reminder to George that "I had to fire a mechanic to save (Steve's) face", which further re-establishes his position in the business and amount of power.
The audience are therefore under the rightful impression that Keller's high success in the business world is closely linked with issues of family, as he continues to assert his authority. This suggests to why Keller is so frequently upset by Chris' lack of passion for the business, confirming to his father that "the business doesn't inspire (him)!" Keller is also described as "an uneducated man" having not committed himself to his education, but rather pursued his hopes to obtain the American Dream, which was almost an obsession in the 1940s in which the play is set. Keller's lack of education would not have been considered abnormal at this time as it was expensive and business was booming with an increase in demands due to the war, which is ultimately the incentive for Keller's major error in the play of selling faulty plane parts.
Keller's habitual use of contractions, not singularly in this extract, for example, "Gettin' old. You comin' out to dinner with us?" illustrates his more common ways and casual, approachable persona. Keller recognises his lack of education especially in comparison with the students of the 1940s, earlier in the play when he comments that "you stand on the street today and spit, you're gonna hit a college man." This indicates that Keller is an average man, "a man among men" and yet is apathetic of the welfare of others. The gives the impression to the audience that despite his initially humble intentions and success in the business world of that time, Keller is feigning consideration for others as his greed overpowers his becoming qualities, as his strong desires for wealth taint his judgement and sense of morality, suggesting he is easily led and lacking what are plainly ethical values every man should possess.
Despite his lack of uniqueness and comfortable status in society, Keller refuses to acknowledge the wellbeing of those outside of his family unit. Keller's true nature is revealed in the climax of the play as he argues moral views with Chris, who disagrees with his father's selfish justifications for his irresponsible actions and cannot even begin to comprehend them, having served in the war where men were dying for each other and their country on a regular basis. Chris who was under the impression that the men Keller so easily disregarded were "all (Keller's) sons" voices his disturbance that Keller is unable to see the fault in his crime, but Keller protests "You're a boy, what could I do! I'm in business, a man is in business… the process doesn't work you're out of business."
The use of second-person pronouns here expresses how Keller is try to get his son to empathise with him, as he is equally bewildered as Chris as to why his moral values cannot be understood. The exclamative sentence displays Keller's pure desperation for his son to understand that he was prioritising their family effectively by sacrificing the lives of others in a moment of stress and panic. Keller's use of the indefinite pronoun "a man" emphasise how is attempting to make Chris see the situation from his own point of view and sympathise, this is too is unsuccessful. Here, the audience clearly see how Keller's strong façade evaporates, the traits that made him a good business man now failing him, as his justifications to his conscious decision to ship out the parts were truthfully driven by the desire to sustain his family's financial comfort and the business' reputation.
Ironically, after his belated confession, Keller has sacrificed any chance of Chris taking over the business, as he will now see it as "dirty money", a sad consequence of Keller's insatiability for money. In conclusion, Keller's flaws ultimately overrule the positive aspects of his personality as his mind is corrupted by the sickening idea that his irrational decision to send out the cracked plane parts could be linked to his son, Larry's, disappearance and his insensitive and highly immoral actions haunt him as he lives in fear of being discovered for a fraud. Miller portrays this through Keller's insensitive characteristics and lack of decency towards the rest of the world, which are consequently his ruin.
Related Topics