How can care workers be supported to provide better care?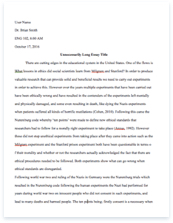 The whole doc is available only for registered users
A limited time offer! Get a custom sample essay written according to your requirements urgent 3h delivery guaranteed
Order Now
Choose two example of unacceptable care from Unit 17 and discuss what changes could be made in each settings to enable care workers to work more sensitively and safely with care users.
Providing a better care should be a mutual goal between carers and organisations or employers they work for. To reach this goal, adequate support is necessary right from the start. Thorough interviews can help select an individual most suitable for the position. Induction prepares carers for the tasks involved with the care service and helps carers to take on the job with confidence. Protocols and guidelines give care workers detailed description on how to act in certain situations and they build a set of rules and policies that carers need to follow. Additional training can help carers gain the right skills and ensure their knowledge of good care practice is up to date. Making care workers accountable for their actions, for example by keeping records, can help improve the level of service they provide. Giving the evidence of their work is encouraging carers to perform their tasks as they are expected, as the evidence of bad practice can result in punishment. However, too much paperwork can lead cares away from service users, who can end up missing out on the support they need.
Lack of resources decreases quality of services, as it can lead to work overload which puts a lot of strain on carers, makes the work and the environment they work in less enjoyable, and it can be a cause of bad practice. As a first example I would like to draw on situation of Marie and Richard (K 101, Unit 17, p. 151). Though Marie was informed that Richard would need 'total care', she wasn't sure what it meant and what her duties were and also how to cope with difficult situations. As a result, some of Richard's needs might have not been taken care of, and the way the care was delivered could have left him feeling uneasy. To provide a better induction I would suggest that the organisation kept a file about Richard, which should be only viewed by people directly involved in working with him. This file should preferably be put together in collaboration with Richard, so he could be in charge of the amount and the depth of personal information released-his needs, preferences, likes/dislikes and this could offer better person-oriented care.
There should be protocols describing all tasks necessary to provide adequate support for him. It should state whether he needs help with intimate care, washing, feeding, household chores etc. Guidelines on how to perform each task should be detailed, for example, they should state to use a urinal bottle when toileting. This file should be shown on induction, prior to meeting Richard. This way a new member of staff or a substitute for Richard's usual carer could get to know him better and get a better understanding of what type of care service is needed. Intimate care is a sensitive issue. It can be highly emotional and uncomfortable-both for carer and a person being cared for (Lawler, 1991, Reader, pp. 137-145). In our culture, seeing a naked body is seen as a taboo- as something extremely private, especially when it comes with physical touch as- it often does with intimate care.
I would suggest as a part of induction, to mention potential problems that could arise when providing an intimate care and provided guidelines on how to deal with awkward situations and emphasise the importance of privacy. To ensure the new carer is well prepared for the job I would recommend that a senior member would go through this file with the new member of team. They should bring attention to intimate care and difficulties it brings and discuss them openly. To provide further support I would suggest that during first few days, new carers would work together with more experienced care workers, observe them on how they interact with clients and learn from their experience. I would also provide a daily protocol of 'to-do-things', which the carers would be accountable for, to ensure that all of Richard's needs are undertaken. Lack of resources is another major cause for bad practice.
When care providing organisation struggle financially, it might be forced to employ less people than necessary and spread extra amount of work across existing employees, which hugely affects the quality of care. Lack of finances can also mean lack of training for the staff; ultimately, lack of training can lead to unacceptable care. We can see this on example of Cedar Court (Lee-Treweek, 1994, Reader, pp. 107-111). To improve care service at Cedar Court I would try to provide better training for the employees targeted at developing care relationships, developing understanding of 5 principles of care practice and handling stressful and difficult situations ethically and in accordance with human rights. Difficult situations and too much work can leave workers frustrated and more prone to '…getting back at the job and taking it out on the objects of care [service users]…' (Lee-Treweek, 1994, Reader, p. 108).
Therefore I would try to find resources that would allow employing more staff to ease the pressure off of carers. With an extra support, care workers would have more time to work on developing care relationships with residents. I would work on finding support from voluntary organisations, which could provide residents with activities suited to their individual needs and preferences. That way depersonalization could be supressed. In the long run, having someone to listen and pay attention to their needs could potentially help to ease frustration on part of residents and possibly create fewer opportunities for challenging behaviour. In Cedar Court, challenging behaviour was seen as an unwanted obstacle in an already busy daily routine. There were no guidelines on how to react in such situations. Because auxiliaries were not trained on how to deal with such problems (aggressive residents, 'buzzers'), instead of focusing on the core and reason for such behaviour (confusion, loneliness, health problems), auxiliaries did what was the quickest-ignore resident's needs (Lee-Treweek, 1994, Reader, pp. 109-111).
To provide a better individual-oriented care I would suggest using a record which would state the manner of challenging behaviour, possible reasons for it and the way auxiliary dealt with it. This could show what the trigger for such behaviour is and control the way the auxiliaries managed it. '…swearing, biting, kicking, hitting…usually occurred when patients were having personal care chores done,' (Lee-Treweek, 1994, Reader, p. 111). Receiving intimate care is a delicate matter, especially for vulnerable people (i.e. people with dementia), for whom such tasks could appear threatening and harmful. I would request that all auxiliaries provided intimate care with respect to residents' dignity and privacy, and talked to them in appropriate manner during procedures, to explain what was happening in order to prevent confusion. I would name team leaders whose responsibility would be to overlook the quality of care services, report any mistreatment and to provide support to care workers when they get in difficult situation.
To provide a better care, care workers need a good base of knowledge, experience and support. Employers should take actions to assure their employees carry out the job properly, that they have the right skills, and encourage them to develop their skills to match the job requirements. Employers should provide a thorough induction during which carers would get acquainted with a clear system of policies and guidelines that they would have to follow. Care workers have to make sure they understand those policies and guidelines, as ignoring them could lead into harmful care. They should be made aware of difficulties linked with providing safe and sensitive care and offered support from employers in dealing with tricky situations.
When dealing with challenging behaviour, record-taking can serve as helpful tool. It can point out the reason behind such behaviour and also provide evidence of actions undertaken. It can show whether these actions were reasonable and justified, or inappropriate, in which case, care workers would have to face the consequences. Too much paperwork gives carers extra work to do and can take the focus of care away from service users. It is essential to provide guidelines and records that are clear and easy to follow, to create the balance between paperwork and good quality care.
References:
Open University (2008) K101 An Introduction to Health and Social Care, Unit 17 "Unacceptable care", Milton Keynes, The Open University. G. Lee-Treweek (1994) 'Bedroom abuse: the hidden work in a nursing home' in Johnston, J. and De Souza, J. (Eds),'Understanding Health and Social Care', An Introductory Reader, 2nd Edn, London, Sage/Milton Keynes, The Open University. J. Lawler (1991) 'Body care and learning to do for others' in Johnston, J. and De Souza, J. (Eds),'Understanding Health and Social Care', An Introductory Reader, 2nd Edn, London, Sage/Milton Keynes, The Open University.
Related Topics