House of Quality Coursework: Buying a PC at PC World Fulham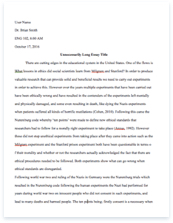 The whole doc is available only for registered users
A limited time offer! Get a custom sample essay written according to your requirements urgent 3h delivery guaranteed
Order Now
PC World is a PC retailer that sells to both domestic and business customers in the UK. It is owned by Dixons Stores Group (DSG) and is the group's PC specialist. PC World operates mainly in retail parks where customers can walk, use public transport or drive to the stores. They supply PCs, printers and accessories plus a large selection of software and other peripherals. PC World operates within a high volume, low price market with a wide target market.
The Process
The process of 'buying a PC at a PC World Fulham' is a process which occurs many times each day at every store and the way in which this process is carried out has a major impact on the productivity of each individual store. The process itself starts as soon as a customer walks through the door of the store and ends once the product has been paid for. A productive sale can result in increased revenue and increased profitability which is important to the employees, management and the company as a whole. The process is not simply a matter of leaving the store having paid for a computer, the customer must feel that they have received value and are satisfied with the whole sales process. In order to identify what the customer requirements are and how operating requirements can meet what the customer wants we can construct the House of Quality and attempt to identify the most important areas for improvement. Once these have been identified we can compare the outcomes to the competition and make target values in a bid to meet customer requirements and hence satisfy the customer fully.
Brainstorming
Customer requirements ('Whats') must come directly from PC World Fulham customers if we are to ascertain accurate customer perceptions of the store. A group of 8 PC World Fulham customers are to brainstorm ideas in a focus group situation (up to 2 hours) where they are encouraged to list all requirements they have when shopping for a PC. The customers are taken from every day of the week in order to get a variation of responses. These will then be put into an affinity diagram and tree diagram where the requirements can be grouped accordingly. The top 14 or so requirements are used and all customers rate each one with a score out of 10.
Operating Requirements must come directly from PC World Management, Head Office and employees as they will have an understanding as to what contributes to the operation of the retail outlet. Focus groups will allow the top 14 or so requirements to be ascertained.
Affinity Diagram
Buying a PC at PC World Fulham – 'Whats'
Buying a PC at PC World Fulham – 'Hows'
Tree Diagram
Buying a PC at PC World Fulham – 'Whats'
Available Sales Advisors
Friendly Sales Advisors
Smart Sales Advisors
Good Sales Advisor Product Knowledge
Good Sales Advisor System Knowledge
Quick Purchase (if required)
PC Demonstration
Good Range of PCs
PC Package Options
Good Value Options
Products are in Stock
Range of Accessories
Comfortable Surroundings
Aesthetically Pleasing Surroundings
Buying a PC at PC World Fulham – 'Hows'
Training
Recruitment
Smart Uniform
Sales Staff Management
Relationship with HFC
Supplier Management
Stock Management
EPOS System
Intranet for all Staff
Flexibility from Head Office
Store Maintenance
Trolleys
Current POS in Store
Seats in Store
Store Temperature
Omissions
Customer Requirement: Good Value PCs
This is an ambiguous requirement as 'good value' is something that is seen differently by different customers. It would not be helpful or practical to include as a requirement.
Operating Requirement: Flexibility from Head Office
Although the flexibility from Head Office would allow the store to serve the customer better by allowing them to offer more PC package options, for example, it is not realistically possible for Head Office to change package options from one store to the next.
Customer Requirements ('Whats')
Being a specialist retailer who supplies a wide market consisting of very different customers, often with varied levels of computer knowledge, customers often require a sales advisor's assistance when deciding on the right PC to purchase and an Available Sales Advisor is important to a lot of customers. A Friendly Sales Advisor is also important as they can make the customer feel more comfortable and allow them to make a choice feeling more at ease in an unfamiliar environment. A Smart Sales Advisor gives the customers a perception of a professional manner and approach to their own job, which in turn gives the customer confidence in the advisor's skills and knowledge. Good Sales Advisor System Knowledge can be just as important as product knowledge – if the advisor can use the systems in the store such as store checks, EPOS and the Intranet they can cater for the customer's needs and be more efficient, competent and helpful. This can be especially important if the customer requires a Quick Purchase.
While making a decision it can be vital that the customer perceives that they are in Comfortable Surroundings such as the climate, ergonomics within the store and smell. Aesthetically Pleasing Surroundings can also add to the whole buying process for a customer. An interesting and well prepared store can encourage the customer (and anyone with them) to stay in the store for longer.
A Good Range of PCs and PC Package Options has a massive bearing on how the sales process does or does not progress. The customer must perceive the store to be offering enough choice and enough options. Customers often like to compare different manufacturers and different specification PCs as well as different package options such as printer, scanner, camera add-on options. Once the customer has made a short-list of the best suited PCs they may require a PC Demonstration before making a decision – this may require a demonstration of the speed, DVD playback or sound quality.
Once the customer has decided on a PC it is imperative that it the Product is in Stock otherwise the customer may be lost forever. Range of Accessories can also have a bearing on the buying process if certain accessories are essential to the running of the PC – for example, A PC bought to work within a network may require additional networking equipment but if this is not available the customers requirements cannot be met. Once the customer has decided on the product and has experienced the service he/she must pay for the PC. The Payment Options available can influence if the customer actually purchases the chosen product and how much they are prepared to spend in total. Allowing the customer to pay using all credit/debit cards as well as cash is vital. Finance options are also popular, especially on more expensive PCs.
Operating Requirements ('Hows')
Staff Management has bearing on the way in which sales advisors operate. The General Manager and the Sales Manager directly manage the sales advisors. They decide who takes responsibility for what and influences how many sales advisors are available to serve customers. A Smart Uniform worn by all sales advisors allows them to look smart in order to ensure their appearance is professional and approachable.
HFC Bank provides PC World with finance agreements for customers making purchases over �199. Interest Free agreements, especially, entices customers to use credit to buy a PC. Some agreements incur interest. HFC has direct contact with all PC World stores. The Relationship with HFC influences the options that are made available to customers, in particular interest-free agreements.
The way in which each PC World store handles Supplier Management (including contractors) can have a bearing on how suppliers work with head office and in-store POS and also staff incentives. Although Head Office has the largest influence on suppliers and the way in which they are managed, each store will still communicate with representatives from each supplier. The way these suppliers are managed can have bearing on the products the store sells and the amount of stock they receive. Each store is responsible for making sure that they order enough stock to ensure all customers are satisfied when deciding to make a purchase. The stock room and the store managers are responsible for making sure that Stock Management is run efficiently.
Electronic Point of Sale (EPOS) terminals are vital when finally processing the sale. The sales process is not complete until it has been run through the EPOS System and a receipt has been generated. EPOS terminals can also be used to prepare sales so that the cashier only has to finalise them – this allows the sales advisor to speed up the whole process. Sales advisors also have access to an internal electronic information system called Intranet. The information is updated daily directly from Head Office and provides information about products and other communications within the company.
Store Maintenance is contracted out by authorisation of the General Manager – small jobs maybe carried out by management or store employees. Current POS (point of sale) in the Store must also be maintained. POS is any type of promotional material that communicates what PC World is offering to the customer, e.g. finance options, PC package options. Trolleys are used in the store so that customers and sales advisors do not have to carry heavy boxes by hand. Some items are too heavy to carry safely and a trolley is an essential tool when selling a PC. Available trolleys allow sales to proceed quickly and safely.
Customers find Seats in Store very important when a sale becomes drawn out or the customer has children with them. Some disabled customers also require seating and if seating is unavailable they may decide to leave the store. Available seating allows customers to relax and can allow them to enjoy the buying process. The Correct Store Temperature can also be a contributing factor – if the store is too cold or too hot it can cause the customer to feel uncomfortable and rush the buying process or leave the store.
House Of Quality Explained
Simulated information has been used for Current Satisfaction Performance, Goal, Improvement Ratio and the Competitive Evaluation and Technical Evaluation. In reality data would be collected directly from customers to express their current satisfaction. The Goal would be set by Head Office. The Competitive Evaluation compare PC World Fulham with their nearest competitor in the market, Comet in Merton. Comet is an electrical retailer with little specialisation, unlike PC World Fulham. Although a smaller supplier of PCs, Comet has become a direct competitor as they target similar customers in retail parks whilst offering the convenience of supplying a wider range of products, such as TVs and DVD players. Again simulated evaluation figures, in reality these figures would come directly from Comet customers and potential Comet Customers.
Outcomes and Conclusions
The most important 'Whats' are PC Package Options, Available Sales Advisors and Products in Stock. However, PC World Fulham is only attaining scores of 3, 2 and 2 in current satisfaction scores with High Improvement Ratios indicating they are falling short in the areas that their customers value highest. Whereas the least important 'What', Smart Sales Advisor, receives a high score of 4 for Current Satisfaction.
The highest importance weightings for 'Whats' were Training, Sales Staff Management, Supplier Management and Stock Management, the last two carrying the highest weightings. Training and Sales Staff Management had low, medium and high relationships with the service 'Whats' which indicates that these two 'Hows' are important if the store is to continue to offer the current level of service and also if it is to improve in this area. Supplier Management and Stock Management are the only 'Hows' to have strong relationships with PC Demonstration and the product section of the 'Whats' – this makes them vital when assessing the current and potential product side of the store's operations.
All 'Hows' require a positive direction of improvement with the exception of the store temperature which is to be sustained at a set temperature of 16oC-23oC. This means that if PC World is to make improvements in these areas the 'Hows' must increase in quality and/or quantity. There are some significant positive and negative correlations between the 'Hows' which must be taken into account if any improvements are to be made. Store maintenance has a negative correlation with Trolleys, Current POS and Seats in Store because any maintenance work done in the store may be an obstacle. Trolleys are often used when maintenance is being carried out which leaves less for sales advisors to use. Similarly, is maintenance is being carried out it can distract from the POS in the store and can take up space in the store where seating could be. Training can also be affected my store maintenance if training sessions are imposed upon. Store maintenance also has a strong negative correlation with cleaning as dust can be caused.
The competitive evaluation between PC World Fulham and Comet Merton shows that PC World are falling short in the areas of Quick Purchase, PC Demonstration and Products are in Stock. This is a definite area for improvement as PC World Fulham may be losing customers just because they do not have what the customer wants in stock. Comet can demonstrate the PCs better, provide faster service and ensure stock levels are higher. The 'Hows' with the strongest relationships with these are Stock Management and Supplier Management which shows how important these are to the organisation if they are to provide better customer service than Comet, as far as stock issues are concerned. PC World attains the same or higher scores than Comet in all other areas. The sales advisors are perceived as friendly and smart achieving a score of 4 out of 5. PC World also scores highly for Range of Accessories and Comfortable Surroundings over Comet.
Organisational difficulty takes into account the difficulty of the store making any changes which will lead to improvement as well as head office and how they may react to changes. Being a chain store there is a limit to what each store is allowed to change as it may not be in keeping with the company as a whole. Cleaning and temperature control, for example, can be changed very easily to suit the customer. These both score 1. Smart Uniform and Supplier Management both score 5 as these are almost 'set in stone' by head office. For the uniform to change at one store it must change at every store nationwide. Stores can make suggestions to head office regarding anything about the business but in reality it would be extremely difficult to change the uniform. Supplier links have been established for many years and it would be difficult to change these long-term relationships. However, the Fulham store can make efforts to keep communication with supplier representatives open and regular, ideally at least weekly contact time.
Before we make any recommendations we can compare customer satisfaction scores with actual performance scores so that we can construct a Kano model. Ideally a Kano model will be constructed for every customer but in this case we can incorporate all customer feedback to get an overall picture of satisfaction. The actual performance scores will come from management and employees at PC World Fulham – an average score will be used.
Related Topics