History of Wyatt Earp Wyatt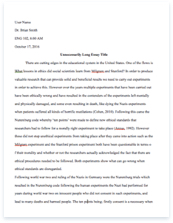 The whole doc is available only for registered users
A limited time offer! Get a custom sample essay written according to your requirements urgent 3h delivery guaranteed
Order Now
Emmett Vidaurri 01/29/19 History of Wyatt Earp Wyatt Earp was a monumental American frontiersman that lived from March 19, 1848, to January 13, 1929. He was born in Monmouth Texas. (Thesis)…(purpose of report) Wyatt Earp's mother, Virginia Ann Cooksey, was Nicholas Earp's second wife. Nicholas Earp was a stubborn man who did not tolerate any backtalk. Sarah Jane Rousseau wrote in her diary on November 24, "This evening Mr. Earp had another rippet with his son Warren [for] fighting [with] Jimmy Hatten. And then Mr. Earp raged about all the children, using very profane language and swearing that if the children's parents did not whip them as he did or correct their children, he would whip every last one of them himself. He shows every day what kind of man he really is.
He is such an uncouth and foul-mouthed person I think we made a terrible mistake engaging him and furnishing him horses and provisions to lead this wagon train west." Wyatt Earp had 9 siblings, two from Nicholas' previous wife. Many speculate whether Wyatt was a wrongdoer. Many things he did are wrong by modern society's standards. In 1872, Wyatt Earp was arrested on the charges of being associated with prostitution. Within only six months, he then got arrested again for another association with prostitution charge. Prostitution is believed to be morally different now than it was in the western era. In True western Magazine it says, "Societal mores about the activities of pimps developed over several decades, and in 1881 these mores finally began to have the force of law: 'Whoever, being a male person, frequents houses of ill fame or assignation, or associates with known or reputed prostitutes, or frequents gambling houses with prostitutes, or is engaged in or about a house of prostitution is a pimp. . . .' (Section 2002, R. S. 1881, Indiana). This statutory definition of pimp fits Wyatt Earp's Peoria activities to a tee."
Many believe Wyatt was not a pimp because of the lack of evidence. Many think he was a strongarm instead of a pimp. A strongarm is basically a bodyguard. It is unknown if Wyatt Earp was a pimp for a brothel, or just a bodyguard. Either way he is associated with wrong and may have been wrong himself. Although his association with bad, Wyatt has had some very extraordinary accomplishments. His biggest accomplishment being the shootout at the OK corral. It was the moment in history that every Western film has tried to emulate. The Earp brothers, Wyatt, Virgil, and Morgan, and their friend, Doctor John Henry Holliday, made their stand in October, 1881, against the outlaw Cochise County Cowboys who had been terrorizing the streets of Tombstone, Arizona.
The gunfight lasted for 30 seconds until the three of the cowboys had been shot. Around 3:00 pm, Virgil Earp told the outlaws to "throw up [their] hands." Just after, shots rang out until three outlaws were killed and the other two were running like hell. They left the heroes standing still in the streets of Arizona. Wyatt Berry Stapp Earp was born in Monmouth, Illinois. He was named after his father's commanding officer in the Mexican American war. In March 1849, Nicholas Earp and his family attended a trek to san bernardino county intending to buy farmland. Later his family will return to Illinois via the Uniion Pacific railroad. Virgil and Wyatt both worked in colorado and tool the Union Pacific Railroad. The year after, Wyatt rejoined his family in Lamar,Missouri. 
Related Topics