Health Care System-The Healthcare Workforce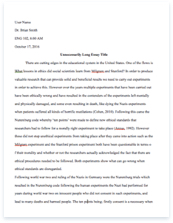 The whole doc is available only for registered users
A limited time offer! Get a custom sample essay written according to your requirements urgent 3h delivery guaranteed
Order Now
I choose the healthcare workforce for my topic. When I saw this was an option I knew it was mine to choose! It takes a certain type of person, a caring, compassionate, and loving person. Without our healthcare workers there would be no one to take care of us when we are simply sick, having a baby, or possibly dying. I found this saying and it explains the healthcare workforce completely. "Through the Eyes of the Workforce Creating Joy, Meaning, and Safer Health Care."(The Lucian Leape Institute and the National Patient Safety Foundation, 2013). In my paper I will be stating and describing the problems in the healthcare workforce. I will be informing you of the history of problems with the healthcare workforce in the U.S. and how we got where we are now. I will be discussing the international context. I will compare and contrast the problems in the U.S. to compare with other countries. I will tell you our stakeholders and their roles. I will be sharing with you policy impacts along with my recommendations for the healthcare workforce. Then I will be ending with an exciting conclusion that highlights my futures recommendations if they were put into action. The health care workforce is a huge part of health care system. Without our health care workers we would have no one to take care of us, we need the health care workforce, plain and simple. The health care workforce is our doctors, physician assistants, nurses, nurse's aides, billing and coding experts, and the list can go on and on. We need every single health care workforce provider. Unfortunaly we have a lot of major issues with our health care workforce. The major one is healthcare workers shortage, including primary care physicians, nurses, behavioral health and long-term care workers, as well as public health and human service professionals. This problem is anticipated to increase in the next couple years.
More than half of the counties in the United States have no behavioral health workers at all. With the implementation of the Affordable Care Act and the resulting expansion of health insurance coverage, demand for services of primary care professionals will increase. To manage the effects of worker shortages and increased demand, hospital work will need to be redesigned in ways that maximize talent, licensure and efficiency so as to deliver high quality care and maximize staff satisfaction. "Through implementation of the Affordable Care Act, HHS
will fund scholarships and loan repayment programs to increase the number of primary care physicians, nurses, physician assistants, mental health providers, and dentists in the areas of the country that need those most. With a comprehensive approach focusing on retention and enhanced educational opportunities, HHS is addressing the continuing need for a highly skilled, diverse nursing workforce. HHS is working with state, local, and tribal governments to develop health workforce training, recruitment, and retention strategies and to expand critical, timely access to care by funding the expansion, construction, and operation of Health Centers throughout the United States."(Hartsfield, 2001) The providers, policymakers, and consumers are likely to consider a broad range of strategies to address gaps in infrastructure and workforce; engaging students at younger ages, improving wages and benefits of direct care workers, tapping new worker pools, strengthening the skills that new workers bring at job entry, and providing more useful continuing education and training. "Findings from HHS's analyses of health and human service workforce issues were the impetus for this goal.
Reviews of nursing and nursing assistant studies; data on state, local, and tribal public health workforce shortages; and information on the impact of the health professions training programs informed the workforce development and infrastructure goal and objectives. HHS will continue to monitor national workforce issues and conduct evaluations on topics such as the HIV clinician workforce and access to specialty care for clients of HRSA's Health Centers." (Hartsfield, 2001) Right now physicians have increased their patient-load capacity through team-based approaches and a larger support staff with increasing efficiency, these numbers are inflated and unnecessary. In addition, because the health care work force is being transformed, nurse practitioners, physician assistants and other primary care providers are at long last taking on larger roles. This is becoming a problem. "There seems to be no resolution in sight, enrollment in U.S. medical schools is cautiously inching upwards. First-year enrollment in U.S. medical schools rose last year by 1.5 percent to over 19,500 students. Annual increases have averaged approximately 2 percent since 2006, and the number of medical students who now seek a specialty in family medicine continues to slowly rise. Reports vary, but with over 2700 primary care residency slots available, almost 2600 have been filled. There is cautious but growing optimism that the goal to increase enrollments 30 percent by 2016 is within reach."(Matthes, Ettorre, 1993).
The problem isn't limited to medical schools. An increasing number of medical school graduates are now being denied entry into a residency program. That is largely due to the current cap on the number of residencies that the federal government finances through its Graduate Medical Education program. Also the fact that the U.S. workforce is aging rapidly is inescapable. The fact that the health care workforce is older than most should not be overlooked or ignored. Health care employers should consider getting ahead of this aging curve before it's too late. Now that we have looked at some major problems with the health care workforce let's look into the history of how it developed. We once had primary care and an established relationship between patient and physicians, this was once the central grounding of our healthcare system. The Health reform has placed growing attention on increasing access to and availability of primary care services by increasing coverage, improving reimbursement and quality of working conditions for primary care professionals. The United States healthcare system has been facing a decline in its primary care workforce for several years. A number of factors, including poor reimbursements to primary care physicians, low comparative income, and poor quality of work life due to high patient loads, have contributed to more doctors choosing to train and practice in specialty medicine. This trend has led to a shortage of primary care providers across the country likely contributing to not so good care, inappropriate use of specialists, and less emphasis on prevention.
The 2010 Patient Protection and Affordable Care Act (ACA) is estimated to extend coverage to around 16 million people by 2014. The legislation includes several provisions aimed at improving access to primary care, and compensating providers who take on newly covered patients. Major initiatives include new training grounds for primary care workforce, improved reimbursement especially for Medicaid patients, and new models for primary care services within a coordinated health system. "ACA is expected to add 15,000 new providers to the workforce by 2015.The 2009 Economic Stimulus package included $300 million for the National Health Service Corps which recruits the primary care workforce in underserved areas. An additional $230 million in award grants will go to "teaching health centers" to start primary care residency programs."(Hartsfield, 2001) Primary care service reimbursements will increase at the state level from Medicaid rates to Medicare rates by 2014. ACA legislation highlights the potential of Accountable Care Organizations (ACO), patient-centered, integrated services, to improve coordination in the healthcare system. ACOs include central "medical homes' where primary care is accessed, and coordination takes place between specialists. The ACO's patient-focused approach is thought to both curb costs and improve quality of care, with outcomes monitored by cost-effective outcomes criteria and patient assessments and financial incentives for multi-specialty providers to collaborate and coordinate patient care.
ACA increases the number of community health centers (CHCs), which provide continuous health care, coordination of care, and a large variety of health and welfare services. CHCs have been associated with a host of positive health outcomes and focus on primary care to underserved populations. New universal coverage of recommended preventive care will improve patient need for and access to primary care providers on a regular basis. Due to the long time periods required to train new physicians, nurse practitioners, and physician assistants, legislative initiatives to increase the primary care workforce may not fix the problem immediately. Increased insurance coverage under health reform may initially exacerbate the shortage, with more patients in the system. The U.S. health care system is unique among advanced industrialized countries. The U.S. does not have a uniform health system, has no universal health care coverage, and recent legislation mandating coverage is not yet fully implemented. Rather than operating a national health service, a single-payer national health insurance system, or a multi-payer universal health insurance fund, the U.S. health care system can best be described as a hybrid system. "In 2010, 50 percent of U.S. health care spending came from private funds, compared to 38 percent from federal funds and 12 percent state and local funds. Most health care, even if publicly financed, is delivered privately. In 2011, 263.7 million people in the U.S., over 84.6 percent of the U.S. population had some type of health insurance, with 63.8 percent of workers covered by an employment-based health plan.
Among the insured, 119 million people, 38 percent of the population, received coverage through the U.S. government in 2011 through Medicare (47.6 million), Medicaid (55.6 million), and VA or other military care (15.8 million). Nearly 1.5 million people used the Indian Health services in 2011. Of those, approximately 30 percent did not have other insurance. In September 2011, 15.3 percent of the U.S. population, 47.6 million people, had no health insurance."(Anderson, Hussey, Reinhardt, 2013). The major roles of stakeholders in my view is mainly support. The stakeholders for the healthcare workforce would be the government, customers, business partners, physicians, dentists, etc. All the stakeholders must work together and help the system. We need all our workforce problems in the U.S. Health care services are an important part of the economic vitality of U.S., it is unclear how the economic slow-down will affect the projected growth numbers, the growth trend in health care jobs is likely to continue well into the future due to: growing and aging population, the impact of chronic diseases, new advances in medicine, the impact of expanded, new and specialized health care services and positions, creating a need for additional health care workers, and the impending impact of retiring health care workers, beginning with the "Baby Boom" generation within the next three to five years.
Where shortages of qualified workers already exist, they will get worse. Where shortages don't currently exist, they may appear. Although the current economic situation has slowed the demand for health care workers temporarily and the potential changes in the provision and financing of health care will change the health care system, the factors will continue to grow in health care jobs. I think this is where our stakeholders should come in and address the issues and fight for us. Hospital leaders and workers have been concerned with the health care work force. For many years, hospitals have been warned of a growing nursing shortage and of the challenges facing hospitals treating patients in the event of a national pandemic, a widespread terrorist attack or a natural disaster. A 2013 estimate from the Congressional Budget Office found that health care reform legislation is expected to provide 25 million Americans with health coverage, creating additional challenges. The question becomes: Who will provide that care? The expanded insured population will put greater pressure on a system that already is facing shortages of many key care providers including general practice doctors, nurses, non-physician practitioners and others.
Along with the necessity of health insurance for all Americans, is the imperative to expand the country's health care work force, both for today and in the long term. But we will have to overcome obstacles to build this work force. The health care work force of doctors, nurses and other caregivers is composed of caring, dedicated and highly trained individuals. The growing shortage of such professionals makes providing the high level of care expected by patients more challenging for hospitals. If such professionals are not found to relieve and replace the current level of doctors and nurses, hospitals will forced to rely on their staffs for more shifts and longer hours. When facing a shortage of qualified professional caregivers, working conditions become more challenging and morale is damaged without appropriate staffing levels. Hospitals and health systems face two continuing and related challenges as leaders work to ensure they have an appropriately trained and sufficient work force to provide high quality care to the patients and communities they serve to resources and supply. On the resource side, hospitals continue to face a growing gap between the cost of care and public and private reimbursement to provide that care. Hospital leaders are constantly looking for ways to reduce costs without adversely impacting the quality of care provided to their patients. Hospitals continue to work with schools of nursing, colleges and universities, and high schools to encourage students to consider health care as a profession and to recruit potential staff. National and state hospital associations work with Congress and the federal government each year to allow foreign born nurses and others to come to the United States to work in our hospitals.
But it is widely recognized that more must be done. Some progress has been made with two recent federal initiatives focused on the health care work force. The first was the American Reinvestment and Recovery Act (ARRA) which took steps to strengthen the health care work force. The second is the Patient Protection and Affordable Care Act (PPACA). Both include provisions to address work force challenges. "The stimulus bill included $500 million to support programs like the National Health Services Corps (NHSC), which places providers – including doctors and nurses in underserved communities. The legislation also provides some support for existing work force programs – Title VII and Title VIII of the Public Health Services Act, which are important for education and training of the next generation of doctors and nurses."(U.S. Department of Labor, 2013) PPACA creates a National Health Care Workforce Commission to develop a comprehensive and coordinated national strategy to address work force shortages and encourage training in key areas. To increase the supply of health care workers, PPACA provides higher loan amounts and more flexible loan repayment programs for primary care physicians, nursing and allied health professionals and the public health work force. It also supports current health care workers by providing funding for a variety of programs, many aimed at increasing work force diversity. In addition, the law helps to encourage physicians to enter into primary care, recognizing primary care's role in keeping Americans healthy and avoiding costly complications, by providing 10 percent payment bonuses for five years to physicians in health professional shortage areas who devote more than 60 percent of their practices to primary care.
While the efforts in ARRA and PPACA were steps in the right direction, more still needs to be done to promote building the work force necessary to deliver a high quality of care. Congress and the Obama Administration recognize the need to address the health care work force shortage. However, hospitals must have the resources necessary to recruit and retain nursing and other medical staff needed to provide high quality care to their patients. Due to the growing challenges of the aging baby boomer population, creating a decreased labor supply to serve a population in greater need of services, hospitals must have adequate and improved reimbursement in order to address their work force needs. My future recommendation is to manage the effects of worker shortages and increased demand, hospital work will need to be redesigned in ways that maximize talent, licensure and efficiency so as to deliver high quality care and maximize staff satisfaction. Future Care Models initiatives and resources focus on work and role redesign challenges. To close this beautiful paper the healthcare workforce and really anyone that works hard for their family and themselves it golden in my book.
But a healthcare worker is close to my heart because that's what I do and love. I have learned so much from my research. I feel all the shortages should not be, we need to do something about this immediately. I think we are trying but something has got to give. I wish I had the answers. I think for the U.S. international context we aren't doing too bad compared to other countries in this certain area. It could be worse. I hope and pray that are stakeholders keep working for us and I think they are trying their best. I feel as though my future recommendation is pretty straight forward. If it were implemented shortages would start to decrease. Hospitals will totally be redesigned and staff will all be properly trained. There will be good quality of care at all times, along with other small changes.
Related Topics