Health Care and Accreditation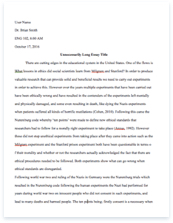 The whole doc is available only for registered users
A limited time offer! Get a custom sample essay written according to your requirements urgent 3h delivery guaranteed
Order Now
This is a two-part assignment
Part One: In preparation for accreditation at its facilities, the administration would like the staff to understand the important benefits of accreditation and how undergoing the accreditation process can enhance quality. Go to The Joint Commission on the Accreditation of Healthcare Organizations (JCAHO) Web site (http://www.jointcommission.org), and answer the following questions. Be sure to set a positive tone that will appeal to and win over staff, emphasizing the benefits accreditation can provide your organization. Format your answers in a memo format and address it to me. * What exactly are accreditation and certification?
Accreditation is a non-governmental, voluntary process that evaluates institutions, agencies, and educational programs, (i.e., institutions that grant certificates or diplomas) while certification and licensing involves individual practitioners. Accreditation is defined as the process whereby an agency or association grants public recognition to a school, institute, college, university, or specialized program of study (such as a massage training program) for having met certain established qualifications or standards as determined through initial and periodic evaluations that usually involve submitting a self-evaluation report, site inspection by a team of experts, and evaluation by an independent board or commission.
Certification is essentially the process of publicly attesting that a specified quality or standard has been achieved or exceeded. We see this in an informal way all around us nearly every day. For example, when a product has the Good Housekeeping Seal of Approval, it means that the item has been attested to meet the standard set for it. Whenever we make a recommendation or referral to a colleague or client we are informally certifying the competence of the person or the quality of the item being recommended.
* What is the difference between accreditation and certification? Accreditation can be earned by an entire health care organization, for example, hospitals, nursing homes, office-based surgery practices, home care providers, and laboratories. Certification is earned by programs or services that may be based within or associated with a health care organization.
For example, a Joint Commission accredited medical center can have Joint Commission certified programs or services for diabetes or heart disease care. These programs could be within the medical center or in the community. Both accreditation and certification require an evaluation by The Joint Commission. The evaluation covers compliance with the standards and other requirements and verifies improvement activities. After earning accreditation or certification, health care organizations receive The Joint Commission's Gold Seal of Approval™, a mark of quality.
* What are the benefits of accreditation?
Accreditation provides a visible commitment by an organization to improve the quality of patient care and/or services, ensure a safe environment and continually work to reduce risks to patients and staff. Accreditation has gained worldwide attention as an effective quality evaluation and management tool.
* What are the benefits of Joint Commission certification? Provides a framework for program structure and Strengthens community confidence in the quality and safety of care, treatment and services Improves risk management and risk reduction,Validates compliance with nationally recognized standards by the preeminent health care.,Provides a competitive edge in the marketplace Provides education on good practices – Can be a tool to attract and retain quality personnel Recognized by select insurers and other third Can fulfill regulatory requirements in select states
* How can undergoing the accreditation process improve quality at a healthcare facility? Part Two
* Complete exercise 2-1 on page 43, and Exercise 3-2 on page 59.
Related Topics