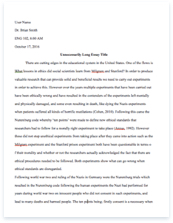 The whole doc is available only for registered users
A limited time offer! Get a custom sample essay written according to your requirements urgent 3h delivery guaranteed
Order Now
1. How fit is the BMW brand at the time of the case? Are there any reasons to anticipate undesirable financial performance in the future? Answer: Before the mid-1970s, BMW had been regarded by most Americans as a niche foreign car manufacturer. However, in the late-1970s, BMW had emerged as on of the hottest luxury brand in North America. BMW has many strong competitors and almost lose America market in 1992. BMW took many actions such as introduce new models, change price strategy, expand dealer network, and introduce new series. These actions were helpful for BMW's brand and sales. They sold 200,000 cars in 2000, and reached record levels in the U.S. by 2001. The company took 2% market shares. BMW has strong brand image, but limit advertisement budget to introduce so many kind of series and models. BMW spend $15 million to produce series of short films for advertising. Non-traditional advertising may impressive, but also risky. The competitors could copy the idea easily. And it happened before to BMW.
2. What is BMW's unique selling proposition? Describe a typical BMW's target customer and how the company's products fulfill his needs. Answer: BMW proud of the particular psychographic they serve. The average BMW customer was about 46 years old, with median income of about $150,000. Most BMW customers were well-educated, married, and had no children. Two-third were male. These consumers always busy and pay attention on details. BMW provide them quality design, also quality driving experience.
3. Using research findings presented in the exhibits (especially Exhibit 11), perform a critical evaluation of the effectiveness of BMW films in attracting potential customers to the brand. Answer: The BMWfilms.com visitors' median income is $88,000, which is lower than BMW's potential consumer's average income $150,000. One-Third of BMW's consumers are female, but 85% visitors are male. The median age of visitors is 31, which much younger than BMW's consumer's median age 45. There are 35% visitors between 25 to 34 years old, and there are only 13% visitors between 45 to 54 years old. It seems the films attract young people, not BMW's potential consumers. There are 68% visitors are do not own luxury makes, most of them are not BMW's potential consumers. In a word, the films are
4. Given that the BMW's lineup targets various segments differing in terms of income, age, and life stage, do you think the BMW films might alienate the company's most profitable segment while attempting to lure younger prospective customers? Why and why not? Answer: Data in Exhibit 11 show large number of visitors are not BMW's potential consumer, but I think they are not only lure younger prospective customers. Firstly, the younger visitors are potential consumers in the future, there are 63% visitors are college educated, they have potential to increase their income in future. They could be MBW's consumer in the future, so BMW should target those consumers. On the other hand, the young visitors interest in new things and cool staff, and most of them are Internet users. As case mentioned, the BMW's potential consumer use Internet a lot. There are 94% visitors recommended films to others. BMW could reach their potential consumer through Internet distribution.
5. Discuss the pros and cons of the four options facing Mr. McDowell. Which one should he undertake and why? Answer:
1) "Milk" the existing five films
Pros:
2) Develop more short films
3) Develop a feature-length movie
4) Doing nothing
Related Topics