Guidelines For The Culturally Sensitive Child To Facilitate Disclosures Of Trauma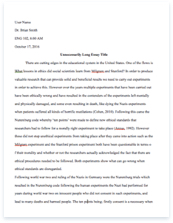 The whole doc is available only for registered users
Pages: 6
Word count: 1500
Category: Refugee
A limited time offer! Get a custom sample essay written according to your requirements urgent 3h delivery guaranteed
Order Now
Child trauma occurs more than you think, more than two thirds of children reported at least 1 traumatic event by age 16 (SAMSA, 2018). Potentially traumatic events include: psychological, physical, or sexual abuse, community or school violence, witnessing or experiencing domestic violence, national disasters or terrorism, commercial sexual exploitation, sudden or violent loss of a loved one, refugee or war experiences, military family-related stressors (e.g., deployment, parental loss or injury), physical or sexual assault, neglect, and serious accidents or life-threatening illness. (SAMSA, 2018) Now imagine when that trauma occurs within a culturally diverse family where their cultures conveys certain expectations, makes demands of their members, to provide more or less ridged rules with consequences for compliance or dissension of the family members (Fontes, 1995). It can be expected that when interviewing children in cases of trauma, no child will disclose their experiences in the same manner or if they disclose at all. Currently, there are a lack of interviewers that come from diverse cultural backgrounds in the law enforcement or protective systems. It is more likely that an interviewer will be a white middle-class, professionals who needs to be cultural competent, to effectively interact and withdraw information from the culturally diverse victim. This paper will specifically look at children from two categories those who live in high risk communities and those from refugee backgrounds.
Children's Perception of Trauma As noted above, children are experiencing trauma and there is an obligation to listen to the victim's in the manner they express their trauma experience. Children, are impacted by trauma on a daily basis, yet are considered indirect victims during cases of adult domestic violence. As noted by Calahaghan's research, she stated, by framing children as collateral or secondary victims, by describing them as "witnesses" or "impacted," we fail to fully acknowledge their rights to be respected as individuals who live with, experience, and are affected by the violence, just as much as adult victims are (Callaghan J, 2018). The social environments of a children, plays a role in the formation of their emotional perceptions, from an early age. The widespread idea that young children are not affected by traumatic experiences to the same extend as older children and adults due to their limited cognitive abilities is being challenged by research that shows that even in early childhood traumatic experiences have great impact and can potentially negatively affect the psychological development of the child (Gadeberg, N.D.) Studies that were conducted in high risk communities showed that a child experiences the effects of exposure to community violence have been theorized to operate directly by causing stress reactions and also indirectly by shaping maladaptive social cognitive and emotion regulatory. (Benjamin J., 2012) Benjamin also noted, that exposure to violence in children and early adolescents is associated with poor emotion regulation, psychosocial maladjustment, pessimistic expectations for the future, and symptoms associated with posttraumatic stress disorder (Benjamin J., 2012). Benjamin's study shows that children in these high-risk communities' early exposure to violence in their home and communities is making a lasting impression on their ability to perceive trauma in a normative manner. Or it could be said that trauma is the norm for these children, where as they no longer see this as wrong, but that abuse, neglect, violence is the way life should be lived.
This is their culture, but a look into what occurs in that culture that impacts the child to create the trauma. Factors within this culture that contribute to the trauma are racial disparity, economic depression, bilingualism and the interdependence in family dynamics. The interdependence factor in the family's socioeconomic statuses, impacts the family dynamics, creating cyclic trauma events for children. When one parent is reliant upon an abusive parent for financial support within the home, creating an unbreakable bond that even abuse and violence can not break. all these factors can contribute to the child's cultural perception of what trauma actually pertains. Refugee children are unique in that they have experienced atrocities of extensive physical, emotional and sexual abuse in their homelands due to war from political and social upheaval. Once they have reached sanctuary in countries outside their cultural norms, they endure the adjustment to a vastly different culture. In many cases, these children are coming from countries where there is a shift from a racially dominant class to a racial minority. They are coming from countries where the police or military use brutality and torture as a means to control citizens. They might have lived a nomadic or within a refugee camp where victimization is widespread. When coming from such violent conditions, having experienced this type of trauma, their perception of trauma may contrast with a new country's. Or, there are children, who come from refugee families that have experienced trauma from war that are the next generation, who live within homes that would be considered transgenerational. These children are less likely to be psychosocially adjusted due to transgenerational influences from their parents' refugee trauma. A study conduct in Europe of children of Refugees, findings suggested, that children may be negatively affected by growing up with traumatized parents suffering from PTSD. The study found a high number of children classified as having an insecure attachment style and, although the overall association between the children's psychosocial adjustment and their attachment security as measured by the ATST (Attachment and Traumatization Story Task) (Dalgaard, N.D.) When children experience trauma the long term effects can lead to a range of trauma-induced physical and mental health issues behavioral and justice system outcomes. When the child encounters the justice system as a victim and they have a history of trauma, the approach of law enforcement or social worker should be from a culturally competent awareness.
Culturally Competent Interviewing
In understanding that all cultures have attitudes, beliefs, and practices that can put a child at risk for traumatic experience During the interview of a child / youth an interviewer should have an awareness and the cultural competence in the context of child protective proceedings with the underscoring of the dangers posed by bias toward cultural views, standards, and norms. Disclosure of any type of abuse is complicated, can be difficult, it might be delayed and has implications for long-term recovery from the effects of abuse. The interviewer needs to remember that they probably are not coming from this child's world, and to pretend that they are is condescending which that child will pick up on with their rejection. Abuse itself is a secret, that has been kept for a long time, kept as a secret buried deep inside, that you must coax out and discover the truth. Forensic interviews are an intricate part of an investigation, safeguard that interviews are conducted in manner that reduces suggestibility and increases the chance that true and accurate disclosure of the incident is obtained from the child is highly important. When approaching the culturally sensitive child for a forensic interview, the interviewer must do their homework about that child's cultural background prior to any contact.
Benuto & Casas established the following rules for interviewing the culturally sensitive child:
Rapport remains a critical element to the forensic interview and therefore should be carefully established with the child;

The child should be interviewed in the language in which s/he is most proficient;

When possible and/or necessary existing, translated versions of forensic interviewing protocols should be used;

If the use of a translator is necessary, the translator should be trained in forensic interviewing;

Family or friends should not be used as a translator (expect in the most dire of circumstances); and

There may be cultural factors (e.g., shame, guilt, immigration status) that require consideration in the context of forensic interviewing. (Benuto, 2016).
These guidelines are basic, offering a framework to begin for the interviewer. However, when there are children of refugee or immigrants, they bring their cultural values with them parenting practices and belief systems, including belief systems surrounding the use of corporal punishment, that may conflict with local U.S. laws and customs. (Hughes, 2006) These children may have an alternate perception of what abuse thus not accurately disclosing to the interviewer. Interviewers will need to approach these children with an impartial and open-minded willingness to consider the cultural factors which shape the family and play a role in the alleged child maltreatment. (Hughes, 2006). An environment needs to be created that is familiar to the child, awareness of non-verbal communications (body language relevant to their culture). It would also be best to have a diverse team (in terms of training, age, gender, class, religion, ethnicity, and sexual orientation) increases an agency's ability to generate creative approaches to diverse client experiences. For a team to reap the greatest benefits from this diversity, team members need contexts in which they can interact and express a range of viewpoints comfortably (Fontes, 1994) 
Related Topics