Gregor Samsa as a Representation of the Everyman in The Metamorphosis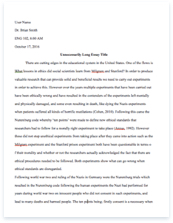 The whole doc is available only for registered users
A limited time offer! Get a custom sample essay written according to your requirements urgent 3h delivery guaranteed
Order Now
Kafka's novella, The Metamorphosis, can be analyzed an infinite number of ways. Perhaps one of the most common analyses of the text is as a social commentary using Gregor, the main character, as a representative of the everyman. Through the development of Gregor and his metamorphosis, Kafka has perfectly painted a literary picture of the constant struggle for understanding and affection of the human race. In the opening page of The Metamorphosis Gregor is already being vividly described as having characteristics the common human can sympathize with.
This sets the stage for the novella's extremely wide generalizations about human nature by allowing the reader to connect with the character on a more personal level. Immediately he expresses stress over getting to work on time, a concrete struggle that is easy for most readers to relate to. He describes his job as "grueling… Day in, day out" (4). Most people have a job where attendance is mandatory, much like Gregor.
He is characterized as a mechanic individual in that he allows himself to become completely wrapped up in his obligations and completely ignorant to the mportance of human relationships. Later in the novella, Gregor is reminded of the basic need for relation to others when his ability to work is taken away and he is alienated from his family.
At this point the only human reference given in relation to Gregor is a picture of an anonymous woman in fur. It is clear that Gregor is alienating human relationships in order to concentrate on his job. This was not only admittedly a conflict of Kafka's but can also be generalized to human nature and the constant struggle to keep a balance between obligations and humanity.
After Gregor's metamorphosis, he is unable to work and is shown in the most drastic of ways how truly important human relationships are. He tries desperately to be understood by his family. The communication/non-communication motif underscores Gregor's passionate and ongoing desire to express himself. After Gregor's family hears his voice for the first time it is referred to as "the voice of an animal" (13). The inability of the humans he comes in contact with to understand Gregor is a symbol for their lack of understanding him internally and Gregor's constant quest for this type of insight.
It is a common trait of all human beings to want to need to be understood, especially by their own family. We know from reading Kafka's biography and writings that he felt misunderstood by his family, specifically his father. This void of being able to relate oneself to the outside world is a common feeling and struggle of the human race. We are constantly making efforts to connect ourselves to others and our environment; Gregor completely personifies this struggle. He tries many times to relate to his family through the emergences from his room.
The first he was merely trying to communicate to the family and his boss why he wasn't able to come to work by showing them his hideous physical transformation. When he went to return to his room he didn't fit into the door and instead of opening the other side, his father forces him though leaving one of his "flanks scraped raw" (19). This is the first major attempt to communicate the reader sees as going terribly wrong despite Gregor's good intentions and struggle to relate to his family.
Perhaps the quintessential example of this is when Gregor, who had been outlined as having no affection to music, drags his wounded body out of his room to hear his sister play the violin. He longed to relate to Grete and recognized that the music "moved him so" (49). This symbolizes a large change in Gregor instilled by the loss of his duty and the new emphasis in his life on human relationships. In watching his sister play, Gregor felt that the path to "the unknown nourishment" he so desperately needed was "coming into light" (49).
This is a strong commentary on the importance of understanding and relation to other people that Kafka struggled with. In this Gregor represents everyone who ever needed to be heard, related to, and loved. Another plight of Gregor which represents an internal conflict common to the human race is the need for care and affection and the pains of alienation. Gregor's name alone has been hypothesized to represent this characteristic of him; his surname, Samsa, is derived from the Chezch word Sam, meaning alone, and jsen meaning "I am. His name literally means "I am alone. "
The decreasing care shown towards Gregor and its development in the text gibes a progression of his complete alienation from his family. In the beginning, his sister cared for him and brought him food she thought he would like. Her care for him soon dwindles and instead of expressing his extreme hunger he merely got depressed that he was disregarded in this fashion. He puts so much importance on this affection from her, claiming that if she didn't care for him out of her "own free will, he would rather starve" (23).
Gregor puts an enormous emphasis on the affection and care for him and even exhibits this by putting it above the most elementary of physical needs, such as food. Getting nurture from his family seemed more hopeless as the novella unfolded. The climax of Gregor's complete alienation from his family is the existence and appearance of the roomers. These three strangers get all of the care that Gregor is denied as a son. He notes how they gorge themselves with the food and attention of his family while he is "dying" alone in his room which no one visits but the maid.
He is being treated as less than a stranger to his family, solely because the roomers bring in the money that Gregor used to provide for them. The culmination of his alienation and complete disregard from his family leads to his death when the family decides they need to get rid of him. Gregor expresses nothing but love and sacrifice for his family even at the height of their disregard for him. He even feels guilty for even being alive enough to be a burden for him, and lets his lonely heart die just so things will be easier for them.
Being lone is a fear of most human beings and the need for affection from the people one deeply loves, as Gregor loves his family, is perhaps the most universal need and emotion of the human race. Gregor represents parts and fears that live in all of us. Kafka allows every reader of his novella to feel completely connected to the main character in order to make his thematic statements about human nature and it's largest struggles more tangible. Gregor is the lonely, the unloved, the alienated, the over worked, and the misunderstood all at once. Through Gregor's struggle, Kafka completely represents some of the most common feelings of humanity.
Related Topics