GPS-to-GO Takes on Garmin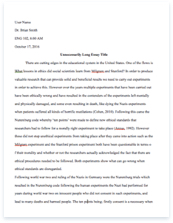 The whole doc is available only for registered users
A limited time offer! Get a custom sample essay written according to your requirements urgent 3h delivery guaranteed
Order Now
After reading the case on GPS-to-GO it was hard to come to the conclusion of Joseph Thomas. Temperament refers to one's personality meaning are they an introvert or extrovert. Mr. Thomas seems to be more of an introvert because when he was in the meeting with Scott and he tried multiple times to get his point across, he was continuously ignored by Scott. Thomas does not seem like a leader that would tell anyone how to do anything. He simply let the project go the way it was going and did not challenge anyone. He clearly sees that the project has gone over budget or is going over budget but he is not speaking up. Yet he wants to convince Scott one way or the other that the project is in great order. Thomas had a last minute meeting with his team to figure out if there is a way the cost could be cut down before he had to speak with Scott. He knew the project was over budget for a while but has decided to not speak up about it. What would have been the outcome if Scott had not shown up? Would the project have just kept taking up time and money till there was nothing left? Thomas also felt as though he could solve some of the issues with the money by having the products manufactured outside of the United States. That could be a good idea, but the cost is said to still be over budget. Separate the four (4) steps in the project life cycle and comment about how Joseph Thomas moved through them.
The first step in the project life cycle is the project launch or project initiation. This is when the project is open or the live of the project just started. At this point a project team would be put together and budget proposals would be made. Joseph Thomas did not approach the first step of the project life cycle properly. Joseph Thomas obviously launched or initiated a project because it is clear that there was a project on GPS systems. This is the point that the budget would be set and we know that there was a budget that was set for this project because throughout the project, Joseph kept trying to find ways to cut down on the overly spent budget. The budget was clear and to the point, the purpose of this project was also defined. Everyone understood that they were attempting to come up with a great GPS system that would surpass current technology.
The second step is project planning, but there was not so much planning mentioned throughout the case. If planning was a top priority or a step made during this project, Thomas would never had thought that he had "confident that eventually the company would create something far more advanced than competitors and that the problem was the definition of eventually". (Pillittere 2009, p. 3). He knew the project would be a success but he didn't know when that would be. In any project, time and planning is goes hand in hand. If one does not plan then their time would be spent trying to fix mistakes that could have been addressed during the planning phase. Joseph clearly just sped through the planning phase because this project had gone astray.
The third step is project development and Joseph tried his best with this phase I suppose. He tried to cut the budget down by having the products manufactured outside of the United States. On the other hand, the development was also packed full with rigorous processes because things where added to the development as it seemed fit. No one went back to review any new process of any duplicate, it was just added on and in turn was putting a damper on the already overexcited budget.
The final step Thomas moved through was the project implementation phase. This is when the requirement is actually built. This clearly was a difficult phase for Thomas because he was already over budget and kept trying to find ways to fix the budget issue by trying to offshore the construction of the system. "Thomas knew all too well of the problems he would face if the consumer product was built at Global; he was also aware of the cost and time necessary to build a production facility at GPS-to-GO". (Pillittere 2009, p. 4). He tried to rectify the problem by contacting partners in China in hopes to cut down on labor rates. Thomas felt that if he could only cut down some of the money in the implementation phase it will help the projects budget as a whole. Assume that Joseph will lead teams for the three Garmin product launches. Determine the most appropriate personality traits that Thomas should adopt to successfully lead each team or all teams altogether.
There are many personality traits that Thomas can adopt to successfully lead each team for the three Garmin product launches. He needs to be a good leader, have common sense, have an ability of being cool under pressure, an effective communicator and also a great planner. If Thomas can adopt only one or if I had to determine the most appropriate personality trait for Thomas to adopt that will successfully lead the team to a great end result, I would pick a great planner. Being a great planner is one of the best personality traits to have because then the project has less of a chance to fall behind. Clearly being an effective communicator only gives you the ability to be able to talk to your team and have meetings, but if one is not able to say how things will go with the time and money then all that communication is useless.
In order for the project to be successful, Thomas has to be able to organize many parts of the project into one functioning whole and be able to break down the parts and divide them into a plan. Thomas also needs to have the ability to put this plans in motion because if he cannot do that then there is no point of planning. Thomas seems to have hard working groups of people so if he made a plan and stuck with it, I don't see how he can fail. The project would then stay within budget and task would not be fall behind. Now we know that things can happen during any project, but if Thomas has a plan, he can be able to easily negate any issues. Or he can also have backup plans to help with one thing if something else does not work. Put yourself in the shoes of Joseph Thomas and discuss what you would do differently.
If I were put in the shoes of Joseph Thomas, I would be sure to know what I needed to do. A plan would be set out there before the project starts. It is important that the project team understands what the end result should be like and understands how much money they have to come up with the task given. If the budget is blown out of proportion, then that team has to explain how the money was spent because the budget should not be blown. Furthermore, I would be more involved in everything that is occurring within the project and not keep silent when I see a potential of something going very wrong. Thomas saw some issue earlier on during the project but in my opinion did not react properly because if he had the problems would have been nipped in the bud when it began. When Scott started working for the company and was brought up to date on the project he demanded meetings with team members.
He wanted to be sure that he knows what was going on at all times. Although he does not listen and is very arrogant about a lot of things, he still took time out to have meetings and keep on top of the project. I equally would be sure to have more meetings with my team members as to stay updated on everything that is happening because if that is not done on regular bases, things are easily thrown of track. If a meeting is held then any issue could be resolved faster or resolved before it goes out of hand. If a problem is brewing and it is brought to the attention of the project manager, then it could be resolved easier than if it is brought to the attention of the PM a month or six months later than it was discovered. Within that time, money and time would have been wasted instead of coming up with a fix for that issue. It was said that "another issue that hurt Global GPS was the urgency or lack thereof when performing projects task". (Pillittere 2009, p. 3). Some task would go days and weeks late and there was no one there to tell these teams to fix the issue. When this happens with multiple tasks in the same project it would eventually cause the project to fall extremely behind.
Work Cited
Lewis, J. P. (3003). Project Leadership. Penn Plaza: McGraw-Hill. Pillittere, D. A. (2009). Project Management Leadership. Richard Ivey Management Services. Projelogic (2008). Projelogic project management and consultant 5 steps project life cycle. Retrieved July 26th, 2011, from www.projelogic.com: http://www.projelogic.com/steps.asp
Related Topics