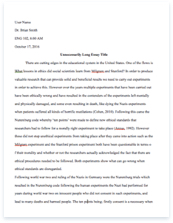 The whole doc is available only for registered users
Pages: 2
Word count: 355
Category: Hinduism
A limited time offer! Get a custom sample essay written according to your requirements urgent 3h delivery guaranteed
Order Now
Kali the Dark Mother Hindu Goddess
One of the popular female goddess I researched was Kali. Kali is a goddess that plays a mother roll and also a warrior. She's a ferocious mother that is sent to free gods from demonic forces. She has four arms, Their is a sword in one hand, and a head of a demon in the other. She has two dead heads for earrings, along with a string of 50 skulls around her necklace.
She wears a girdle made of human hands. The necklace of 50 human heads is suppose to represent knowledge. The human hand made girdle symbolizes work and liberation from the cycle of karma. Her sword is the destroyer of false consciousness. She has three eyes that represent past, present, and future. Kali has many terrifying futures, from the blood all over her body to the skulls on her neck, but she is also very inspiring and all about showing life lessons.
The bond between Kali and her human children is unreal. They have a very loving and intimate bond, even with her fearful appearance. In this relationship, the worshipper becomes a child and Kali takes the roll of a ever-caring mother.
During one of the battles Kali was in, the rumor is that she went so much on a killing spree that she may have gotten a little carried away and killed pretty much everything in sight. They say Lord Shivia (her husband) threw himself under her feet to stop her from destroying anything else. She stuck her tongue out at him with a leg lifted and actually did stop because of disbelief of her own actions. This is why in the main picture of Kali, she's standing on Lord Shiva with her tongue sticking out.
Kali is a very powerful woman with many good intentions. She looks out for her own and will do just about anything to sacrifice for the ones she loves. Her looks may not be fully deceiving but she also has a different side where she protects her own, but yet defends as well.
Related Topics