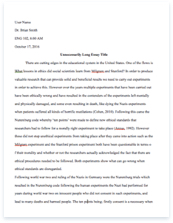 The whole doc is available only for registered users
Pages: 14
Word count: 3354
Category: Retailing
A limited time offer! Get a custom sample essay written according to your requirements urgent 3h delivery guaranteed
Order Now
GNC was founded by David Shakarian in 1960s, and specialized in yogurt and other healthy food such as honey, grains, and "healthy sandwiches". Due to increasing demand, GNC expanded stores throughout the United States during the 1970s. However, the emergence of other competitors in the external environment and poor management internally lead to a difficult period of time for GNC during the 80s. After Jerry Horn took over as President and implemented major changes in 1985, GNC had a fresh start and continued to grow. GNC is now the largest global specialty retailer of nutritional products: vitamin, mineral, herbal, and other specialty supplements as well as sports nutrition, diet, and energy products. Order winner:
GNC not only provides top quality products but also provides the top quality in customer service. GNC's order winner is top quality. GNC provides superior levels of performance in their products by having a "truth in labeling policy." High attention to research and new scientific discovery aids in GNC's principle of quality first. They are "constantly updating formulations to optimize quality, efficacy, and deliver of active ingredients" (GNC Livewell). The GNC brand goes through several checks to ensure quality including: raw materials testing, purity testing, potency testing, product freshness and package integrity, product traceability, and microbiology testing (Quality you can trust).
Supply chain:
Recommendations:
1. Better real-time information about material requirement and production schedules 2. Find ways to keep drawing in potential new franchisees to sell the finished goods 3. Continued observation of franchise compliance with GNC's policies
Competitive Priorities:
The Increase in internet businesses within the supplement industry has brought on distinctive competitive priorities, low prices, and many brands with similar products. SWOT analysis
Strengths| Weaknesses| Opportunitys| Threats|
1.Real-time 2.Piece-picking Method3. Order customization| higher price than some competitors| a wider global reach than US-based online companies because of nice brand reputation| other competitors' lower price|
Company Background
GNC began in 1935 as a small health food store called Lackzoom, which was located in Pittsburgh, Pennsylvania. It was founded by David Shakarian, and specialized in yogurt and other healthy food such as honey, grains, and "healthy sandwiches". Within six months, Shakarian had made enough money to open a second location, but both stores were destroyed by a flood in 1936.
Shakarian eventually was able to reopen both locations, and within five years, had even expanded to six stores in the Pittsburgh region. During the 1960s, the demand for natural foods and improved nutrition grew, and Shakarian met that demand by opening stores in other states. With these changes came the new name of the chain: General Nutrition Center (GNC).
The 1970s brought along further demand for new "miracle products" which claimed to improve mind and body, which fueled the company's expansion throughout the United States. Sales of the stores' original offerings of health foods continued to grow, while vitamins and other supplements expanded to represent about fifty percent of the company's sales. General Nutrition Centers also moved into shopping malls, giving the company a progressive image. GNC's expansion was unhindered, thanks to the lack of direct competitors. The company also sold via mail-order. The company was publicly-owned by this time, but Shakarian controlled eighty percent of the stock.
The 1980s were unkind for GNC: supermarkets and drug stores began to hone in on GNCs market by carrying an increasing amount of health foods, in response to growing consumer demand, as well as larger selections of vitamins, which cut down GNC's profits from nonproprietary supplements. The company had also been poorly managed, over-expanding its product line to carry too many goods which either sold poorly or took sales from other products, and dedicating too much floor space to low-margin food items. Some GNC stores were too close to one another, and poorly-performing stores were harming the overall bottom line. The company was also plagued by lawsuits and complaints involving anything from false claims about vitamins to fiscal impropriety.
In 1985, Jerry Horn took over as President and implemented major changes. He eliminated underperforming stores and set up a system to root out underperformers. He also eliminated thirty percent of GNC's offerings and changed the layout and product mix of stores to better appeal to consumers. Nearly all items were repackaged and new products such as skin and hair care products were introduced. The company began appealing more to body-builders and serious athletes with over-the-counter weight-gain and energy supplements. Horn initiated communication with the FDA and targeted new advertising toward fitness-conscious consumers. He also initiated a franchise program, which increased sales and encouraged company growth.
GNC continued to grow through the 1990s, adding over 2,000 stores. The company also experimented with new types of stores, such as the Live Well stores, which offered gourmet health food and upscale health and beauty products, while partnering with outside firms to develop new health products which it could sell exclusively in GNC stores. GNC partnered with Rite Aid drug stores in 1999 to open GNC locations within Rite Aid stores and for GNC to manufacture a new line of vitamins and nutritional supplements called PharmAssure which both Rite Aid and GNC would carry, and to manufacture Rite Aid's private label vitamin line. The company also abandoned its "wellness grocery stores" (Funding Universe).
GNC was acquired by Numico, a baby food and clinical nutrition company, sold to Apollo Management in 2003, and purchased by Ontario Teachers' Pension Plan and Ares Management in 2007. GNC went public at sixteen dollars per share, and trades on the NYSE as "GNC". GNC operates 3,046 company-owned stores in the United States, and has experienced twenty-six consecutive quarters of positive domestic company-owned sales growth. It holds 924 franchise locations and 1,590 international franchise locations in fifty-three countries. GNC offers over 1,800 SKUs, including both third-party and proprietary products.
Shakarian passed away in 1984, but GNC continues to expand upon what he built, while maintaining its initial roots in Pittsburgh (the world headquarters is only two blocks from the original Lackzoom location). GNC is now the largest global specialty retailer of nutritional products: vitamin, mineral, herbal, and other specialty supplements as well as sports nutrition, diet, and energy products. Order Winner
GNC delivers both outstanding customer service and product quality. GNC is "one of the world's largest companies devoted exclusively to improving the quality of lives: by providing better nutritional information, encouraging healthy decision-making and ultimately, lending a hand to healthier living. From scientific research to manufacturing and packaging processes to the way they interact with customers in the stores, GNC takes on each role with rigorous quality and customer satisfaction in mind" (Quality you can trust). Because of these factors, GNC's order winner—what sets them apart from the competition—is top quality. GNC provides superior levels of performance in their products by having a "truth in labeling policy." "The retailer sets the standard in the nutritional supplement industry by demanding truth in labeling, ingredient safety and product potency" (Licensing Health). All GNC product labels comply with the Dietary Supplement Health and Education Act standards along with providing extra quality information the consumer will be able to use to make the most informed product choice.
Every GNC label features: Easy to read product name, potency of product, delivery type, information regarding the ingredients in the formulation of the supplement, clear recommendation of use, evidence claims about product ingredients, allergen warnings, toll free customer service number, and date guaranteeing the contents are fresh and potent (Quality you can trust). "Three in four consumers agree they trust GNC to provide the highest quality products on the market. With 150 quality checks, they guarantee the customer is getting what they pay for" (GNC Franchising). GNC also ensures all their products are packaged in safety sealed, tamper resistant packaging in order to make the customers feel confident in purchasing their products. It also "helps guarantee the supplements purchased are the freshest, safest and highest-quality supplements available" (Quality you can trust).
High attention to research and new scientific discovery aids in GNC's principle of quality first. GNC spends millions of dollars on research and development of new products each year; even doing some of their own studies on product ingredients. The GNC brand puts all their products through clinical trials completed in reputable universities and research centers. This allows them to be up to date on new information and clinical trials. Results from clinical studies can play a valuable role in strengthening and validating the marketing claims and efficacy of existing products and ingredients, and they provide the basis for new, more effective formulas (Quality you can trust). The research GNC conducts "follows Good Clinical Practice guidelines, and has been presented at national scientific conferences" (GNC Livewell). GNC strives to bring new and improved evidence-based supplements into the market. GNC ensures their products meet both domestic and international quality standards.
They take great pride in the quality and manufacturing process' "GNC's pioneering quality standards were used as a prototype for the development of the FDA's current Good Manufacturing Practices" (GNC Livewell). Testing is not only done on all raw materials but is also done on final products to ensure top quality. GNC is continuing to produce their own private-label top quality products and supplements in their state of the art research and development facilities. They are "constantly updating formulations to optimize quality, efficacy, and deliver of active ingredients" (GNC Livewell). The GNC brand goes through several checks in ensure quality including: raw materials testing, purity testing, potency testing, product freshness and package integrity, product traceability, and microbiology testing (Quality you can trust).
Although the FDA does not regulate supplements, many of the GNC brand label products go through a series of tests to assure quality before they reach the customer's hand. For example, GNC Triple Strength Fish Oil is tested by a private sector group of the FDA to guarantee there is not any mercury or lead in their products. (NEED A SOURCE). GNC not only provides the top quality in products but also provides the top quality in customer service. "The company has earned a global reputation for selling the highest-quality vitamin supplements and other health and natural food products, while providing excellent customer service and vast product knowledge" (GNC Bringing the Finest). All GNC franchise operators receive training in a three-part process. "The program includes local in-store training, classroom training in Pittsburgh, and on-site support in the store during the opening week" (GNC franchising). Training is also available to stores when new products are developed. By keeping the employees up to date, GNC has the ability to recommend and tailor each customer's order to exactly what they are looking for.
Competitive Priorities
GNC has overcome many of the challenges that face a distribution center. The increase in Internet businesses in the supplement industry has brought on a distinct competitive priority, low price, and same product. These Internet businesses are able to do this by eliminating the middleman and buying straight from the manufacturer. It is challenging for GNC retailers to compete with these low prices, particularly since GNC's products are known for being more expensive than other alternatives within the market. The question is: How can GNC compete with these prices? A SWOT analysis is needed to determine the obstacles that will arise. GNC applied this analysis, identified the threat of lower competitor prices, and developed a strategy for: a supply chain which was more efficient, cost effective, and had lower working capital. Additionally, GNC took advantage of the fact that they are a brand name, with thousands of retail stores worldwide, which gives GNC a wider global reach than US-based online companies.
Using these strategies, GNC was able to not only survive, but thrive. Numerous competitive priorities support GNC's operations strategy and give them an advantage over the competition. GNC's supply chain was a weakness in the early 1990's: it was not efficient at delivering goods to stores on time. Lee Karayusuf (GNC Senior Vice President of Distribution and Transportation at the time) said that "we have scalability issues with our DOS-based WMS, our score carding is done with Excel spreadsheets and our labor management and transportation planning are done manually. This program will help us in all of these areas so we can better serve our customers." In 2003, they implemented DigitaLogistix to reduce cost and working capital. The score carding system gave supervisors a detailed look at their departments , thus eliminating costs from operations.
Also included in DigitaLogistix, is a computerized alert system that recognizes problems in the logistics area of the warehouse. Lastly, the purchasing department has a real-time view on the inventory and what products were received within the last hour. DigitaLogistix thus assures that the product is delivered on time and quickly, which ensures that the products are available on store shelves to fulfill customer demand (mhlnew.com 2003). In addition to the DigitaLogistics program, GNC executed a piece picking method to increase high levels of accuracy and productivity. Piece picking method is a "hands-free" approach that lets an operator control an overhead mechanical runner to select specific items and amounts in order to fulfill orders. Once the product is picked, the product UPC is scanned, and set in the appropriate carton, for the appropriate store customer. After the products are set in the carton, there is a computerized area that closes the boxes and labels the cartons with a store identification number. Then these finished cartons are set on a large takeaway conveyor to the shipping department (scdigest.com 2010). The piece picking method and DigitaLogistix give such benefits as delivery speed and on-time delivery with accuracy for retail stores and consumers.
Another order qualifier is that there are many products available for a variety of customers, which allows for order customization. For example, GNC has specific vitapacks for athletes, men and women over the age of fifty, individuals with bad joints, and women experiencing menopause. These vitapacks are tailored specifically to improve the individual's life style by including certain vitamins, fish oils, workout supplements etc. GNC also enhances consumer experience by giving a variety of products through its retail stores and online shopping catalogue. Although GNC manufactures its own supplements and many GNC products are available, they also house the products of other supplement manufacturers. These days, buyers are a lot smarter, and do not like being limited to the products of a single company. GNC takes advantage of its variety of offerings to maximize its profits. GNC's Supply Chain
As previously discussed GNC's operations management strategy revolves around their satisfying their order winner of providing top quality products. In order to insure that their products are of the highest quality and readily available to customers, GNC needs a strongly coordinated supply chain. To achieve this coordination they place a strong emphasis on vertically integrated operations. By bringing more of their supply chain under their control, GNC is able to monitor quality more effectively. Another advantage of using vertical integration is that is enables the overall supply chain to be more responsive in nature. The ability to be highly responsive to changes in the industry or customer demands provides more flexibility with production (GNC Holdings, Inc.).
The beginning of GNC's supply chain starts with their raw material suppliers. The main raw materials that they purchase include herbs, gelatin, minerals, and both natural and synthetic vitamins. GNC has many vendors that they purchase from, and no single supplier accounted for more than 10% of raw material purchases. From there GNC uses its own distribution fleet of over 100 trucks to deliver these materials to manufacturing facilities.
GNC has two main manufacturing facilities which are both in South Carolina: one in Greenville and the other in Anderson. For the most part these facilities are used to manufacture proprietary products (those owned by the GNC brand). These plants and their associated procedures are designed to produce a wide variety of products, in different batch sizes. Although there are many different products being made there are still high levels of quality control. After the manufacturing processes, finished goods are shipped to and stored in three regional warehouses located in Leetsdale, Pennsylvania, Anderson, South Carolina, and Phoenix, Arizona.
Once the products are complete the distribution channel splits into three different revenue generating segments. The first, and most profitable, segment is retail. This segment is comprised of two main selling mediums, company stores and the website. GNC had 3,046 company-owned retail outlets as of yearend 2012, many of which are located in traditional or strip malls. The website is an additional source of retail revenue, and offers many products that are not offered in stores, increasing GNC's product mix. Another benefit of having a retail website is the ability to reach customers where there are no stores nearby.
The next largest of GNC's three revenue producing segments is their franchises. As of 2011, there are over 2,500 franchise stores, with over 60% of them operating internationally. GNC closely monitors these franchise locations to ensure that they are in compliance with company policies. If non-compliance becomes a reoccurring issue, then they reserve the right to terminate the franchise agreement. This happened four times in 2011, and in each case the franchise was converted into a company-owned store (GNC Holdings, Inc.).
The final revenue segment of GNC is the manufacturing/wholesale segment. This segment is involved in activities that include producing products for third parties, and selling GNC proprietary products as large wholesale purchases to other companies such as Rite Aid and drugstore.com. GNC has had a strategic alliance with Rite Aid since 1998 in which GNC essentially puts a small franchise within their stores (General Nutrition Companies, Inc. History).
The following table outlines some of the key differences between GNC's 3 revenue generating segments: Segment:| Number of GNC Employees:| 2011 Capital Expenditures ($'s in millions):| 2011- % of Total Revenue:| Retail| 11,000| $29,311| 73.3%|
Franchise| 40| $684| 16.1%|
Manufacturing/wholesale| 1,550| $7,534| 10.6%|
(GNC Holdings, Inc.)
Issues with GNC's supply chain
One key issue with GNC's supply chain is their high degree of vertical integration. While this is also a source of competitive advantage, it is a risk because if delays or problems arise with their manufacturing facilities they are going to struggle to meet product demands from their retail stores and other customers. Occurrences which could damage GNC's manufacturing efficiency include loss of production certifications, natural disasters, and regulatory issues including new requirements or noncompliance consequences.
Another key problem relates to GNC's ability to obtain the necessary raw materials to produce their products. Although, GNC is very vertically integrated along their supply chain they still purchase their raw materials from vendors. By not being highly integrated with these vendors, GNC runs the risk of not being able to purchase in the event of raw material shortages. Due to the fact that they most likely will not pursue further vertical integration by mining for their own raw materials, GNC should seek other ways to become more integrated with these vendors. Virtual integration is a possibility here, as GNC could provide better real-time information about material requirements and production schedules. This would give them a better chance of securing scarce materials if shortages occur because the vendors will have a better idea of how much of and when they will need specific raw materials.
One final critical issue with GNC's supply chain is their reliance on franchised stores. As previously mentioned these franchises generate roughly 16% of total revenue, so they are a large portion of the business and therefore need to be managed carefully. If GNC wants to continue to grow and expand into new markets, they need to find ways to keep drawing in potential new franchisees. Also, continued observation of franchise compliance with GNC's policies is important as well. Although they are not company-owned retail outlets franchises often appear no different, so if management at one of these locations does a poor job running the operation it could reflect poorly on the whole GNC organization, ultimately damaging their overall reputation (GNC Holdings, Inc.).
Related Topics