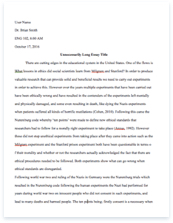 The whole doc is available only for registered users
A limited time offer! Get a custom sample essay written according to your requirements urgent 3h delivery guaranteed
Order Now
1. What makes George David such a highly regarded manager?
George David can be a highly regarded manager because he has a good vision and strategic in management. He knew that values are very important in management. It is not about only about achieving goal through people but also about how people and organization has good values. He is a risk taker and creative thinker; he changed the system in organization so that he can control the performance of every division easily. He was respected because he had respected people first. From the text we know that he was not only demanding, but he was a good listener too. As a good listener, I'm sure that George David has always tried to listen to his employee's story and feeling. It makes people really respected him. He also respected anyone who worked hard as what Sandy Weill said "when somebody can't do the job, he'll try to help; but if that person is not going to make it work, that person won't be on the job forever and with all over George is not only had managing skill but also good on character.
2. How does George David get things done through people?
I think in this case there are 2 objects, 'the things' and 'the people'. To make something done through people, he must have 'the things', a goal, what the organization want to do, something clear and realistic. Even a great manager and employee can't take that all if the goal is not clear and absurd. Another one is he must do something properly with 'the people'. George David has done it very well; he was placing right man in the right place. The last, something that is really important is the bridge between 'the things' and 'the people', it is the good communication'. I'm sure that George David has conveyed the message of the organization's goal properly to the employee, so they understood and were willing to do as what George David desired.
3. What evidence can you see of George David's planning and strategizing, organizing, controlling, leading, and developing employees or staffing? Elaborate one by one per functions of management.
*Planning and strategizing:
Before he started his work, he had a plan to persuade Mr. Ito (a Japanese Engineer on Otis Elevator
Related Topics