Gendered Toys and Their Impacts on Gender Equity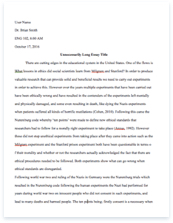 The whole doc is available only for registered users
A limited time offer! Get a custom sample essay written according to your requirements urgent 3h delivery guaranteed
Order Now
When entering a toy shop, looking for a present for a new born baby boy, each and everyone would know where to head to in order to find the fitting gift: The boys' toy section. Yet, there is much more to this seemingly simple method of finding a suitable gift. There is an economic strategy behind it which is called gender marketing. Gender marketing is a rather recent development, especially in the toy industry: Whilst it was initially absent in the toy business in the 20th century, toys eventually became divided according to gender in the 1980s and 1990s as a possible backlash against gender equity and feminist movements in society.
It is questionable why in today's Western society where gender equity and diverse family structures are so strongly fought for, gendered toys promoting old-fashioned stereotypes are still being sold. Olga Oksman, the author of the article "Are Gendered Toys Harming Childhood Development" gives an explanation for this phenomenon and states: "Whenever there are a lot of cultural changes in one direction, there is a backlash in the other" (Oksman par. 17). This backlash against feminism may even have severe social impacts since gender marketing of children's toys promotes gender stereotyping in children which can negatively influence gender equity in society.
As previously mentioned, gender marketing in the toy business has only developed from the 1980s/90s on. It originated at a time when toy companies became aware of consumer preferences: They used gender as a marketing strategy in order to narrow their consumers down to demographic groups. In Germany, for instance, this was even an essential step to take. Since 1990s the number of children born decreased from 900'000 children to 620'000 children. This forced retailers to find new marketing strategies. Thus, they came up with selling gendered toys as it would increase their earnings by enabling them to sell the same toy twice, for example, by changing the colour of it.
Gendered toys also result from social status: As people become wealthier, they were able to afford more specific toys and for each of their children their own room which needed to be filled. Being wealthy also means to work more, thus, it is possible that parents try to compensate their absence by attempting to satisfy their children's needs in a materialistic way which is exactly what the toy business is taking advantage of.
The impact of gendered toys on children is reflected especially when taking a closer look at "curriculum preferences" (Francis 326). Nowadays, boys still outperform girls in technical skills whilst on average girls perform better in communicational skills. A reason for this is because children are "directed towards certain types of play" (Francis 326) which enables girl and boys to develop different skills more in depth. As a consequence, children know from an early age on which types of professions they would like to pursue: Boys are more likely to choose a career in the sciences whereas girls often decide to receive further education in languages or generally speaking, human sciences.
People may argue that the reason for these curriculum preferences originates in biological differences between male and female. They claim that these differences might have importance for the survival of our whole species: Women are the ones in charge of giving birth to children and taking care of them as for example in "vital caring professions" (Delingpole par. 26) as midwives or primary teachers. Hence, people who argue that these preferences may even be a beneficial thing for our species if girls play with dolls and cookware in order to practise mothering skills.
This idea of preferences originating from nature has also caught more attention and found support in the wider public due to the increase of brain science over the past couple of decades which has enabled scientists to find connections between biology and social phenomena. Yet, even though children do show gendered toy preferences from an early age on, the discrepancy between gender preferences increase with age. According to Almut Schnerring and Sascha Verlan, the authors of the book "Die Rosa-Hellblau-Falle" (The Pink-Light-Blue-Trap") it is clear that the discrepancy between gender preferences is due to societal influences and expectations rather than of natural origin.
For instance, babies do not understand toys as gendered but rather it is something they learn as they grow older as an experiment has revealed: A girl was observed to be more likely to play with, for example, a truck, a toy that is traditionally associated with boys, when she saw other girls playing with it. Research goes even so far as to say that children play much longer with a gender-neutral toy such as a ball or a xylophone when they are told it is a toy associated with their gender (Schnerring & Verlan 87).
Whilst it is more and more accepted that girls can also play with toys associated with the opposite gender, boys are still highly stigmatised. To the present day, depending on the social environment, boys risk to be bullied and regarded as 'girlie' when preferring to play with a doll instead of a truck. As a consequence, a boy will stop playing with dolls due to his fear of being a social outcast which emphasises even more that toys and curriculum preferences are of social and not biological origin.
Some people have attempted to change these gridlocked stereotypes. Some came up with the idea of masculinising or feminising toys as, for instance, in regard to colour. Although this might be a first step towards the desired direction, it still does not solve the issue of the old-fashioned gender stereotypes. Children still associate certain features of a toy with his/her gender rather than believing he/she is allowed to play with every toy regardless of its colour or general appearance (cf. Schnerring & Verlan 90). For example, changing the colour of a toy tank to pink could deceive a girl into thinking that she is only allowed to play with a tank if it is pink instead of that tanks should generally be suitable for her to play with.
Another different and possibly more successful approach in order to change the stereotypes has been taken. For instance, the organisation "Let Toys Be Toys" in Great Britain suggests that toys should not be organised according to gender but in respect to themes or functions instead.
According to Christia Spears Brown, associate professor at the University of Kentucky and author of the book 'Parenting Beyond Pink and Blue: How to Raise Your Kids Free of Gender Stereotypes' "all toys are gender neutral, what is not neutral is the way toys are marketed" (cf. Oksman par. 25). So why should children not be encouraged to play with toys in respect to their interests instead of having to fit into outdated social stereotypes and norms? This would enable all children regardless of gender to have an equal chance of developing their skills on a communicational as well as on a technical level. As a consequence, it would also leave room for all kinds of people as children would grow up in a world where they can be who they really are without being forced into norms they simply do not and cannot represent.
Related Topics