Gender Role and Gender Difference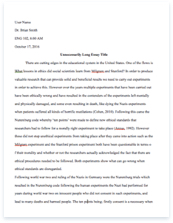 The whole doc is available only for registered users
A limited time offer! Get a custom sample essay written according to your requirements urgent 3h delivery guaranteed
Order Now
How does one distinguish the difference between sex and gender? Sex is defined as a biological aspect of a male and a female while on the other hand, Gender refers to the condition of being male or female or neuter (Nugent, 2013). A term that is important to classify is Stereotype. According to Cambridge Dictionary (2019), it is defined as "a set idea that people have about what someone or something is like, especially an idea that is wrong".
Gender role is an expected behavior from a male and female as dictated by cultural stereotype. Culture demarcates what traits are considered masculine or feminine. Here's where the gender role stereotype comes into play. It grows in stages and begins when the child is able to recognize between genders. This occurs around 2 to 2 ½ years old. And by 3 years old, child knows which toy to play with or clothes to wear identified for boys. And as the child ages, their knowledge of these stereotype ideas increases which tells them what is considered for boys or girls. Gender difference on the hand, is the differences between males and females that is specific to a particular culture where various areas such as communication, careers, health, social consciousness and orientation to the environment are seen (Nugent, 2013).
This means that the both sexes are differing in behavior, attitudes, personalities and abilities based on their sex as perceived by various influences. Boys may be engaged in rough and aggressive play while girls are more focused on being affectionate and empathetic. Various factors impact these perceptions. Different theories were formulated to explain this concept. It may be influenced by evolution believing that the role of both sexes was of adaptation repeatedly encountered through generations. Or it may be influenced by heredity, or organization of your brain, sex hormones, social interactions, cognitive development or through the gender-schema theory.
A question arises if these concepts affect one's childhood? It will definitely have a heavy bearing on a person's development. Beliefs that was taught and behaviors that was practiced, laid by cultural assumptions will be deeply embedded on a child's mind. As soon as he is able to recognize, it is an automatic notion that men and women should act based on their assigned sex. As he matures, all his choices in life will be based on what was inculcated in him. As simple as choices of toys, types of play, his activities at home and in school, his socialization like having friends and people that he will engage with, which college course to take and later the kind of occupation he wants to be in and even the type of woman he wants to share his live with and eventually teach his future kids the same thing and it becomes a cycle. Whatever is considered not normal is wrong which leads to exclusion or resented (Friede, 2015).
At this day and age where society has a great influence on a person's way of thinking, a parent's guidance is vital in rearing their children for a better understanding of people and life.
I agree in teaching your child in being open, understanding and accepting the realities in life. Though it is hard to avoid your child from being exposed to such perceptions, parents must be the source of learnings and be a good example that a child will follow. Constant assurance and guidance will help a child to be comfortable with himself. Encouraging and allowing a child to express and making choices for himself. Expose the child to diversity by through books, toys and sports and a lot more. Being true to self is essential for him to grow happily in his own skin. Letting the child understand the difference in preferences of other people will help him build to respect other people.
As a future nurse, it is our duty to protect our patients. Accepting and understanding our patients needs is our primary job. Avoid discrimination. Just because we do not conform to their preferences, we are going to treat them differently. A professional nurse should provide patient with information, support and encouragement.
Finally, I agree on the cultural stereotypes of masculine and feminine traits because these are the traits/behaviors instilled in us at a young age. However, I do not agree that these traits/behaviors should only be associated with a certain sex. Both sexes should be given an equal opportunity to be taught, exposed and encouraged. In this way we encourage diversity to flourish, which in turn foster happy and healthy individuals.
Related Topics