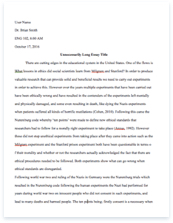 The whole doc is available only for registered users
A limited time offer! Get a custom sample essay written according to your requirements urgent 3h delivery guaranteed
Order Now
Gandhi (1982, 191 min.), directed by Richard Attenborough, depicts that fascinating life of the strong and renowned person known as Mahatma Gandhi. The film begins as Gandhi, a young lawyer, naively enters South Africa, a nation plagued by extreme racism, where he chooses to actively stand against the injustices being committed against the Indians rather than passively accept the fate just as so many others had themselves done. It was through his experiences and victories in South Africa that he was prepared to handle the position of great esteem and influence he walked into as he returned to India years later. Gandhi's personal religions beliefs were deeply rooted in his Hindu upbringing but were not determinate of his worldview as demonstrated through his continual efforts to reconcile the polarized religious groups contained within his beloved nation of India. In this paper I am going to discuss the insights I gained through watching this film into Hindu religious beliefs and practices in addition to my personal response to the film.
In the film Gandhi mentions briefly his religious upbringing, which was characteristically Hindu, but the priests would often read through the Quran as well. He considered himself a Hindu, but held Islam, Christianity, and other religions in high respect and found validity in each and every one of them. At one point he is quoted as saying, "I am a Muslim and a Hindu and a Christian and a Jew and so are all of you." His religion was intensely founded in the understanding that the universe was governed by a power characterized by love and grace, a power characterized by the desire to see humans living in peace and harmony. This was epitomized in Gandhi's continual search for those very characteristics within his family, community, and nation. The specific religion followed by an individual was never the care of Gandhi. His closest friends included Hindus, Muslims, and Christians. To him the important aspect of an individual's religion was based on where their heart was and what good they were intent on seeing achieved in the world rather than what name they gave their god. To him a man's religion was characterized by what he did with his life rather than what good ideas he spoke about or theoretically supported.
One act which Gandhi was often shown utilizing to enact change was fasting and prayer. When the Indian people responded in violence to the police while they sought freedom from British rule, he fasted until the revolts completely stopped. Later when India and Pakistan were 2
made into their own nations and enmity between the Muslims and the Hindus was heightened to violence, he fasted to the point of kidney failure and near death praying and pleading for peace among his people. Also in the initial fight to claim India as their own nation from under British rule he called for a day of fasting and prayer of all the people in the nation. Another key position held by Gandhi was that violence is not the answer in any scenario. This is not necessarily a religious practice per say, but his reasoning for staunchly holding to the practice of non-violence resounded from the innate belief that all humankind are equal on a level that supersedes the physical nature. It was this belief that drove him to defend the Indian population in South Africa and compelled him to unite the people of India under their own government. A famous saying of his: "an eye for an eye only ends up making the whole world blind" describes his philosophy that violence does not do anything more than create more problems. The film portrayed him as very adamant that one is not to take a passive approach, for that solves nothing, but rather to refrain from violence.
Pacifism was a topic very much at the forefront of the message of the film and has always been an intriguing topic to me, particularly since I began attending a Quaker university. The more I learn about what true pacifism entails, the more I believe that where pacifism is primarily misunderstood is that it is believed to be a passive approach to a scenario. But Gandhi's life alone is a prime example of a life strictly held to the philosophy of pacifism that was far from lacking in influence or the ability to enact results. He showed bravery and strength with which few can compete. Though there are aspects of pacifism I still do not completely understand or perhaps agree with, this film aptly portrayed how one man, by strength of spirit and a heart intent on helping those less fortunate was able to change nations without laying a finger on another human being.
Another thing I was mulling over as I viewed the film was just how God fit into the whole picture. There is absolutely no way God was not using that small Hindu man to change hearts, to open eyes, to change nations. My upbringing would say that he did not strictly claim Jesus as the Son of God, so even Gandhi was sent to hell. I'm not necessarily renouncing that understanding, for many so much more learned than I devoutly hold to the understanding that that understanding of God is what is required for salvation, but I ask how was Gandhi not living for God? There was something so deep driving him to act as he did to carry out tasks that united  people no one thought could be united, that protected people no one thought could be protected, that gave recognition to people no one else thought deserved recognition. Gandhi understood something about life that so many who claim to know Christ the "right" way do not even understand—he understood the value of individual life and relationships, the value of a people united on grounds that surpassed skin color or political leaning. No one was too little, or too untouchable to be helped by Gandhi, and that is one major characteristic of Jesus that so many people miss, often myself included.
Gandhi was a man who started life as a privileged Indian who was given access to great schooling and opportunity. In those experiences he saw those less privileged and oppressed and rather than overlooking them he stopped and took up their case and struggles as his own. It is this philosophy that began the simple excursions in his life that turned into his greatest achievements. Gandhi's life is not only a fascinating one, but one that will continue to be one to be emulated in any and every nation and home.
Related Topics