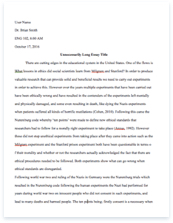 The whole doc is available only for registered users
A limited time offer! Get a custom sample essay written according to your requirements urgent 3h delivery guaranteed
Order Now
"It's time to choose" was the repetitive statement my mind struggled with after I finished my high school governmental exams. Deciding my major was like trying to swim upstream. Being exposed to various subjects then trying to narrow your choices to a specific major was a bit difficult. However, winning a scholarship to American University of Beirut played a significant role in determining my major. Nursing was the choice. Nursing is defined as an autonomous and collaborative person-centered care of body, mind, and spirit. It is a crucial career that occupies a prominent position in society for its ultimate benefits.
In her article "What Is Good Nursing?" Thelma Ingles says: "Nursing is the art of helping people feel better" ( 1246). Nursing can promote health, prevent illness, and facilitate coping with death and disabilities. Nurses have various paths in their domain of work. One of these crucial paths is promoting heath.
The main focus of this role is the well-being of individuals. They are concerned to preserve a healthy community. This can be achieved through improving nutrition and physical fitness, and by restricting some dangerous habits for example smoking, drug addiction, and alcohol consumption. Moreover, nurses can establish different campaigns about health education, sex education, and genetic education, all of these can raise the community's and individual's awareness. Thus, the population will be less susceptible to illness and establish a healthy environment.
On the other hand, nurses have an equal important role which is preventing illness. They prevent the occurrence of serious health problems by doing a risk health assessment for specific diseases. Also, they aid in the vaccination's campaigns by immunization against specific illness. Nowadays, nursing is given an important and condensed program of education. A nurse who attains a Bachelor's of Science in nursing degree can collaborate, consult and administer medications to some limits. Besides, nurses can build up a bulk of knowledge about different kinds of diseases through taking courses of Human morphology, microbiology and physiology.
This latter enables nurses to be involved in different healthcare centers which includes hospitals, ambulatory center like small rooms in hospitals or other areas such as shopping malls or community agencies for outpatient medication care or a neuroscience center. Regarding the importance of nursing role in preventing disease, Vivian V. Drenckhahn indicates in her article "Educational Role of The Nurse in Chronic Disease Control" that disease control and eradication programs may be advanced in the community through individual or family understanding and cooperation that the nurse has promoted (1103).
Last but not least, nurses have an essential competence which is interpersonal skills. This maintains a friendly communication and strength their relationship with clients. Nurses facilitate coping with death and disability. They ought to provide comfortable atmosphere for the clients until death. Also, they help the disabled people and support them to challenge their disability and live their life in the best normal way possible. Furthermore, nurses work in a home for elderly like Bet Mery, where they deal with the old-age people as their parents.
Julie Fisher Robertson states in her article "Benefits of using Long-Term Care Facilities For Community Health Clinical Experiences" that by the year 2020, the prediction is that the elderly will account for approximately 20% of the population" (Taft, 1986). Also, she admits that helping older adults adjust to their new home in an institutional setting is an important and challenging clinical problem in nursing today. Actually, they synthesize care giving in a way that utilizes their natural strengths while benefiting others.
Finally, nursing was not any choice; it is a domain where I can find myself. My natural inclination leads me to this field, where I unwittingly and wholly applied myself for others and found satisfaction. Nursing invigorates humaneness in me. If one doesn't have a direction in his/her life which benefits others, why should one even exist? Still, my purpose will never stop here, for if I have the opportunity to continue studying medicine, I will. Searching for the causes of the disease and considering its effects is very crucial to save humans and the coming generations. Hence, if I can't be a physician, I want to at least be a nurse.
References
Drenckhahn, V. (1965). Educational Role of the Nurse in Chronic Disease Control (80 ed.) Associations of School Of Public Health. Stable URL: http://www.jstor.org/stable/4592622 Ingles, T. (1959). What Is Good Nursing? (59 ed.).: Lippincott William & Winkins. Stable URL: http://www.jstor.org/stable/3417979
Robertson, J. (1988). Benefits of Using Long-Term Care Facilities for Community Health Clinical Experiences (5 ed.). :
Taylor and Francis, Ltd. Stable URL: http://www.jstor.org/stable/3427276
Related Topics