Four Star Supply Chain Case Analysis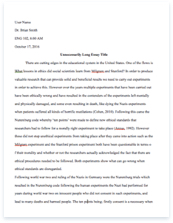 The whole doc is available only for registered users
A limited time offer! Get a custom sample essay written according to your requirements urgent 3h delivery guaranteed
Order Now
Four Star Industries is facing a number of problems. Their sales have fallen from $9 million to $6 million, their customer service fill rate has fallen from 70% to 60%, and their employees are leaving the company and becoming increasingly disgruntled. The root cause of these issues is demand variability driven by SKU proliferation. Four Star has gone from offering 13 SKUs in 1996 to 230 SKUs in 2002. The market for mattresses has become much more competitive at the retail level, so retailers are in turn demanding customized products to distinguish themselves from competitors. Mattress manufacturers such as Four Star rely on the retailers to sell their products, so manufacturers don't have much leverage in negotiations. Besides demanding more SKUs, retailers are also demanding mattresses be delivered to customers two days after a customer places an order, and the retailers are not willing to hold any inventory at their stores. All of these increased demands from retailers, but especially the SKU proliferation, have caused Four Star's performance to decrease in terms of customer service, revenue, and net income. At present, Four Star is considering various options regarding how to move forward with their business: 1. Reduce the number of SKUs offered to retailers
2. Insist that retailers order a minimum number of mattresses corresponding to the batch size for each model for which they placed an order 3. Reduce the safety stock requirement for the finished mattresses 4. Relocate the manufacturing to a cheaper overseas location 5. Reconfigure its product design, manufacturing, and order fulfillment to improve operations
Recommendation
The root cause of Four Star's problems is that they have excessive SKU proliferation, which in turn causes increased demand variability. We believe that the best way to combat the increased demand variability and in turn improve customer service and net income is to implement a postponement strategy. Furthermore, we believe that Four Star should also implement a retailer segmentation strategy the groups retailers into different tiers based on each retailer's sales revenue. This will prevent the current SKU count from continuing to grow at its current rapid pace. Finally, we suggest that Four Star work with their retail partners to gain better transparency regarding the details of their upcoming deep-discount sales that trigger spikes in demand. Analysis
Postponement: Implementing a postponement strategy makes sense because it allows Four Star to both improve customer service (fill rate) while also reducing inventory holding costs. Instead of trying to hold two weeks of safety stock for every finished good SKU, Four Star can produce semi-finished goods that can be differentiated at a later time once actual orders are received from customers. This strategy is made possible by the fact there is strong commonality in the BOMs (Bill of Materials) for all of the mattresses. Our analysis shows that many SKUs share similar materials and are only differentiated by a few finishing supplies (See Exhibit 1). Inventory holding costs will go down as Four Star will be able to reduce the finished goods safety stock levels and instead carry some WIP and finishing supplies (See Exhibit 2). We believe that Four Star could save $140,400 each year in holding costs based on our assumptions.
Retailer segmentation: While postponing finished goods will help Four Star deal with existing SKU proliferation and subsequent demand variability, we believe it is imperative that Four Star put measures in place to prevent future SKU proliferation and potentially reduce overall SKU count. We recommend that Four Star come up with a system to rank retailers into different groups (A, B, and C) based on sales volume and revenue. Retailers in the "A" group would be seen as key strategic partners and Four Star would thus be more willing to manufacture custom SKUs for these retailers. "B" retailers would fall in the middle of sales revenue thresholds, and "C" retailers would represent smaller dealers who contribute least to Four Star's overall sales. Implementing a segmentation plan like this would allow Four Star to limit SKU proliferation while also incentivizing smaller retailers to increase sales in order to gain a higher status with Four Star.
The tier system could also be used to differentiate other factors of overall customer service, such as fill rate expectations, lead time, and promotional support. Transparency: Finally, Four Star must work with their retailers to gain better visibility to upcoming promotions. There is no reason for Four Star to be blindsided by huge spikes in demand generated by retailers who host deep-discount sales without informing Four Star. Simple communication regarding details of the upcoming promotions (timing, products, and volume) will allow Four Star to build inventory in anticipation of demand spikes. We recommend that Four Star request retailers to give at least 8-weeks' notice before a promotion, as the longest lead time for raw materials is 7 weeks. Even if retailers can't always give that much lead time, any advanced notice would help Four Star adjust the production schedule and prepare for spikes in demand. This will help both Four Star and their retailers sell product. Alternatives
We do not feel that Four Star can reduce the current SKU offerings because they cannot afford to lose their existing retailers. Also, because retailers are not carrying inventory we do not think it is feasible to ask them to start ordering in batch quantities. Moving production overseas, particularly for the high volume SKUs, could be a viable option but it would require an in-depth cost-benefit analysis, and we do not have the pertinent data to recommend that option at this time.
Related Topics