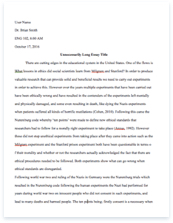 The whole doc is available only for registered users
A limited time offer! Get a custom sample essay written according to your requirements urgent 3h delivery guaranteed
Order Now
Executive Summary:
Operating in an industry where intense competition exists, Foreign Aid Canada (FAC) has encountered some challenges and strategic choices that will be discussed and analyzed in this report. FAC is considering two strategic alternatives in order to introduce testing, treatment, and education of AIDS in Africa and Asia: 1. AIDS Clinics
2. Mobile AIDS Units
This report will also assess another major alternative to outsource its HR function, travel, facilities, donation processing, CIDA billing and payroll to OS Canada Inc. (OS). There are two minor alternatives that are also discussed in this report: 1. TV Advertising
2. Eliminating Newsletters
It is recommended that FAC establish three mobile AIDS units in Africa/Asia and outsource the support services function of the business. Implementing the mobile AIDS units aligns closely to the new mandate at FAC and will certainly improve the lives of many in foreign countries. Deciding to outsource support services will reduce costs over five years. It is also recommended that FAC invest in television advertising and continue to send out quarterly newsletters. Each of these strategies will have a large contribution to donation revenue for FAC. Introduction
FAC is an established not-for-profit organization that aims to improve the lives of people in need. Although it is a not-for-profit organization, FAC faces an increasing level of competition with other assistance organization because there is a limited amount of donations. It also faces a high degree of uncertainty in a recessionary economy. The purpose of this report is to evaluate the major and minor alternatives that FAC is facing, as well as some operational issues. This report will include an analysis of the current situation, the major and minor alternatives, an action plan and implementation strategy, as well as recommendations. Situational Analysis:
Mandate: Foreign Aid Canada provides humanitarian emergency relief development assistance, through agricultural, water and irrigation project and HIV/AIDS prevention and treatment programs to African and Asian countries in need. New Targets/Goals:
Relief Work: Execute 80 projects to improve the lives of 150,000 with an average project activity expense of $54 per person helped. Development Work: Execute 60 projects to improve the lives of 40,000 people with an average project activity expense of $300 per patient AIDS: Aim to improve the lives of at least 3,000 AIDS/HIV patients Stakeholder Preferences:
CIDA: At least two AIDS clinics in 2013 and operate for five years Lewis: Thinks FAC should cut back on administrative costs (newsletters) Taylor: Sees the value of TV advertising to bring in new donations Roberts: Wants to outsource non-project functions to OS Canada Inc. Dr. Green:Increase donations/cut back on development and relief projects Environmental Scan
SWOT:
An internal scan reveals major strengths and weaknesses of FAC to include: Good reputation for success (strength)
Existing donor base (strength)
High turnover of field staff (weakness)
Higher administrative costs relative to competition (weakness) An external scan reveals major opportunities and threats to include: Donations expected to increase by 3% for 3 years (opportunity) Canadian Government doubling aid to Africa (opportunity)
Funding limited to NGOs with high administrative expenses (threat) Shortage of qualified health care professionals in Africa/Asia (threat) Additional SWOT can be seen in Exhibit 1.
KSFs
Effective projects that improve the lives of people in need
Good reputation as an effective assistance provider
Staff are dedicated that are focused on FAC's mandate
Controlling support service costs to obtain funding from CIDA Effective fundraising and recurring donations
Constraints
Support services expenses less than 20% of project activity expenses in order to obtain CIDA funding (down from 22%) CIDA funding for AIDS:
Limited to 75% of operating costs & 90% of capital costs
Must treat 3,000 to 6,000 AIDS patients per year for next 3 years Average project activity cost of no more than $700 per person Projects must provide a 12% minimum return on investment
Financial Analysis
Exhibit 2 contains relevant ratios that are discussed below. Current Ratio: FAC has sufficient liquidity to meet short-term funding requirements of operations and current liabilities, as the current ratio is greater than 2:1. However, current ratio has decreased from 3.64 in 2011 to 3.50 in 2012, which may be a result of increasing food costs and falling donations along with no increase in government funding. Leverage Ratio: FAC has a low level of debt compared with the fund balance (equity), which demonstrates conservative financial leverage, as the leverage ratio is less than 2:1. Program Efficiency Ratio: FAC relies on CIDA for funding and has met the 22% ratio of support service expenses to project activity expenses in 2011 and 2012.
Efficiency has decreased slightly from 83.6% in 2011 to 82.2% in 2012, which is a result of a larger decrease in project activity expense than support services expense. CIDA has lowered the requirement for support services expenses from 22% to 20%, which increases pressure for FAC to improve program efficiency. Operating Reliance Ratio: It appears that FAC is unable to fund its expenses solely from unrestricted revenues, as its Operating Reliance Ratio is less than 1. FAC is very reliant on restricted funding from individuals, corporations, and the CIDA and must satisfy the donors' requests. Interest Coverage Ratio: FAC has an interest coverage ratio greater than 1 and has increased from 2011 to 2012. This demonstrates FAC has sufficient funds to cover its short-term interest obligations.
Benchmark Analysis
Benchmark Analysis can be seen in Exhibit 3.
CHI is more efficient at improving lives because it spends $112 per life improved compared to $136 per life improved at FAC Both CHI and CACI have lower Project Activity Expense Ratio (19-21% and 20% respectively) compared to 21.3% at FAC Major Strategic Alternatives
1) Establish AIDS Clinics
Exhibit 4 contains the calculation summary for this alternative. Contractor 1 is less expensive than Contractor 2. However, there is a conflict of interest with Contractor 1. Contractor 2 is more expensive because materials are imported but guarantees the quality of its work. Pros:
Operate for 5 years at which point local government would take over Satisfy CIDA's maximum project activity expense per AIDS patient of $700 Will meet CIDS's minimum lives improved of 3,000 per year
CIDA funding 75% of operating and 90% of capital costs
Still large need for effective AIDS assistance
Donations are expected to increase over the next 3 years
This strategy is in line with FAC's Mandate to include HIV/AIDS treatment and prevention as well as CIDA's preference to target AIDS being a major stakeholder Using contractor #2 to set up 2 clinics results in expected support service expense equal to only 15% of project activity expenses, which is less than CIDA's maximum 20% requirement to receive funding Under the $5 million maximum funding from CIDA per project
Cons:
Food costs have increased
Public is desensitized to AIDS awareness
There is a shortage of local health care workers
Permanent establishments prevent quick exit if plans do not work 2) Mobile AIDS Units
Estimated costs to set up and operate Mobile AIDS Units in Year 1 will be
$315,900. The calculations for this strategic alternative can be seen in Exhibit 5. Pros:
Mobile teams are able to offer education, prevention, and treatment of AIDS to remote locations Already have four offices that mobile units can utilize as home bases and places to store supplies Low cost per AIDS patient ($108)
Expected support service expense equals 17% of project activity expenses, which is lower than CIDA's 20% maximum requirement This project is in accordance with FAC's current mandate for HIV/AIDS education, prevention, and treatment as well as CIDA's preference being a major stakeholder Still a need for HIV/AIDS support
Can use technology for an additional $10,000 in set up costs and $2,500 per mobile unit to increase speed of communication Meets the $5 million funding from CIDA for the AIDS project
No permanent establishments allow for quick withdrawal of mobile units if plans are not successful Less than CIDA's maximum $5 million of funding per project Cons:
Shortage of local health care workers – Hard to find
Slow communication of transactions to head office
Might result in scrutiny from environmental groups
3. Outsourcing of Support Services
Net Present Value calculation of outsourcing support services function can be seen in Exhibit 6. Pros:
OS Canada Inc. has extensive experience in HR, Travel, Facilities, Donations processing & CIDA billing and payroll functions Total savings over a 5 year period is $504,811
Three quarters of layoffs retained with OS Canada Inc.
Less scrutiny from environmental groups (no construction)
Decreases support service expense to project activity expense ratio Cons:
Loss of control over this function
Possible cancellation of contract (failure to make an instalment payment) May negatively affect employee morale
Current low turnover may increase
Recommendation
Exhibit 7 provides a comparison and ranking of major alternatives 1 and 2. It is less expensive to implement mobile AIDS units
CIDA requirements met with greater certainty under alternative 2 The number of lives improved is 11,250 under alternative 2
FAC's 2013 targets will be met under alternative 2
FAC should outsource its support services as it provides a positive NPV over the 5-year contract with OS Canada Inc. Implementation Plan
Mitigation of Risks:
FAC included fighting HIV/AIDS into its mandate, but lacks experience in this new area Mitigate by hiring professionals who have experience in this area Vehicle and equipment only have a 3-year life and will need to be replaced more frequently Can mitigate by considering warranty contracts to maintain fleet Danger exists in travelling through Asian and African countries Invest in the high-speed communication technology so field workers can reach out in case of an emergency Transportation costs are high and may be affected by future crises Mitigate by entering into forward hedging contracts on fuel prices No specific performance measurement targets for staff
Establish performance targets in order to evaluate employees Unethical request to avoid recording of donated vehicles
Ensure this transaction gets recorded
Employee morale may be affected after layoffs
Implement a program to motivate existing employees
Minor Alternatives:
Cutting newsletters would decrease administrative costs by $210,600, but would lose $2.5 million in donations (See Exhibit 8 for calculations) Television advertising campaign would generate $1.5 million after costs (See Exhibit 8 for calculations) Action Plan
FAC will need to submit forecasts for the AIDS project to CIDA in order to gain reasonable assurance to whether or not it will provide funding Refinance mortgage on head office building to fund 2013 operations (see Exhibit 9 for financing calculations) Wayne Ryce will coordinate the implementation of three mobile AIDS units and determine which remote locations in Asia/Africa to serve Betty McLeod will contact regional offices in Asia and Africa to inquire about the availability of qualified workers to form the mobile units HR team to implement a performance management system
Florence Taylor will implement the television advertising program Linda Roberts will contact OS Canada to pursue outsourcing
IT staff member will pursue purchase the technology for mobile units An accounting staff member will inquire about hedging fuel costs Financial Forecast
Refer to Exhibit 10 for a 2013 pro forma statement of operations. FAC will maintain sufficient level of funding to support it operations in 2013. With the implementation of the mobile AIDS units, it will achieve its targets of improving the lives of at least 3,000 AIDS sufferers at a maximum cost of $700 per person. CIDA will provide funding since the support service expense will remain below 20% of project activity expenses. See Exhibit 5 for the supporting calculations. Conclusions
Based on the assessment of strategic alternatives facing FAC, it is recommended that it implement three mobile AIDS units in Asia and Africa. This project will maintain support service expense to project activity expense ratio below 20%, and as a result, will obtain funding from CIDA to help finance this project. FAC should also outsource its support service function to OS Canada Inc., which will reduce costs over the next five years. This will also reduce FAC's support service expense to project activity expense ratio to provide greater certainty that the ratio will be satisfied. FAC should continue to send quarterly newsletters, as they contribute to donation revenue. It is recommended that FAC implement a television advertising campaign, as this has been assessed to provide a positive net present value.
Related Topics