Factors Promoting Health & Safety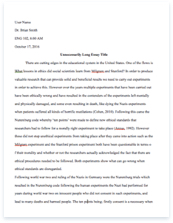 The whole doc is available only for registered users
A limited time offer! Get a custom sample essay written according to your requirements urgent 3h delivery guaranteed
Order Now
"Children experience an environment where: their health is promoted; their emotional well-being is nurtured; they are kept safe from harm" (MoE, 1996, p. 46).
A healthy and a safe environment protect children from any kind of harm. The environment is made up of physical, social, economical and cultural factors. These factors influence the way children perceive and respond to their surroundings. In turn these responses affects physical, social, economical choices and behaviours (Charlesworth. 2004)
The few environment factors which are positive and promote good heath are
1) Good dietary habits
2) Recreation, regular exercise and adequate rest
3) Stress reduction
4) Medical care
5) Cleanliness
A safe environment promote children's psychological well being and they become independent to make their own decisions.
Child Protection
Be it school or home child protection is a must. These days child abuse has become a serious problem in many of the countries. Children have to be protected from violence, abuse or exploitation.
Child protection links closely to all aspects of children's well being Child protection is a special concern in situations of emergency and humanitarian crisis. Many of them defining features emergencies – displacement, lack of humanitarian access, breakdown in family and social structures, erosion of traditional value systems, a culture of violence and many more. (Handbook: Child Protection – UNICEF IPU. 2004)
Childhood Illness
Many childhood illnesses are caused by spreading of viruses. After all young children in groups are breeding grounds for organisms that cause illness. Sleep walking, bed wetting, night mares, stammering and many more factors could be signs of some kind of illness, not always. Children's illnesses should be taken utmost care and immediate action should be taken for the same as young children's health conditions change rapidly.
The early childhood teachers should be trained in dealing with all factors related to health and safety in the early childhood settings. They should practice and teach the children good dietary habits, take them for their daily exercise sessions outdoors where children rejuvenate. The teachers the early childhood centre should be aware of the potential hazards and how to remove them and handle them in an appropriate manner. They should monitor the safety of children inside the centre's as well as during outdoor sessions. Hazard or accident registers or records should be maintained regularly with all data of all children in the centre should be recorded for future to follow up on the safety procedures and medical checkups. Regular medical checkups should take place to ensure all children are in good health. This is also helps in safeguarding other children's health.
The teachers should ensure that the environment is clean and hygienic which in turn helps to prevent communicable disease or illness. Exclusion, immunisation, hygiene, cleaning are few of the practises an early childhood teacher should follow to ensure every child's good health.
Before and after eating effective hand washing should be practised with soap and running water to avoid transmission of diseases. Teachers need to note down every child's signs and symptoms of illness to provide appropriate care. As the ministry of health (1997) advises that children with illness should stay away from early childhood services, the teachers too should take care that ill children do not attend the centres as the illness might spread to other children, and also the ill child will have to interest to play or learn. Exclusion is a significant factor in reducing the spread of illness.
If an early child care teacher sees any kind of behavioural changes in any child or he/she appears depressed or distressed without any obvious reasons or displays, a high index of suspicion is essential. The teacher should look out for any kind physical, behavioural or developmental signs of abuse. All signs must be examined in the total context of the child's or young person's situation. All details and symptoms and observation should be recorded. Promoting children's health and safety is very essential for a early childcare teacher. Teachers need to know each child's life
circumstances so that they can understand them better. This way a teacher can help provide children with a sense of place and importance within their settings. Early experiences in which children develop have a lasting impact on later success in school and life.
Reference List
Handbook: Child Protection for Parliamentarians – UNICEF IPU. 2004 Hart, B., & Risley, T. (1995). Meaningful differences in the everyday experiences of young American children. Baltimore, MD: Brookes Marotz, L. R., Cross, M. Z., & Rush, J. M. (2005). Health, safety, and nutrition for the young child (6th ed., pp. 7–13). Clifton Park, NY: Thomson Delmar Learning.
Marotz, L. R., Cross, M. Z., & Rush, J. M. (2005). Health, safety, and nutrition for the young child (6th ed., pp. 14-20). Clifton Park, NY: Thomson Delmar Learning.
Related Topics