Extra Credit – Take Action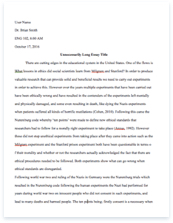 The whole doc is available only for registered users
A limited time offer! Get a custom sample essay written according to your requirements urgent 3h delivery guaranteed
Order Now
I recently joined the Circle K International Club at Saddleback this semester. Circle K International (CKI) is a collegiate community service, leadership development, and friendship organization. Therefore, members are required to do community services relating to helping the community, including the environment. This is one of my community service events I've joined to give a hand. We choose to do beach clean-up because we can get to an open space to work and to socialize with other new members of the club. Since most of the members are living in Mission Viejo, we decide to do our beach cleaning in Dana Point harbor. We meet up at around 7 AM in the morning so we don't have to disturb many people on the beach. Basically, we just walk along the seashore to pick up everything we can and put them in trash bags. We also divide them into 2 types of trash. One is just for bottles and recycled materials, the other one is for everything else, including human wastes, woods, or miscellaneous inorganic stuff. Not only do we pick up trash along the seashore, we also gather junks on the trail during our way back to the center area. Beach clean-up is just one of the many community services of CKI.
However, I really do enjoy my time picking up trash on a beach simply because I was once cut my foot by stepping on a piece of glass while playing on a beach. It bled and hurt like hell. It keeps me motivated thinking what happened to me might happen to other people and small kids. Therefore, not only trash, I pick up everything that is spiky and sharp like rocks. Moreover, picking up trash at the seashore will help preventing stuff from being carried into the sea, which affect the marine creatures as well as the sea. Other animals or birds might mistake trash to food and end up dying from consuming those materials such as cigarette butts or plastic bags. Additionally, we're doing beach clean-up because we want to keep Dana Point beach as an ideal tourist attraction to improve the tourism revenue which supports the community financially.
Doing Dana Point beach clean-up, I do not only get to know with other members in the club but also physically train myself. I walk, pick up stuff, and carry bag for 2 hours. Serving the community feels great. People greet and thank us when they see us picking up trash and carrying trash bags. I also earn credit for helping the community which will make my transfer application and resume look better. It's definitely one of the best experiences since I came to the US. I didn't know we can have so much fun while serving the community. It's a good feeling knowing that the beach now gets cleaner and safer as a result of our service.
Here are the pictures: (Most were taken before and after the event since we were busy with our hands). I'm a tall, skinny one with glasses. (Male, funny brown shirt)
Related Topics