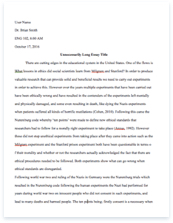 The whole doc is available only for registered users
Pages: 5
Word count: 1023
Category: Computers
A limited time offer! Get a custom sample essay written according to your requirements urgent 3h delivery guaranteed
Order Now
Introduction
Everything has changed due to the enhancement of the computer technology. With the use of technological discoveries and inventions, like computers, people can make things faster and easier. Computers have become important in different fields; in engineering, construction, industries, medicine, stock market and in transportation.
Computer is an electronic device that accepts processes, stores and outputs data at high speed according to programmed instructions. With its portable size, it can control infinite number of things and can access to different world. This is where interfacing is used. Interfacing is the process of connecting input/output (I/O) to a microprocessor unit or to a Personal Computer (PC) system with the purpose of making a device functional and operational. Automation on the other hand, is the use of control systems (such as numerical control, programmable logic control, and other industrial control systems), in concern with other applications of information technology to control industrial machinery and processes, reduces the need for human intervention. It lessens the need for human sensory and mental requirements as well. Since processes and systems can also be automated, engineers strive to combine automated devices with mathematical and organizational tools to create complex systems for a rapidly expanding range of applications and human activities.
The proponents believe that all educational institution promotes an edge in education and it is but natural for these institutions to provide the public the quality service they deserve. To be competitive enough in adapting to the changing environment and to improve quality service, automation should be employed on every educational institution. With the manual examination checking in BSU – Lipa Campus, some problems are observed. Most of the teachers' time is spent in checking exams manually. Teachers are getting less time in doing research, preparing lesson plans and in assessing the student's performances. Due to manual checking of papers, students will have to wait for the result and sometimes these were released when the end of the semester's near.
But if there is a way to eliminate the burden of checking examinations manually, teachers will become more productive and more time could be given to evaluate their students. As to efficiently organize examination materials and consequently lighten the load in checking students' answers to examination, the proponents thought of a computer and microcontroller based system that will check examination papers automatically freeing the teacher from the burden of checking a load of examination. The system will capture human-marked data from examination form. It will electronically extract intended data from marked fields, such as checkboxes and fill-in fields on printed forms. This requires the image to have high contrast and an easily-recognizable or irrelevant shape. The device will scan a printed form and read predefined positions and record where marks are made on the form.
Objectives of the Study
The main objective of the study is to design and develop a device that will check a multiple – choice type of exam, record and post results, generate report and customize examination sheet.
The specific objectives of the study are the following:
1. To determine the technical considerations for the selection of components necessary in the development of the project. 2. To develop software that will control, monitor and interpret data. 3. To design a circuit that will control a paper feeder.
4. To develop an economical and reliable device compared to existing system in the market. 5. To test and evaluate the system functionality and overall performance. Significance of the Study
This study will be an alternative to the expensive technology in the market today unlike the earlier systems which were designed to use scanners and special pre-printed forms with drop-out colors and registration marks. This project will utilize photo-reflective sensor and bond paper which are readily available in the market.
To the University (BSU). This will benefit the school who will gain trust and confidence from parents and students for having productive teachers and for producing competitive professionals.
To the Teachers. The study will help teachers in saving time and effort as they check the examinations. The teachers will have more time preparing researches, lectures, and discussions to enhance their teaching skills.
To the Students. This will provide relief to students for they will be able to retrieve results in timely manner. They need not to worry about their current status and they will be able to assess on which areas to improve and avoid failing grades at the end.
To the Proponents. This study will help the proponents and enhance their skills in developing a more useful and economical technology so as improve their knowledge in automation and programming.
To the Future Researchers. The study will also benefit the future researchers. The ideas and concepts discussed can be used as a reference for future studies of related topics.
Scope and Delimitation
This project study covers the automation of examination checking. Through this study, examination results and reports will be generated in a fast and convenient way. The system is a Personal Computer (PC) and Microcontroller Unit (MCU) based device which will check a set of multiple choice type of exam. It will then be recorded and stored in a database. The result will be calculated and report will be generated using the software. The device will process a maximum of one legal size bond paper answer sheet (8.5" x 14"). There will only be four choices for each question or number and a maximum of eighty items per answer sheet divided into four columns. The shaded answer is the only answer that will be recognized and there should not be more than one shaded answer. The device will not consider more than one shaded answer. And it will only recognize answer from a black ink marker. Due to limited time and resources, the researchers delimit its scope with the device's power and program dependency. It will not run if not supplied with the required voltage and will not generate desired output without its software. The device is not capable of checking objective and essay type of exam. And the device is not capable of generating final grade of the students.
Related Topics