Evaluate the appropriateness of business information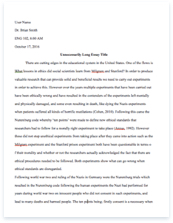 The whole doc is available only for registered users
A limited time offer! Get a custom sample essay written according to your requirements urgent 3h delivery guaranteed
Order Now
D1- Evaluate the appropriateness of business information used to make strategic decisions. Strategic decisions are the decisions that are concerned with whole environment in which the firm operates the entire resources and the people who form the company and the interface between the two. In this task I will talk about the appropriateness of business information used to make strategic decisions. Having correct information before you make a decision that affects the whole company is vital for the company in the economic environment we are currently in at the moment. Verbal information – Is the sharing of information between individuals by using speech. Individuals working within a business need to effectively use verbal communication that employs readily understood spoken words, as well as ensuring that the enunciation, stress and tone of voice with which the words are expressed is appropriate.
Verbal information ensures that you have a strong relationship and you build a trust between the individual that you are trading with, when making important decisions that affect the whole business you need to make sure that you know the individual of company and their history when you are dealing with them a background check is also important because then you have a reassurance that you will not be ripped off. Business professionals demonstrating effective verbal communication skills use spoken words to convey a message clearly and concisely. To get a message across, the sender needs to ensure the receiver correctly interprets the words. If not, confusion and conflict typically results. By successfully delivering a message, business professionals describe ideas, thoughts and directives that allow colleagues to work better together. Effective verbal communication begins by acknowledging what the audience needs.
By planning what he wants to say, how he wants to say it and seeking feedback on how the message was received, a business professional ensures successful communication. Positive language is helpful and encouraging; it suggests alternatives and offers solutions to problems. It is language that stresses positive actions and consequences. For example, if you are negotiating with a supplier who is not willing to budge on price, your language should convey the desire for a 'win-win' scenario (i.e. a situation that both parties can be happy with). This is likely to make your supplier more willing to negotiate (perhaps on issues other than price, such as delivery costs or payment terms), than if you also refuse to budge and accuse them of being inflexible Written information- Involves any type of message that makes use of the written word. Written communication is the most important and the most effective of any mode of business communication.
Examples of written communications generally used with clients or other businesses include email, Internet websites, letters, proposals, telegrams, faxes, postcards, contracts, advertisements, brochures, and news releases. Written communication allows businesses to communicate developments, expectations and legalities to employees and contacts in the outside world. While traditional hard copies of written communication in business are still prevalent, email and online communication has become increasingly common. Given the important of written communication, it's a good idea to understand the basics to apply best practices to your own business.
Some advantages of written communication are:
No need for personal contact – you can tell an employee he or she has to work overtime through an email instead of face-to-face. Saves money – you can send an email instead of calling long distance. Written proof – provides written proof in case of a dispute. Some disadvantages of written communication are:
Delay in communication – it may take a while to get to the intended recipient. Lack of secrecy – once it's on paper, anyone can read it.
Costly – if the sender and receiver are sitting next to each other, you still have to spend money on paper or Internet service.
On- screen information- A business can monitor and decide if communication through on screen information is the best appropriate approach in gathering information to help make decisions. If a business such as Apple Inc. Communicates through television they can monitor their sales and how much they have increased by since starting their television advertisements, with this information they can consider if that is the best form of advertisement and if they should continue to try and generate profit through this. The decision they have to make needs to ensure they have thought about the environment and everybody involved and not involved in the business; television advertisement may be better because they generate a lot of sales increasing the company's profit and expanding the business whereas other forms of on-screen information such as videos and texts do not achieve all of this above. The only disadvantage that comes along with on-screen information is that there are individuals who are very talented in hacking into files of other company's through the internet so businesses may be at risk of fraud or having information changes without their consent.
Multimedia information -Multimedia, such as mobile marketing, live casting and podcasting, photo, video and file sharing, can spread the word about your company and help build brand awareness in a very unique and powerful way. This particular type of social media also has the ability to go viral quickly. Hottrix, the Las Vegas, Nevada-based iPhone app creator, became one example of a breakthrough success story when their iBeer app, which simulates chugging a mug of beer on the iPhone, became one of the most-downloaded apps in 2008, and again in 2009. However, company's chances of going viral are left more to fate than skill, but that's no reason to discount the importance of multimedia for their business. The ability of these technologies to facilitate communication between your small business and employees, their customers and potential customers, is tremendous, says Keith Nissen, principle analyst at the Scottsdale, Arizona-based market intelligence firm, In-Stat.
A good example for this information is mobile phone companies; they spend a lot of time, money and effort to produce high class adverts to gain sales and these adverts are shown at different times around the target audience they want to try and to attract, they make the advert eye-catching so they can meet their marketing objectives. Web based information- When running a business, investing in database software makes it possible to keep track of valuable information for your company and helps your employees maintain access to this important data. Using an online database involves accessing a website to store your information and provides several advantages over other methods of preserving data. When running a business, investing in database software makes it possible to keep track of valuable information for your company and helps your employees maintain access to this important data. Using an online database involves accessing a website to store your information and provides several advantages over other methods of preserving data.
One of the advantages of online database software is that it can save your business money. When you don't need to buy a software program for your business, this could result in a major savings overall. In most cases, businesses pay for a software program and then pay for a licensing fee for each computer that uses it. Using an online database may prove cheaper, depending on the number of computers you use. You also don't need to invest in servers to store the data at your business. Another benefit of using an online database program is that it allows your business to be flexible. You only pay for the amount of storage that you use. You need not worry about purchasing servers as you go or eliminating them when they are no longer needed. If your business grows or shrinks, you do not need to be concerned about the costs of database management software or servers. Another advantage of using a Web-based database program is that you can shift the technical support burden to someone else.
Paying a company for access to an online database includes technical support. If the database has problems, you simply contact the company and the staff handles it. You don't need to pay for an information technology professional for this purpose. If you already have an IT department, your employees can focus on other things. Having access to the database at all times from multiple locations is another major advantage of this type of database. With an online database, you could theoretically access the information in the database from any computer. The information is also available 24 hours a day, seven days a week.
This means that all employees have access to the same information and can collaborate with one another on projects — regardless of location. This advantage can increase productivity and improve efficiency. Drawing into a conclusion we can understand how different information is used in a business that helps and contributes to the company's decision making that will affect the environment and the people involved in the business. I have gone into depth about the financial and marketing departments of business and how they use the information to make strategic decisions.
Related Topics