Err: Occupational Safety and Health and Children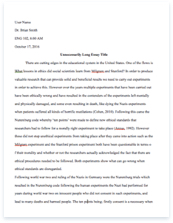 The whole doc is available only for registered users
A limited time offer! Get a custom sample essay written according to your requirements urgent 3h delivery guaranteed
Order Now
Ai Imagine you are a newly appointed supervisor/manager within your service. You need to update your staff handbook to reflect current employment law.
I would use the internet, websites such as www.direct.gov.co.uk, www.acas.org.uk. I would also use, policies and procedures such as disclosure and baring, and safe guarding etc. Finally I would use employment laws such as health and safety and I would get this from www.hse .gov.uk.
Aii
a. List three aspects of employment covered by law.
– Health safety of all concerned
– Working hours/ holidays
– Paying conditions
b) List three main features of current employment legislation. – Health and Safety at Work Act 1974
One main feature of this is PPE, (personal protective equipment), this is for example what an employee at a nursery would wear whilst doing a nappy, this includes aprons and gloves etc. Another feature is risk assessments, for example nursery employees would make sure that the nursery environment is safe for all children, and would check the nursery on a regular basis, they will make sure this information is recorded. Finally the last feature of current employment legislation is executing good standards of cleanliness; employees would do this by cleaning up if a child has had an accident for example.
Aiii Briefly outline why employment law exists.
To protect the employer and employees against misuse, and so employees are fully aware of everything, and for clear understanding between employees and employers.
Task B – Your work role
Bi Describe the terms and conditions of your employment as set out in your contract of employment or employment agreement. The brief outline of my contract would be  Number 1 – wages, how much I would get paid per hour/week. Number 2 – holidays- this is telling me how much holiday I'm entitled to, in a year. Or part there-of. Number 3 – sickness- in the event of illness or injury my rights regarding time of, and pay accordingly. Number 4 – safeguards- the nurseries right to check up on myself and other who work there. Number 5 –standards- my general presentation and attitude is a representation of the nursery. Number 6 – health safety – health, and safety general issues. Number 7 – general terms and conditions- regarding capability disciplinary and grievance procedures. Number 8 – termination of employment by either me or the company. This is a general overview of my terms and conditions of my employment.
Bii Describe the information which needs to be shown on your payslip/statement. Name, Employee number, National insurance, Date, Company, Tax code, worked hours, Pay rate, Tax/ National insurance contributions, Gross pay, Total pay.
Biii Identify two changes to personal information which you must report to your employer. Address and Marital status should be reported to your employer.
Biv Describe the procedure to follow if you wanted to raise a grievance at work. You may describe this in writing or produce a flow chart or diagram.
Firstly I would speak to someone regarding the issue I have a problem with; if I receive no satisfaction here I will write a formal letter. Secondly I would then expect a meeting at a reasonable time and location so the grievance can be investigated further, assuming the meeting takes place I would be informed in writing as to the outcome within 10 working days. I would also be entitled to write up an appeal if need be. This would need to be done within 5 working days. Again a further meeting would be arranged, with a more senior manager if needed. I would be advised of the outcome of the meeting and this would be followed in writing within 10 working days. During these meetings I would be able to take a witness with me, as would the company be allowed a third party to chair meetings.
Bv Explain the agreed ways of working with your employer in relation to the following areas:
1. Data protection
My employer expects me to follow and understand the data protection act and work within its guidelines. I would do this by keeping information about the children private, and promoting safe storage of such information. 2. Grievance
The agreed ways are set out as in the handbook; this relates to any misunderstandings that I may have with my employer or that they may have with me, and how to overcome them. 3. Conflict management
I would be given the appropriate training in conflict management, and my employer would support me in the resolving of any conflict. 4. Anti-discriminatory practice
This relates to discriminating against people through age, sex, religion, race, etc. I would work with my employer by understanding the rules, and enforcing this with the children and other staff. 5. Health & safety
This is to ensure the safety of myself and others working within the nursery. The ways are by understanding the health and safety act, and be aware of health and safety issues, and promoting it to others around me, and understanding that my employer has a responsibility to providing a safe working environment. My employer has a responsibility to provide all staff with equipment necessary to complete their job. All equipment should be regularly checked and maintained to good standards. Lastly the employer has a responsibility to provide training specific to the role. 5. Confidentiality
I would work with my employer by not repeating or talking about any of the personal issues of the children or members of staff, unless a situation arose in which case this would be authorised by someone senior, i.e. disciplinary action. You should also seek advice if you know that a child is being abused. 6. Whistleblowing
This is to ensure that if an issue arises that I'm unhappy which needs escalating, I can do this without the fear of reprisal.
Bvi Explain how your role contributes to the overall delivery of the service provided. My role contributes by helping the nursery maintain the safety and care of all the children attending to. I am expected to care for and look after the physical wellbeing of the children, play with and educate the children, providing emotional stimulation. I also have a responsibility to keep the environment clean and safe for the children. I would also do anything else I'm asked to do by a senior member of staff which is within my capability.
Bvii Explain how you could influence the quality of the service provided by;
a. following best practice within your work role;
By following best practices this would ensure the safety and wellbeing of all the children in my care, this can be achieved by understanding policies and procedures, and by having the correct. b) Not carrying out the requirements of your role.
By not following the requirement set out the children may come to harm, and not have a pleasant experience whilst with the nursery.
Bviii Describe how your own work must be influenced by National factors such as Codes of Practice, National Occupational Standards, Legislation and Government Initiatives.
By working correctly and within the guidelines set out by various governing bodies. This ensures the health and safety of the children and help to keep the reputation of the nursery to the highest level. Nurseries are also influenced by the every child matters, this was set up by the government, it promotes being healthy, the children's wellbeing, achieving etc, and it is in place to improve all of the things stated before.
The childcare act influences nurseries by trying to improve the outcomes of the every child matters. The childcare act provides good childcare for working parents, and the childcare act encourages nursery workers to work in partnership with the parents.
The early year's foundation stage sets standards for learning, development and care for children between the ages 0 to 5. Nurseries can be influenced by this as, the EYFS focuses on 7 areas such as communication and language, physical development, personal social and emotional development, literacy, mathematics, understanding the world, and expressive arts and design. Nurseries can follow the EYFS 7 areas through play and games.
Bix
a. Identify two different representative bodies which influence your area of work. Ofsted and National children's Bureau
b. Describe the role of the two representative bodies you have identified. To ensure the safety and welfare of the children whilst at the nursery. Ofsted-Ofsted's role is to make sure that nurseries provide the best standards of childcare possible. Ofsted is important because they make sure children are being treating safely and correctly at nursery, this is why Ofsted do surprise visits to see what the nursery is like from day to day. NCB-
This organisations role is to improve safety and welfare of the children at the nursery, throughout different aspects of their life.
Task C – Career Pathway
Create a career pathway plan for yourself, indicating what opportunities are open to you as you progress in your chosen career. Indicate what you will need to learn or any qualifications you might need to gain in order to achieve your goals. Identify sources of information to help you achieve your goals. Understand employment responsibilities and rights in health, social care or children's and young People's settings.
Apprentice nursery assistant
Cypw 2 in 1 year – At this stage I will have achieved my level 2 Certificate for the Children and Young People's Workforce
Junior nursery assistant – At this stage I will have a Level 3 Diploma for the Children and Young People's Workforce
Senior qualified – By this stage I will hopefully have got an NVQ Level 3 in Children's Care, Learning and Development
Junior manager- I would have got a level 4 qualification in early years
Senior manager Level 5 Diploma in Leadership for the Children and Young People's Workforce early Years
Task D – Presentation or report
Prepare a presentation or report on an issue or area of public concern related to the care profession. Your presentation or report should include:
• A description of the issue or area of public concern raised • An outline of the different points of view regarding the issue or area of public concern raised • A description of how the issue or area of public concern has affected service provision and methods of working • A description of how public opinion is affected by issues and areas of concern in the health, social care or children's and young people's sectors
Injuries in Nurseries.
It is unreasonable to think that an accident /incident would never happen in a nursery. As part of learning and playing children slip, trip and fall over and hurt themselves. Nurseries have to acknowledge the risks of accidents, but they need to know what they can do to either reduce the chance of them happening in the first place or know how to reduce the risk of significant injury should an accident occur. Tragic events such as the death of a two year old that had her head stuck in a Wendy house whilst at nursery make front page news. In such tragic cases the health and safety executive will get involved and prosecutions will take place if it is found that staff have not been providing adequate care of the children.
Due to the tragedy that took place, the courts urged the nursery to check the staff ratios were correct (the ratio are 4:1), so incidents like this would not happen again. There are social networking sites such as mumsnet.com where parents express their concerns about accidents happening in the nursery their child/children go to. However I have looked on the internet and have found it difficult to find general statistics of accidents taking place in nurseries. To make sure fewer accidents happen, nurseries need to have the correct amount of staff for the children they are caring for. The following table shows the ratio of nursery staff to children.
The current government are proposing to change the staff ratio in nurseries; this may allow a highly trained nursery nurse to have more children. However critics warn it may affect the quality of care given to the children, and more accidents/incidents may happen. Nursery managers have a duty of keeping their nursery safe. They can do this by providing safe equipment such as plug socket covers, cleaning products locked away etc. Nursery staff have a duty of keeping the nursery environment safe from day to day, to prevent injuries happening, they can do this in many ways such as tidying and cleaning up after snacks, and lunches, or if an accident has happened it is cleaned up immediately so no children will slip over and injure themselves. Ofsted have a duty to inspect nurseries to make sure standards of health and safety and education are at its highest level. It is important to keep a correct record of any accidents in the nursery.
This can be completed in the event of an accident of a child, parent, staff member or visitor. They include copies so only one form has to be completed and a copy can be given to the child's parents. In conclusion I have found that nursery staff have a big responsibility of care and safety for the children their looking after. Parents pay large amounts of money and would expect the quality of safety to be good. This can be done by being cautious and preparing for the chance that there may be accidents/incidents taking steps to reduce the risk of accidents/incidents happening in nurseries. Ofsted have a huge impact on parent's choices of nursery, because parents can find out information on the internet so quickly and that can instantly make their decision on what nursery their child will attend. So it is in the nurseries best interest to keep their nurseries safe.
Related Topics