Equality & Diversity Argumentative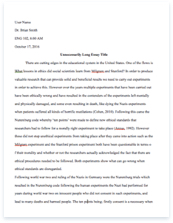 The whole doc is available only for registered users
Pages: 9
Word count: 2051
Category: Sociology
A limited time offer! Get a custom sample essay written according to your requirements urgent 3h delivery guaranteed
Order Now
You should use this file to complete your Assessment.
1The first thing you need to do is save a copy of this document, either onto your computer or a disk 2Then work through your Assessment, remembering to save your work regularly 3When you've finished, print out a copy to keep for reference 4Then, go to www.vision2learn.com and send your completed Assessment to your tutor via your My Study area – make sure it is clearly marked with your name, the course title and the Unit and Assessment number.
Name: Rano Raynor Gakhal-Heron
1. Describe a range of appropriate investigative methods that can be used to explore diversity in a community. Range of age, Sex male to female ratio, Different religion/faiths, marital status marriage & divorce statistics. Ethnicity how many types of ethnic minority there are within the Sandwell Area a method to reseacrh the types of differences could be undertaken by investigating by observation by one or more observer. This could occur at a specific place, such as a local high street, over a particular timescale such as peak times lunchtime for example, after school finishes on a specific date. The researchers would then observe passers-by, noting their differences and utilising an observation sheet in order to place them into specific categories, for example age range and gender, or gender and ethnicity. Creating a simple questionaire would also be effective that way you would collect information from numbers of passers by which would possibly provide more deffinitive answers.
An alternativ you can directly observe not only the residents of the community, but the area and its features to indicate diversity. Physical signs of diversity by observing, for example, the different places of worship available which may include a Sikh Temple, Mosque, Mass or Church Of England Church this may be an indicator indicator of the different beliefs in the community; different sports venues and social venues where the community gather to participate in different activities or pursue specific interests and lifestyles. Different types of schools could indicate different beliefs or even local restaurants such as Indian, Chinese, Italian, Bangladeshi or Jamaican. Questionaire's may also be devised by a market research company which could be handed to the most accessible places such as the Citizens Advice Bureau, Local Council House. This would be an expensive method and information may not be accuarte as all people whio have been handed the questionaire may not choose to complete it.
2. Using one (or more) of the methods you outlined in Question 1, describe the extent of diversity that exists within your community. You should illustrate your work with some actual data such as statistics or desktop research. Statistics for Sandwell area Oldbury, West Midlands on religion Sandwell – total 24492
Christian – 3892
Buddhist – 4
Hindu – 158
Jewish – 2
Muslim – 6310
Sikh Persons – 11744
Other religion – 18
No religion – 896
The information has been provided by my local authority data has been collected from the number of people that entered the Sandwell Council for services which can range anything from education to benefit services the figures were assessed over a 6 week period to collate information for the census report there is a mixed community here.
3. Using one (or more) of the methods you outlined in Question 1, describe the range of services and agencies that exist within your local community to support diversity.
Sandwell Homes – has a team of Support Officers who provide short term support to vulnerable people in their own homes in each of the six towns in Sandwell. You do not need to be a Sandwell Homes tenant to get support.
Ideal For All – is a not for profit company and registered charity run by disabled people for disabled people in Sandwell. We provide a range of social and health care services for disabled people, carers and disadvantaged groups to create an environment in which all the people in the Borough of Dudley and surrounding areas support equality and diversity, understand and appreciate the differences between individuals and communities. Sandwell Webwell – contribution to improving community cohesion and social equality in Sandwell and surrounding areas, through community integration activities, information, support and advice and improved policy and practice in the business, education, voluntary and statutory sectors.
Services provided such as the follwoing promoting the interest of all Black and Minority communities, Building effective partnerships within the community, creating an environment in which all people in the Borough support equality and diversity, understand and appreciate the differences between individuals and communities, raising the profile of all six equality strands (race, gender, disability, sexual orientation, age discrimination, religion and belief). AGE UK – Sandwell services for older people are wide ranging and cover the whole area of Sandwell. Shore Breaks Care -This service provides carers of older people living in Sandwell with a regular free break of up to six hours at least once a week, during this time, they can be assured that a fully trained professional Care Assistant is looking after the person that they would normally care for. Home Care Visiting – This service is provided for older people who are isolated and vulnerable, living in any of the six towns in Sandwell.
The service is free and is delivered by a team of trained volunteers.Volunteers provide support in many ways and can help with household tasks, reading the mail etc, but mostly they just provide a friendly face and a listening ear. Our volunteers can visit any time on a weekly basis, to provide companionship and support to older people in the community. Volunteers are matched to our service users to make sure that they same person will call each week and that they will have a good rapport when they meet. We look for volunteers who know how to engage with older people and can build trust and confidence in the people they visit.
Day Centre – Activities, which includes many mental and physical stimulation exercises such as extend exercise, games, quizzes and art work.Trips have taken place throughout the year, including theatre, museums, pubs and a garden centre.Other additional services include Gardening Service, Support Sercvices, Advocacy and Benefits. 4. Using one (or more) of the methods you outlined in Question 1, provide a wide range of examples (at least 20) of physical signs that show there is diversity within your community. Include examples relating to:
1Religion , Hijab, Jewish Hat, Temples, Catholic Mass, Christian Church, Sikh Temples, Hindu Church, Chinese takeaways, Indian takeaway, language, hair colour, eye colour, skin colour, head scarf, italian restaurants, Jamaican restaurants, Halal takeaway shop's, Interpretor's for language with local government departments, religious events such as Eid, Christmas, Easter, and Diwalli. 2Age college adverising all ages welcome.
3Disability employers who have a positive approach to employing disabled people display '2 ticks' Disability Symbol. 4Gender jobs' advertised to both male and female.
5. Describe the types of inequality that could exist within a community. (5 Types of Inequality)
1/ Natality inequality: This exists in certain religinons still preference for boys over girls that many male-dominated societies have, gender inequality can manifest itself in the form of the parents wanting the newborn to be a boy rather than a girl.
2/ Equality of outcome, equality of condition describes a state in which people have approximately the same material wealth or, more generally, in which the general economic conditions of their lives are similar. This type of equality exists in the community for example a businessman may have or seen to have more wealth than one of the neighbours just because they run a business. 3/ Ownership Inequality – In many societies ownership of property can be very unequal. Basic assets such as homes and land may be shared. This type of inequality has existed for many years it has always seemed that the men dominate investment property. 4/ Wage Inequality – This is designed to combat income inequality, maximum wage is related to minimum wage which is the lowest hourly wage that employers can pay employess by law. 5/ Caste Inequality – The caste system is a type of social inequality that exists in countries like India, Pakistan but it also exists in communities for example an area of Birmingham named Sparkhill is populated with Pakistanis, another area of Bimringham Smethwick is poulated with Sikhs, the caste system within each caste has existed for many years and is such like lower, middle and upper class. Lower class caste may be where the person originated from such as Bangladesh an upper class person may have originated from India. Ir exists in many communities in Birmingham due to the population of ethnic minority numbers.
Question 6
6. Describe the threats that exist to equality and diversity within the community, using examples of intolerance and extremism.
Extremism does exist within the community more, it has been more substantially an awareness within the community due to 911 and 7/11 which have taken place. The concept of national security such as UKBA intelligence is to encompass all the factors that threatens individual citizens who live their way of life, to protect the community from long-term threats, such as pressures created by climate change and poverty. Diversity has brought enormous economic and cultural benefits, changes in social demographics is to create challenges to public service delivery and to relationships between new and established communities. Extremists try to sow division in this country such as tackling the hateful views and actions of extreme right-wing groups, the most significant terrorist threat to national security in the UK is from al-Qaida who assert that Islam and the West are incompatible, that people should no longer be able to define themselves as British and Muslim.
Preventing violent extremism within Communities
Communities which are sometimes poorly equipped to challenge and resist violent extremism. The Government's strategy has five key strands aimed at addressing factors in support of the aim to stop people becoming or supporting Terrorists and violent extremists, the government aim to tackle this by intervention such as:
• Challenging the violent extremist and supporting mainstream voices • Disrupting those who promote violent extremism.
• Support individuals who are being targeted and recruited to the cause of violent extremism. • Increasing the resilience of communities to violent extremism • Addressing the grievances within all communities.
7. Research the range of support services and networks that exist within the local community to support diversity and explain the specific roles they carry out and the users they support. This task should be completed for each of the following:
Public sector organisations- JCP, Citizens Advice Bureau etc.
Sandwell Crossroads service is about giving time – improving the lives of carers by giving them time to be themselves and have a break from their caring responsibilities www.sandwellcrossroads.org
Age UK combining Age Concern and Help the Aged to support the elderly http://www.ageuk.org.uk.
CRUSE Bereavement Care promotes the well-being of bereaved people and enables anyone bereaved by death to understand their grief and cope with their loss. As well providing free care to all bereaved people, the charity also offers information, support and Sandwell Council of Voluntary Organizations (SCVO) established in 1997 to provide representation and support to the local Voluntary and Community Sector. Based in Sandwell and focused on Sandwell, it offers a wide spectrum of specialized services and aims to support all not-for-profit community groups and voluntary organizations. Royal College of Psychiatrists[->0] – Leaflets and information on common mental health issues.
SAD Association (Seasonal Affective Disorder)[->1] – A voluntary organization providing support and advice to SAD sufferers.
Samaritans [->2]Support for all those in distress; 184 branches open 24 hours a day. Telephone directories list local branches.
Sandwell Mind/Community Group Work[->3] – Self help groups meeting in community venues across Sandwell supporting people with anxiety and depression.
SANE[->4] is a national mental health charity which aims to raise awareness of mental illness and campaign to improve services and initiate and fund research into the causes of serious mental illness through its research centre. Information and emotional support is also provided to anyone affected.
Once you have completed this Assessment, go to www.vision2learn.com and send your work to your tutor for marking.
Related Topics