Entrepreneur: Entrepreneurship and Active Class Participation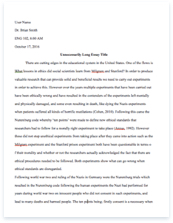 The whole doc is available only for registered users
A limited time offer! Get a custom sample essay written according to your requirements urgent 3h delivery guaranteed
Order Now
Course Materials:
1. Hisrich, R.D., Peters, M.P., Entrepreneurship, Sixth Edition, Irwin/McGraw-Hill, 2005 (ISBN 0-07-287374-4) 2. Readings: the articles are on reserve at the High Library. 2. Business Week, Forbes, Entrepreneur Magazine, Inc. Magazine, Fast Company. 4. Recommended Book: Spencer Johnson, Who Moved My Cheese?
Course Philosophy
Entrepreneurship is about changing the world and creating something new in unusual ways. . Entrepreneurs are fantastic learners. They are self-competing individuals who strive to achieve excellence. Consequently, my expectations for this class are high. This course is a sum of challenges, an exciting journey in discovering yourself. This is not about impressing the professor but impressing yourself and your peers.
Entrepreneurship course provides students the opportunity to assess and develop their entrepreneurial skills. The class emphasizes a "hands-on" approach based on class discussion and interaction, case studies on entrepreneurial ventures, final project, presentations, experiential exercises and executive speakers (entrepreneurs, investors and consultants). The topics covered in class will enable students to understand the entrepreneur's profile and to acquire knowledge and skills necessary to create, start, finance, manage, and grow a new venture. However, this is not a "how-to" type of class.
Course Objectives:
1. To offer both the academic and real world perspective on the entrepreneurial process and to develop the ability of applying the class materials.
2. To understand the entrepreneurial traits and abilities required as an entrepreneur.
2. To develop persuasive verbal and written communication skills and build up the abilities to work in entrepreneurial teams.
3. To foster creativity, initiative and entrepreneurial way of thinking.
4. To expose students to the benefits and challenges associated with an entrepreneurial career path.
Course Method
Classes will be as interactive as possible and challenging following a seminar format. The class philosophy is to spur creative thinking, initiative and participation. Discussion in this class is the main learning tool. Note that this applies to all class activities: lectures, case studies, team and individual exercises, and executive speakers' presentations. For a successful learning experience, timely reading, study, and active class participation are essential. All chapters, cases, other readings and applications should be completed BEFORE class on the assigned dates and each student should be willing to discuss them in class. As a result, you will have the opportunity to involve yourself in the class discussion and to ask pertinent questions. To facilitate the discussions, at the end of each class I give students a list of questions that covers the most important topics for the next class. Consider each class a simulation of an entrepreneurial team meeting. Consequently, you are required to be punctual, well prepared, energetic and eager to convey your business views.
During the semester, you will work in teams on two cases covering key issues in entrepreneurship. You are required to write for both cases a team report. In addition, a team project, an interview with an entrepreneur and an individual presentation will be required. Two examinations are planned during the semester. In business world, if you go beyond a certain deadline you can miss valuable opportunities. Consequently, late assignments will not be accepted and students will receive zero points. Assignments are due at the beginning of each class. If you are not able to submit the paper personally, you can send it by email before the class session when the paper is due. "Getting behind" is usually fatal in any class and Entrepreneurship is certainly no exception to this general rule.
Academic Misconduct
Ethical behavior is fundamental for your future business career and academic integrity is the right way to prepare for that. Students are expected to hold and abide by the Elizabethtown College Pledge of Integrity. The pledge reads: "….we promise to represent as our work only that which is indeed our own, refrain from all forms of lying, plagiarizing and cheating." The use of outside information without proper citation will be considered plagiarism, which will be sanctioned with a failing grade for the course.
Electronic Communication
Course announcements will be made using the email address listed with the Campus directory. If you are using a different email address, you should contact me as soon as possible. Make sure you periodically clean out your e-mail inbox.
Class Attendance and Participation:
Due to the strong positive correlation between a good grade and a good attendance and participation, you should make every effort to attend all class meetings. Student attendance is a necessary but not sufficient condition for a positive evaluation of class performance. Each of you is an important part of the class. Any absence will affect the class environment and interactivity. During the semester, you are encouraged to check with me the evaluation of your class participation. Attendance will be taken at each class.
Arriving on time to each class meeting is an essential part of your class attendance. Lateness to class will negatively affect your total grade. Punctuality is a sign of respect for both the professor and colleagues.
A major portion of your final grade comes from class participation. Active class participation is fundamental to your success. The classroom environment is the ideal place to learn how to develop creative thinking abilities and to express your thoughts more effectively. Forms of participation are answering questions, asking pertinent questions and sharing insights and ideas that demonstrate the ability to think "outside the box." The participation degree will be assessed as: – Active participation: constant, qualitative participation that proves careful study of the assigned materials and the ability to apply the knowledge and to offer creative points of view. – Partial participation: Less intense participation which might prove less study and motivation. – Passive participation: Some comments from time to time. – Lack of participation: No contribution to the class (ZZZZZZZZZZZZ……. approach).
If a student accumulates an absentee record of more than two classes, the individual is liable to be penalized 25 points for each additional absence. Perfect attendance will bring participation will bring extra credit.
Case Study Reports
The case study is an excellent learning method. A case will help understand the specific entrepreneurship challenges and build essential decision making skills. For each case study, students working in teams will turn in a report of maximum two pages (Times New Roman, 12- font size, single spaced, and one inch margin). One extra page is allowed for tables and figures. You should address each question individually and not just provide a general answer for all requested questions. The report is due at the beginning of each class with case discussion. Students are expected to use the concepts and tools presented in class and studied from the textbook and readings to support their ideas. All written assignments must be clear, concise and proofread for both spelling and grammar errors. This is critical not only to your success in this class but also to your business career.
Team Project: Venture Feasibility Analysis
Students will be assigned to a team of three-four students to work on a term project. The central topic is the investigation of a potential opportunity. This assignment is very much research oriented and requires an extensive amount of information and analysis. You should consider yourself as part of an entrepreneurial team that strives to assess the feasibility of an idea and to capture value from a winning idea. Each team will decide whether the product/service concept is a real opportunity with a potential market, with customers who can be attracted to buy it, and with an entrepreneurial team that is able to gather the needed resources and exploit the opportunity. This project is not a business plan. The final result will be the translation of the original idea into a business model. At this point you can make an informed decision on whether to proceed or not toward a business plan and to the launch a real business.
Each team will make a maximum 20-22 minutes class presentation and will turn in a paper of maximum 15 pages with no limit of pages for annexes, single spaced, 12-point font and one-inch margins. Each presentation will be followed by 15-20 minutes Q&A. The written report is due for all teams on December 6 that is the first day of presentations. Each of you should be prepared to ask questions. The attendance during presentations is compulsory. Business attire is mandatory for presentations. All group members must have a speaking role in the presentation.
Team Work and Peer Evaluation
Strong entrepreneurial teams play a critical role in new ventures' success. As part of a team of 3-4 students, you will be expected to design and endorse a commitment contract that specifies the rules of the team work, i.e. meetings, responsibilities, deadlines and feedback. A key responsibility in this class is to honor your team contract's requirements. A part of the final grade will be derived from group members confidentially grading their peers for the fulfillment of their team agreement. Each member of the group will submit via e-mail, by December 6, the number of points awarded to each member of the team (out of the 70 points) and a brief 1-2 sentence comment on their group members. Peer reviews are taken very seriously in this class.
Examinations:
The examinations will be a combination of short answers or essay questions, and multiple choice/true false questions. The first examination will cover the material from the first part of the course while the final examination will cover the second half. Both examinations will be closed book and closed notes.
Make-up policy
If you miss an examination for a valid reason with documentation, you will receive an excused absence. Those students receiving an excused absence will be given a make-up examination.
Interview with an Entrepreneur
You must identify an entrepreneur, a possible role model for you, set up a meeting and interview him/her on the key challenges faced in the process of starting, growing or maintaining the venture. Prepare the questions in advance focusing them more on the entrepreneur than on the venture. The bottom line is to get a sense about what it is like to be an entrepreneur. It will be useful to identify entrepreneurs that are related to the field of your team project. The paper should include besides your questions and entrepreneur's answers, the name and address of the firm, name of the interviewed entrepreneur, and a short description of the business. You should summarize what the key lessons of the interview are. This assignment is not to be longer than two pages. This is an individual assignment. It is not necessary your written paper to be a verbatim transcript of your interview.
Entrepreneurial World exercise: individual presentation
This is an individual oral assignment (EW presentation) where each student will introduce the class to a successful or not so successful entrepreneurial story. This can be about entrepreneurs, start-ups, established entrepreneurial businesses, opportunity identification, innovation, and exit strategies. The presentation is a practical discussion on "why a success?" or "why a failure?". The presentation should last about 8 minutes and some presentation tools such as PowerPoint will be used. The slides should be sent to the instructor by email before the presentation. Each presentation will be followed by 5 minute Q&A. You can bring whatever you believe is an interesting and useful piece of information from the fascinating entrepreneurial world. Consider this exercise as a rehearsal for your team presentation and a learning experience for the whole class.
Criteria for Evaluation of Written Assignments
All the written assignments must be typed, 12 points, "Times New Roman" font, with a 1'' margin on all four sides within the number of pages indicated in the syllabus. An "A" paper should prove:
– a thorough analysis of the key issues with the ability to apply and integrate the course's concepts
– appropriate structure with a logic flow of ideas
– relevant presentation and style with an excellent usage of the English language.
Related Topics