Employment Rights & Responsibilities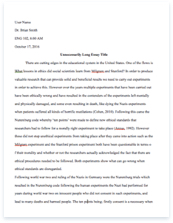 The whole doc is available only for registered users
A limited time offer! Get a custom sample essay written according to your requirements urgent 3h delivery guaranteed
Order Now
As a new employee, the first course of action before commencing in your new job is to sign an employment contract specifying the laws relating to the conditions of work you must abide by. These laws cover aspects specific to your placement, such as the wage you receive, the hours you work, training and your holiday entitlements. You will also receive information to read and sign declaring your acceptance of the rules concerning legal matters, including such topics as health and safety, discrimination in the workplace, redundancy, dismissal, disciplinary procedures, union rights and consultation. These are just some of the many laws that may be covered in your contract. It is also important to remember that employment laws may differ in different countries; therefore a law that was registered by your previous job may not be applicable in your new workplace if you have recently moved.
Although there are many features of current employment legislation, there are three main areas in particular covered by the spectrum of employment law in the UK. These are your employment rights, the equalities and discrimination law and the health and safety legislation. These exist to maintain the enforcement of human rights in the workplace protecting both employer and employee from the risk of allegation against themselves, with regards to the pay and conditions of work performed. This covers many aspects from age requirements, to maternity leave, and even safety standards. In turn, this supports all parties involved, aiding in the prevention of risk, injury and exploitation, through direct discrimination.
There are many sources and types of information and advice available in relation to employment responsibilities and rights, most of which you can find in and around your setting from your date of enrolment which will be permanently available to you upon request.
On entering into contract with a company you should receive an immediate induction to your environment and work place, obtaining a staff handbook. This outlines what to do in case of an emergency, and introduces you to the policies and procedures in the case of absence due to sickness or holiday leave.
You will be able to find information such as your hours of work, standard wage, sick pay, holiday entitlement and staff hierarchy in your contract of employment. This should also contain your job description with full duties and responsibilities along with instructions of what would occur if you should be dismissed and how many weeks' notice you should give your company.
You should also be able to obtain your settings policies and procedures documents from your supervisor similarly, containing information on what to do covering every eventuality. This is put in place to ensure consistency throughout these situations. For instance, just some of the occurrences this may cover would be the anti-bullying policy, accident and illness, what to do in the event of a lost child case scenario, health and safety, allergy and safe guarding policies.
My pay statement contains information about the amount of gross wages I earn before any deductions, but it also shows me the individual amount of any variable deductions I will be receiving. Alongside this it shows the total net wages after any due subtracted taxable income, and the amount and method of payment for any partial payment of your wages you have or will be having; such as any figures for cash separate from the amount you have credited to your account, or accounts.
Additional information may be included on my statement which my employer is not required to provide, but may decide to include anyway. This could be my personal details, showing my national insurance number, tax codes, linked to the amount i should be paying in accordance to my personal circumstances, my pay rate, whether it be monthly or weekly, and any additional payments that have been awarded over time such as tips and bonuses, again being shown separately to my main income.
In the event of a grievance the issue should be taken directly to the line manager so they can begin the process of resolving it as quickly as
possible. They will decide the most appropriate course of action, possibly including the secondary party involved, or even taking the situation further to any higher managerial staff necessary, depending on the matter in reference.
In this case scenario, it would then become classed as a formal grievance, and management will then record all issues and ask the employee to sign off validating their statements. These in turn will be shared with the appropriate supervisors.
Both parties involved will be invited to a formal meeting with the possibility of bringing an advocate if they wish. It will be discussed and concluded by a neutral party who will decide the outcome of the grievance meeting, and inform the employee in question of the following appeals procedure if they are still not satisfied with the result. In this case scenario it will be taken to further superiors.
If your name, or any of your contact details; address, phone numbers, emergency contact numbers, doctors details, medical issues and prescribed medicine or treatment, or bank details change, your employer must be informed immediately. These should be checked regularly to make sure they are still up to date.
Effective communication both ways so that details and information relating to employment is up to date and relevant, as well as highlighting and informing of any job changes. Also insure that you are both working to your job roles and understanding responsibilities within the workplace.
Both need to be working within the law and legislation to ensue that safety and rights are being met and maintained, and that the conditions of work are fair and respectful.
Official records need to be kept safely and securely in line with the data protection act which ensures privacy and security relating to own personal information and the personal information of others.
As a nursery nurse, my roles within the wider context of the sector include monitoring the wellbeing of the children in my care, whilst considering the health and safety of the children, and providing the opportunities for them to increase their self-confidence. In this I make sure that there are appropriate activities each day adaptable for their specific age range, both indoor and outdoor, covering all aspects of education, eg. English, mathematics, and knowledge of the world, etc. Within this, there are also many opportunities for free play and adventurous learning, followed by occasional chances to meet and liaise with the parents, giving them an insight into the nurseries practices, whilst being able to give them informed advice on how to continue learning and growing in their home environment.
This allows me to provide excellent care and education for the children I look after through the EYFS guidelines, ensuring we meet the requirements set by Ofsted, and giving the setting an outstanding review, making it a popular choice for parents to send their children to.
Representative bodies can influence the wider sectors greatly, merely by having an opinion on a care setting. Showing that an Ofsted review was positive for example will lead to a greater intake of students and higher finances from other companies, both being greatly beneficial to the children in the setting. This publicity leads to more educational equipment and the funds to organize field trips, giving children the chance to learn experiencing the world first hand, as some may not have the opportunity to do outside of the school environment.
Following this course I could go on to study a BA Degree in Early Childhood Studies to further develop my career within the early years sector and become a manager, deputy manager, teaching assistant, or a special educational needs practitioner.
At this present time, I feel I would like to maintain my career as a Nursery Nurse within my current setting, working with my piers to provide excellent education for the children within the environment to the best of my abilities.
Protocol
Pro's of health eating – better for children, helps them concentrate more in class
Con's – take longer to cook, more preparation, more expensive
Related Topics